Binance Review,  Month 25: Raising the Stakes up to Venus
2019-08-19
On Binance's Month 25 (July 15 to August 15, 2019), we're supporting more crypto staking and doubling down on our commitment to enhancing our ecosystem, from campaigns for fiat channels and new features on the exchange, to visionary open blockchain projects.
The Big Story: On Stakes, Apples, and the Goddess of Love
For Binance, starting Year 3 right begins with continuing to push for more services and campaigns that benefit our users. Just today, we have announced plans for Venus, an open blockchain project for localized stablecoins around the world, using BNB Chain. Let's start the discussion. Reach out to us at venus@binance.com.
On more urgent matters, the latest Binance app for iOS makes your crypto trading experience faster and more convenient. Download the Binance iOS app  today
We have also ramped up our support for staking on the exchange. This started when we discovered our staking benefits on Stellar (XLM) tokens. We then decided to distribute the 9,500,000 XLM we gained from staking to our users. To date, Binance supports staking for NEO (GAS), Ontology (ONG), VeChain (VTHO), TRX (BTT and WIN), Stellar (XLM), Komodo (KMD), Algorand (ALGO), Qtum (QTUM), and Stratis (STRAT).
Also, this past month, we introduce two new token sales on Binance Launchpad. The token sale for WINk was completed with 40,870 lottery winners holding 200,000 winning tickets, each entitling them to get 249,750 WIN tokens. Meanwhile, the token sale for Perlin is currently on its BNB balance count phase. You can know more about the projects by reading Binance Research's reports on WINk and Perlin. 
Things are also getting active on the fiat side. Binance Jersey launched Binance GBP (BGBP) a British pound-backed stablecoin created on BNB Chain and now supports instant British pound deposits for all UK users. BGBP recently finished its audit, courtesy of CertiK. You can still be part of Binance Jersey's 100,000 EUR giveaway for new users who complete user verification until the end of August. Meanwhile, Binance Singapore extended its 20 SGD referral program until the end of the year.
Binance's push for wider coverage extends beyond exchange platforms. Binance Academy, which recently celebrated its first anniversary, has reached out to about 3,000,000 people who spent a combined 3,932,114 minutes or 7.48 years to learn about blockchain through our articles. Thanks to everyone who made this milestone possible.
Sometimes, the push to grow the blockchain ecosystem takes some collaboration. For instance, Binance launched a community listing program to encourage blockchain projects to list on Binance DEX. The program, which offered Binance.com listing to competition winners, has contributed to the rise of Binance DEX as a leading decentralized exchange and a 284% increase in projects listed in just one month. Read about the revised rules here.
Read below for the rest of the Binance Review, where we look back on more news and updates across the Binance ecosystem.
Exchange Updates
* New listings: WINk (WIN), Binance GBP (BGBP), Dusk Network (DUSK), BEP2 TrueUSD (TUSDB), Ankr Network (ANKR), Contentos (COS), 
* New trading pairs: ANKR/BNB, ANKR/BTC, ANKR/USDT, ANKR/TUSD, ANKR/PAX, ANKR/USDC, BGBP/USDC, COS/BNB, COS/BTC, COS/USDT, DUSK/BNB, DUSK/BTC, DUSK/USDT, DUSK/USDC, DUSK/PAX, NPXS/USDT, NPXS/USDC,  ONT/PAX, ONT/USDC, TUSDB/TUSD, WIN/BNB, WIN/BTC, WIN/USDT, and WIN/USDC.
* Total cryptocurrencies listed (as of August 15): 166 (+6 from last month)
* Total trading pairs listed: 547 (+24 from last month)
* Recent system upgrade. Improvements in the scheduled upgrade include a new OCO (One Cancels the Other) order type via API. For full details, read here.
* API functionality for margin trading. The API now supports asset transfers, lending, and return, as well as the setting and cancelling of trading orders.
* New VIP structure for margin trading. On top of the current borrowable amount and daily interest rate, VIP users get up to 10x the standard borrowable amount, plus 20% discount on daily interest rates.
* Margin trading for more cryptocurrencies. We have added margin trading for Ontology, Cardano, USD Coin, Litecoin, Ethereum Classic, EOS, and Link. 
* New procedure for daily BNB balance calculation. The calculation is now: Daily Average Spot Account Balance + Daily Average Margin Account Balance + Daily Average Sub-accounts Balance
* Increased support for security keys. The option is now available for: Withdrawal & API, Log In, and Password Reset. To know more about hardware security keys, read here.
* UI Updates: Hover over the order book to display average price and BTC and USD sums for each price point. Also, hover over the trading rules button to see the rules for the crypto on the trading page. 
DEX/Blockchain Updates
* New listed cryptocurrencies: aXpire (AXPR), Crypterium Token (CRPT), Hyperion Token (HYN), Cubiex (CBX), TOP Network (TOP), MEET.ONE (MEETONE), Fusion (FSN), Waykichain (WICC), COTI (COTI), PCHAIN (PIBNB), Matic Network (MATIC), Lition (LIT), Aergo (AERGO), Defi Token (DEFI), Loki (LOKI), Eterbase Coin (XBASE), ARPA (ARPA), True Chain (TRUE), Paycent (PYN), Pundi X NEM (NPXSXEM), 
* Be aware of the risks associated with initial DEX offerings, which are totally independent of Binance DEX. Read this for more info: Binance DEX: 12 Things To Know About IDOs.
For more information, follow Binance DEX on Twitter. 
* Reached block height of 25,000,000, with 10,000,000 transactions from 200,000 addresses. Now hosts 131 BEP2 tokens. 
* Completed the Hubble hardfork upgrade. This update allowed exchanges to reject deposits transactions that have no valid memo, made the syncing process more stable, and made the command-line tool more powerful.
* Supported new tokenized currencies: TrueUSD, TrueGBP, TrueAUD, TrueCAD, and TrueHKD, created by TrustToken; and Rupiah Token (IDRTB).
* New Twitter bot tracking the latest BNB Chain alerts.
To know more about BNB Chain's highlights for the past month, read this announcement. See the latest version of the #UseBNB (as of July 30, 2019) below.
Binance Ecosystem
Binance Labs is now accepting applicants for the Binance Labs Incubation Program, now in its third season! Apply here, or learn more about the program on this blog. Meanwhile, the investment arm of Binance also launched global gaming hackathon Game Oasis Hackathon in collaboration with Cocos-BCX, Celer Network, Contentos, and Matic Network. Register now to build the next killer game on blockchain! 
Binance Charity distributed 1,100 Pink Care Tokens (PCAT) and delivered 1,100 packs of reusable sanitary pads to 1,100 girls in Uganda. Learn more about the Pink Care Token project on this video. In addition, Binance Charity provided further clarity on how it uses blockchain for social good and what it has achieved in a new statement.
Binance Launchpad updated its rules for token sale projects. Changes include an increase in the number of lottery tickets, updates on BNB holding periods, and more. 
Binance Jersey revealed more info about how it compares to other fiat-to-crypto exchanges in Europe. To see more information about the edge you gain, look at this table below.
Binance Singapore has added more cryptocurrencies, listing Litecoin and Bitcoin Cash on the platform.
Binance US revealed the first group of potential listings ahead of launch, which is projected before November, according to Binance CEO CZ (Changpeng Zhao). Binance US CEO Catherine Coley discussed the latest updates about the US-focused exchange. 
Trust Wallet added support for Kyber Network Protocol and Aeternity. The crypto wallet app also introduced a new notification feature for assets you store in it. 
Binance Info launched a bounty program, where you can be rewarded with BNB for original content on selected cryptocurrencies on the platform. Join the bounty program here. 
Binance Academy released the following new articles: 
Academy also added these terms to the blockchain glossary: cipher, diversification, fear of missing out (FOMO), progressive web application (PWA), staking pool, block explorer, confluence, fungibility, hash rate, Proof of Stake (PoS), Linux, market momentum, rekt, RSI, store of value.general public license, gwei, hash, Sharpe ratio, and weak subjectivity.
Binance Research has released the following new reports: Portfolio Management Series #1 - Diversification Benefits with Bitcoin, Global Markets Report for July 2019, and detailed reports on cryptocurrencies Dusk Network, Wink, Ankr Network, Contentos, and Perlin.
Binance Podcast launched the following new episodes: an overview of African startup landscape and potential in crypto adoption with Binance Labs Director Yele Bademosi, crypto security lessons with "Mr. Binance Academy," an interview with Trust Wallet CEO Vilktor Radchenko, a discussion on how Bitcoin enters the mainstream with Anthony Pompliano, and research discussions on cryptoasset correlation and portfolio management with Leslie Tam from Binance Trading.
Learn more about Binance Trading's services for transactions with large block sizes. Block Trading Services with Binance Trading.
Binance Community
Online Activities
* Binance Jersey's 100,000 EUR giveaway for users who complete KYC. Join until the end of August.
Binance Singapore extends referral program until the end of the year. Get 20 SGD for joining Binance Singapore and trading over 100 SGD or inviting a friend who trades over 100 SGD. 
* Answer Binance's Security Test for a Chance to Win 1 of 1,000 Yubikeys!
* Binance Staking Quiz series on Twitter.
* #WINkLottery Promo on Twitter
* TravelbyBit promo: Blockshow Asia 2019 Ticket + Binance Hoodie. Book a hotel or flight to Singapore using crypto on TravelbyBIt and get a chance to win. 
Global Activities
July 17: Seoul, South Korea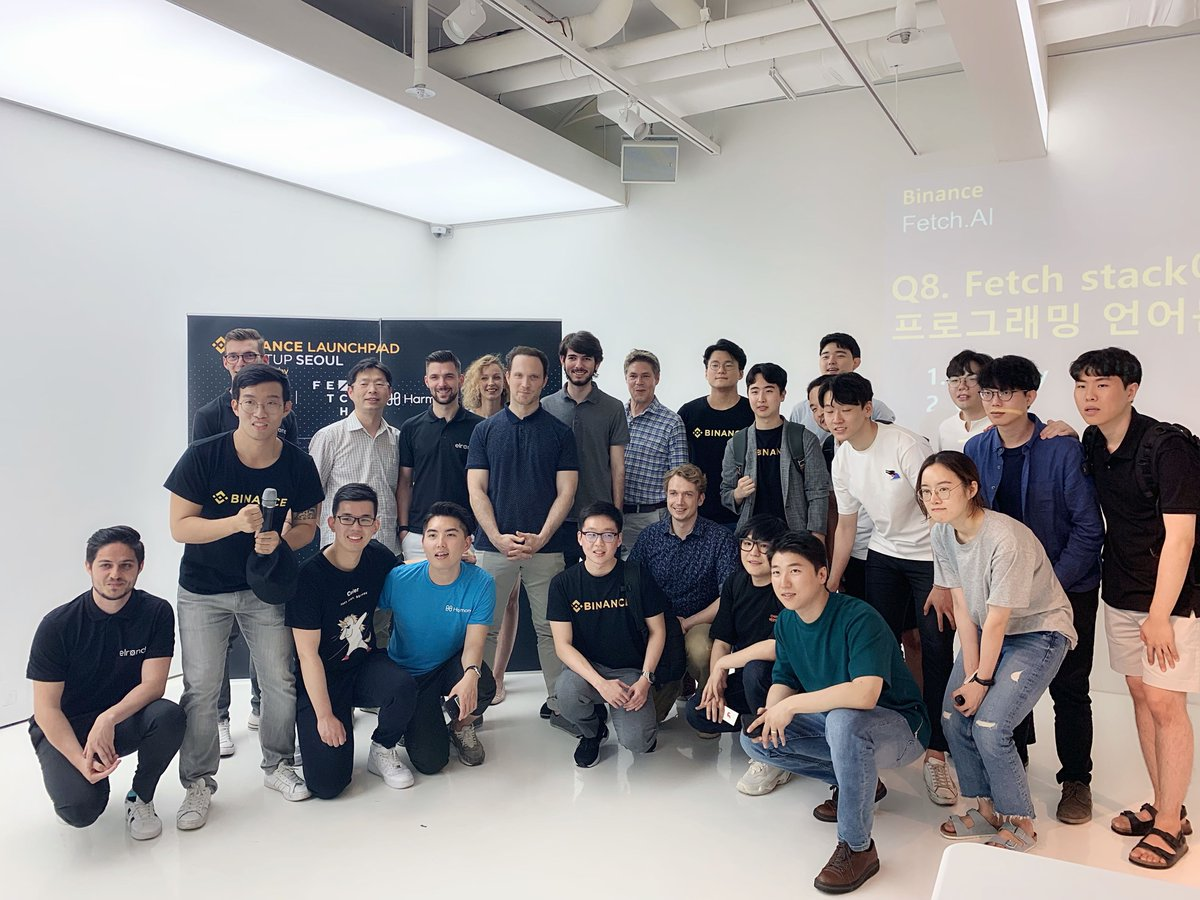 July 21: Xiamen, China
July 25: San Francisco, California (Trust Wallet Meetup)
July 27: Hue, Vietnam
August 1: London, United Kingdom
August 15: Qingdao, China
Thought Leadership
During Binance's first meetup in London, Binance CEO CZ (Changpeng Zhao) held a live AMA session, where he revealed plans to launch a crypto lending service. Meanwhile, read CZ's extensive interview with CryptoNewsZ and hear him on a recent Flippening podcast.
Chief Marketing Officer He Yi was named one of this year's top 100 influencers in the blockchain world by the LATTICE80 2019 Blockchain 100.
Binance Strategy Officer Gin Chao spoke at BlockCrypto Expo 2019 in Sao Paolo, Brazil. He also spoke at Bitcoin.com's podcast.
Chief Growth Officer Ted LIn was interviewed on Cryptonites podcast and The Core podcast by ZelCore. 
Binance thought leaders are part of the global campaign to fight crime via blockchain, as shown in our participation in the United Nations Office on Drugs and Crime Conference.
Speaking of anti-crime, we released a statement on the issue of a false "KYC leak". We are offering a reward of up to 25 BTC to identify the individual who attempted to extort and harass us and then publicly distributed 10,000 photos that bear similarity to Binance KYC data when we refused to cooperate.
Please follow us on Instagram, Twitter, and Facebook to stay up-to-date with our latest announcements. Join our official Binance Telegram group to participate in discussions with our users, staff, and volunteers.