Futures Bonus Vouchers let you can redeem free tokens that can be used as collateral in Futures trading. Let's see how to claim and redeem it from the
Rewards Hub
.
How to redeem a Futures Bonus Voucher?
1. Log in to your Binance account and go to
[Profile]
-
[Dashboard]
-
[
Rewards Hub
]
.
2. Click [More] to view all the available rewards.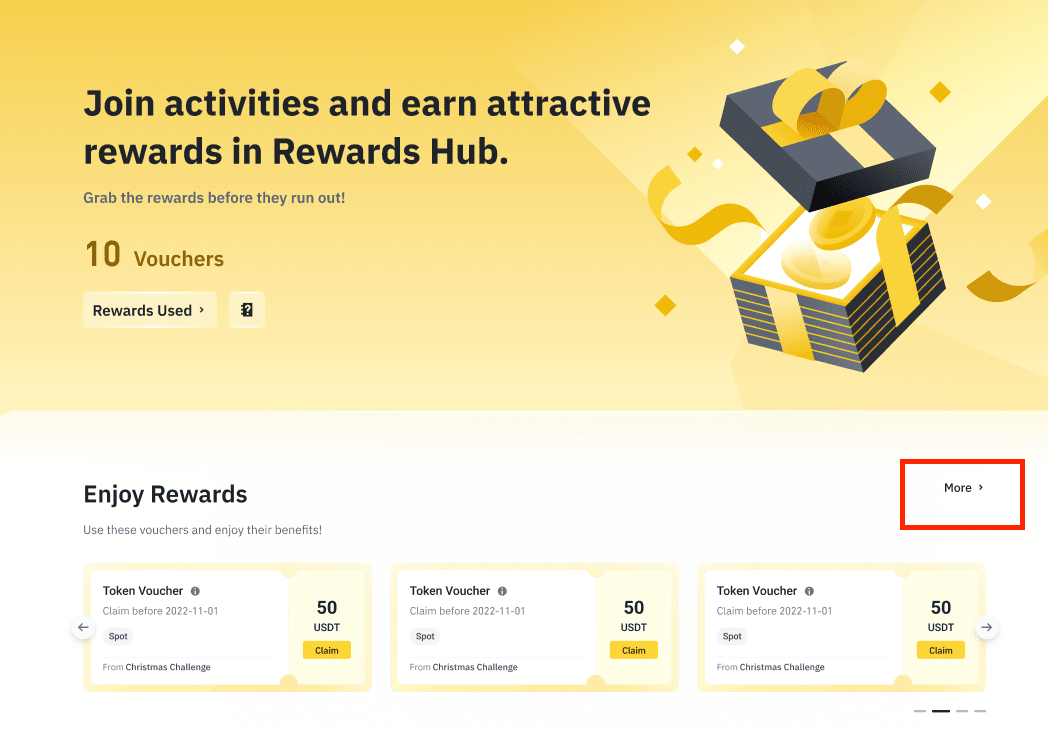 3. Under the [Ongoing] tab, scroll down and find the Futures Bonus Voucher you want to use. Click the [i] button on the voucher to view more details, including its face value, expiry date, applicable products, and terms and conditions.
Click [Use].
4. If you don't have a Futures account, a pop-up window will appear to prompt you to create one.
If you already have a Futures account, click [Use Reward] to confirm your voucher redemption.
5. The reward will be credited to your Futures Wallet.
Notes:
The bonuses can be used as collateral for Futures trading. Any losses incurred during Futures trading can be offset against the bonus amounts.
The bonus amount is withdrawable based on the total accumulated PNL incurred during Futures trading, i.e., you can withdraw the balance (including bonus amount) when the total accumulated loss exceeds the bonus amount.
The bonuses are denominated in a specific cryptocurrency and can only be applied to coin-margined contracts quoted and collateralized in the same cryptocurrency. For example, BTC bonus is only applies to BTC coin-margined contracts, it does not apply to the accumulated PNL incurred from trading of other coin-margined contracts.
The bonuses can only be used on the Binance Futures trading platform. Once redeemed, you cannot transfer it to other wallets.
If no trades are made after receiving the bonus, Binance reserves the right to reclaim the bonus from the user's account.
Please note that in order to comply with local regulations, certain Rewards Hub features may not be available in your region.
Binance reserves the right to the final interpretation of the terms and conditions of using Futures Bonus Vouchers.
Disclaimer: All transactions are highly risky endeavors, and with the potential for both great profits and significant losses. Please be aware that if you are using Futures trading, in the event of extreme price movement, there is a chance that all margin balances in your Futures Wallet may be liquidated. You acknowledge and agree that you shall assume all risks related to any and all of your trading activities and that Binance shall not be liable for any such risks or adverse outcomes.