The Evolution of BNB: From Fees to Global DeFi Infrastructure
2021-04-11
BNB launched just over three years ago. It initially found its way to the crypto market through an Initial Coin Offering (ICO) taking place from June 26 to July 3, 2017. BNB was immediately usable as payment for transaction fees on the new cryptocurrency exchange, Binance.com, launched just 11 days after the ICO. 
Paying transaction fees in BNB offers users a significant discount. The initial price during the ICO was 1 ETH for 2,700 BNB or 1 BTC for 20,000 BNB, which, at the time, equaled roughly $0.15 per 1 BNB.
In this article, we'll explore BNB's rise to the top, its utility and use cases, and a comparison of BNB to other top-ranking cryptocurrencies.
BNB and its rise to the top
BNB holds the third-largest cryptocurrency position by market cap at the time of writing at over $42 billion (USD). It follows Ethereum in second place and Bitcoin in first. To reach ETH's position, BNB needs to multiply its market cap five times; to reach BTC, it needs to grow twenty times. There is a long journey ahead indeed, but let's look at the journey so far. 
From paying Binance trading fees through to sending tokens on BSC, the amount of BNB transactions has continuously risen. March 2021 saw over 84 million alone, and the upward trend looks to grow. How did BNB get to where it is now, from not even being in the top five just two months ago? 
What started as a simple utility token has evolved into something much more complex. BNB's simple purpose of paying discounted Binance trading fees was only the beginning.  
We are now dealing with a token with its own native blockchain and a vast range of use cases. These cases aren't just limited to the Binance ecosystem either. Deployed initially on Ethereum as an ERC-20 token, BNB has since migrated to its new home: BNB Chain. Here it has a place as the network's native token and also powers the recently launched BNB Smart Chain. 
Millions of Binance.com customers use BNB for trading and transaction fees and much more. BNB is also available for use as collateral for crypto loans.  There is no single reason why users hold BNB, and many likely have BNB for reasons that vary. 
BNB Chain has shown to be hugely popular with developers and users alike. As the ecosystem has matured with decentralized applications and use cases, so too has the adoption of BNB.
A large, diverse BSC and DeFi community developing new projects has become the token's principal advocate. These external contributors are becoming significant players, including merchant payment companies, travel booking platforms, in-game rewards offerers, and virtual gift providers. They all continue to find strong use cases and attract new audiences to BNB.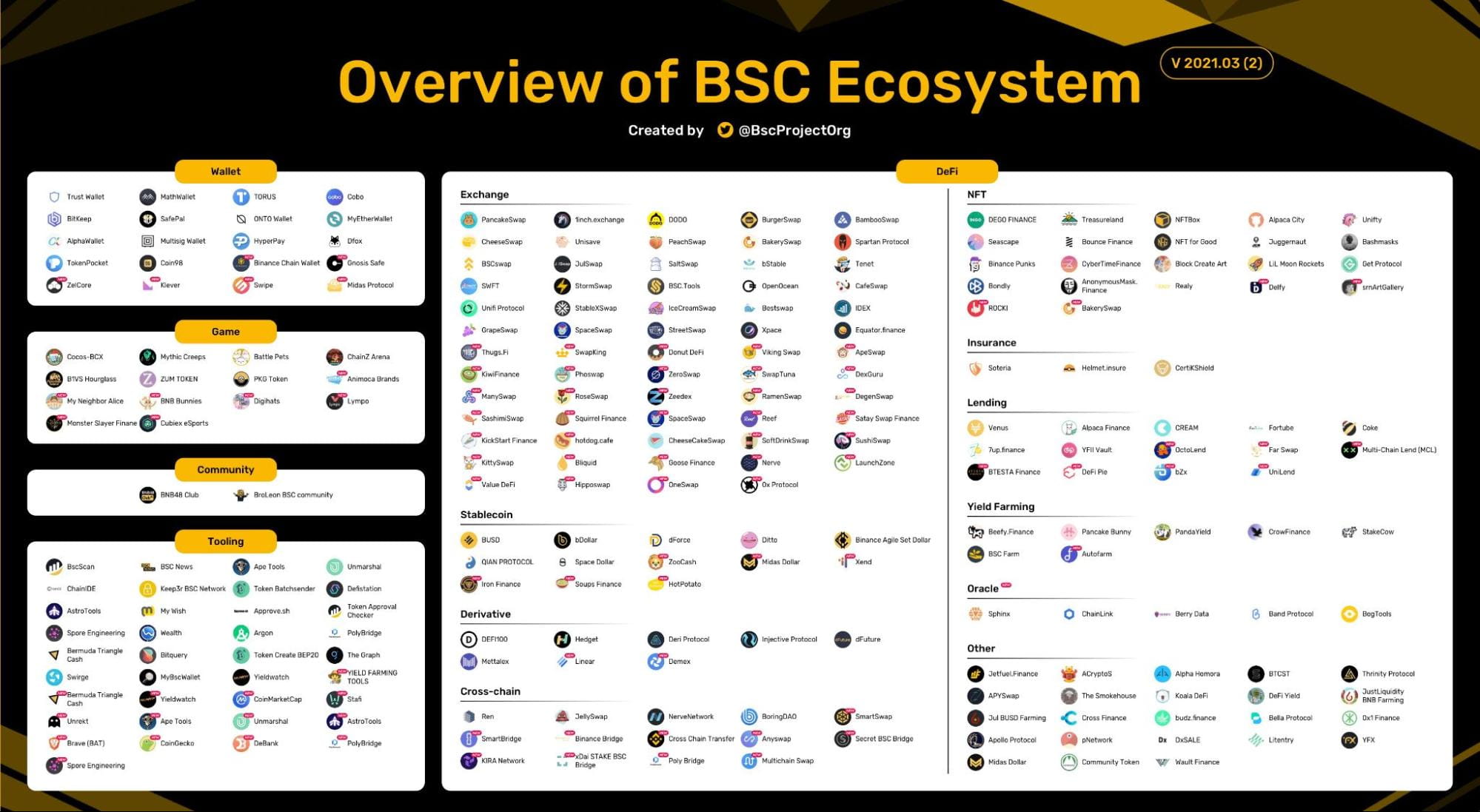 BNB within the Binance ecosystem
BNB Chain 
Both the BNB Beacon Chain and BNB Smart Chain blockchains use BNB as gas for transaction fees. BSC further elevates BNB to a proof of stake token for the new Proof of Staked Authority (PoSA) consensus powered by validators and delegators. 
BNB Smart Chain Ecosystem
BNB powers hundreds of projects running on the BNB Smart Chain. You can use it in DeFi, liquidity pools, DEX trading, or as a payment for NFT marketplaces.
Binance.com & Binance DEX Fees
You can currently use BNB to pay for your trading fees on Binance.com and Binance DEX with a 25% discount (which reduces over time). If you're a trader, operate trading bots, or run a crypto business, you can save thousands of dollars on fees by using BNB.
Binance Earn
With Binance Earn, you can use your BNB to purchase multiple, separate products such as Staking, Launchpool, BNB Vault, or Liquid Swap.
Binance Card
Binance Card is a crypto-powered Visa debit card allowing you to use BNB to pay for your shopping, bills, mortgage, and pretty much anything you want. You can pay with BNB at over 40 million merchants worldwide. Get your card today!
Binance Crypto Loans
Use BNB as collateral and get fast access to a simple and straightforward crypto loan with no hidden fees or costs. Borrow BTC, ETH, BUSD, USDT, and more, and choose a loan term ranging from 7 to 180 days.
BNB outside the Binance ecosystem
Accommodation & Travel
With Travala.com, you can buy flights, pay for your hotel, and even rent a car with BNB. There's nothing better than enjoying your crypto gains with a lovely holiday paid for with Binance Coin. 
Shopping
Hundreds of online vendors and merchants accept BNB as payment for goods or services. You can use them directly from your wallet, Binance account, or Binance Card.
Gaming
Many gaming sites allow you to use BNB to pay for lottery tickets, participate in sports-related games, or treat BNB as game tokens for live roulette or slot machines. 
Real Estate
With BNB, you can buy just about everything, including physical real estate. Did you always want to buy your dream house with crypto? Now you can, using BNB. 
BNB and its economic potential
Now that we know where and how to use BNB, let's explore the token's future. It's essential to understand where the economic potential of BNB as a utility token lies. Unlike security tokens, utility tokens don't represent the company or organization's value that issued them. 
Third parties who transact in and accept BNB impact the token's value for its users. Owning BNB doesn't represent any stake or share in Binance. By buying BNB, it's essential to understand that you're not actually investing in Binance. 
Simply put, a utility token's value comes from its scarcity, sustainability, different use cases, and other factors. 
"The long-term vision for BNB is for it to become the native token on multiple application-specific blockchains. BNB was never intended to replace Bitcoin or Ethereum. To become a true mass-adopted application, BNB must be able to facilitate billions of transactions per day. In its current form(s), we still have a long way to go." - CZ, CEO of Binance.com
Thanks to the BNB Burn Plan, Binance prevents future inflation of BNB-denominated goods and services driven by an increase in the supply of BNB. Upcoming BNB burns reduce the circulating supply, thus making BNB scarcer. Through this plan, Binance has burned a total of 29,467,175 BNB held in Binance's treasury since its establishment in 2017. 
It's easy to verify the circulating and maximum future supply of BNB and future BNB burns. Scarce assets with added value tend to grow in price over time if the demand increases and supply remains limited. With BNB's wide range of use cases, supply constraints, and massive community support, incidental appreciation of BNB may occur. 
The community behind BNB Smart Chain as the driving force
As we have mentioned, perhaps the most crucial factor affecting the value of a utility token is its usage. We can hardly call something a utility token if it has no use cases. The previous list of these cases makes it clear that the token's utility is vast and ever-evolving. With BSC's only recent September 2020 launch and its tremendous growth, the use of BNB is guaranteed to increase with more BSC users.   
2021 looks to be another innovative and driving year for BSC's underlying blockchain technology. With plans underway to build cross-chain financial infrastructure, there will be more opportunities to bridge the gap between DeFi and CeFi (centralized finance). This development lays the foundations for the growth of a more diverse community and improved BNB adoption.
Read the following articles for more information:
Updated on July 27, 2022.