1. Log in to your Binance account and go to
[Profile]
-
[Dashboard]
-
[
Rewards Hub
]
.
2. Click [More] to view all the available rewards.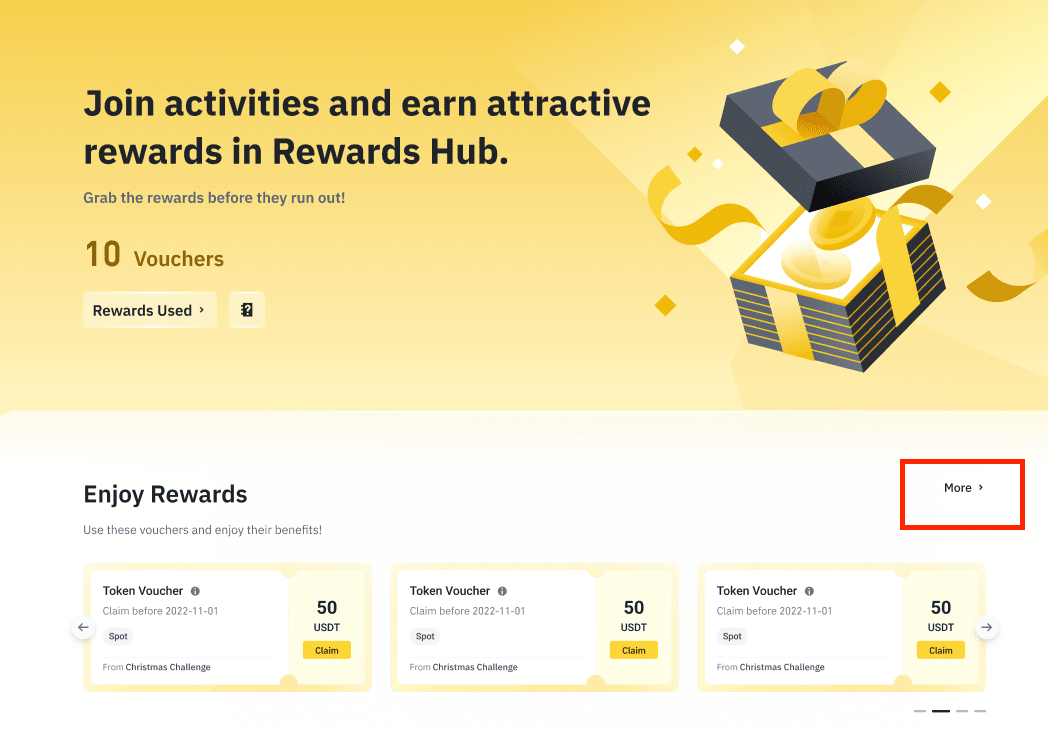 3. Under the [Ongoing] tab, scroll down and find the Trading Fee Rebate Voucher or Platform Fee Rebate Voucher you want to use.
Click the [i] button on the voucher to view more details, including its face value, expiry date, eligibility, and trading fee rebate reward amount. Please note that Platform Fee Rebate Vouchers can only be used for the NFT collections stated under [Eligible NFT Collection(s)] on the voucher.
4. Click [Use].
5. If you don't have a corresponding trading account (e.g., a Futures account), you will be guided to open one.
If you already have the corresponding account, you can confirm redemption by clicking [Use Reward].
6. Once successfully redeemed, your trading fee rebate reward will be activated. The corresponding daily trading fees of the particular product (excluding referral commission) will be distributed to your Spot Wallet in USDT on the day following your trade by 23:59:59 (UTC). If you traded on the day you activate the voucher, your first trading fee rebate will consist of only the trading fee generated after the activation until 23:59:59 (UTC).
Please note that the value of the Trading Fee Rebate Voucher and Platform Fee Rebate Voucher will be deducted each day according to the rebate distribution until the depletion or the expiry of the voucher. To check the trading fee rebate distribution history, go to [Wallet] - [Transaction History] - [Distribution] or click [Detail] on the voucher.
Please Note:
The trading fee rebate amount equals the net trading fee amount (excluding VIP and BNB discounts) you paid each day.

For example, user A activated a 500 USDT Trading Fee Rebate Voucher. On the first day, they generated a spot trading fee of 500 USDT. After deducting the VIP and BNB discounts, user A can receive a 400 USDT rebate on the following day. This means they need to pay 100 USDT in trading fees.
If user A was referred to Binance, their referrer would receive part of the trading fees user A generated as commission. For instance, if the referral commission is 20%, the referrer will receive 20 USDT. The remaining 80 USDT trading fee will be deducted from the Trading Fee Rebate Voucher balance. User A does not need to pay any trading fees.
The remaining balance of the Trading Fee Rebate Voucher will be 500 - 80 = 420 USDT. User A can use it to cover their trading fees before the voucher expires.

You cannot use the Trading Fee Rebate Voucher to cover Futures delivery fees, liquidation fees, or trading fees below 0.00000001 USDT.
If the trading fees generated from eligible transactions exceed the voucher's balance, you can only receive the balance amount as rebate.

For example, user A activated a 500 USDT Trading Fee Rebate Voucher for Spot trading last week, and the voucher balance is now 100 USDT. User A generated 300 USDT in Spot trading fees today, they could only receive the voucher balance (100 USDT) as trading fee rebate tomorrow.

If you activate multiple Trading Fee Rebate Vouchers or Platform Fee Rebate Vouchers for the same product at the same time, the vouchers will be used according to the redemption order.

For example, user A activated a 500 USDT Trading Fee Rebate Voucher (voucher A). The following day, user A activated another 1,000 USDT Trading Fee Rebate Voucher (voucher B).
User A generated a trading fee of 300 USDT. After deducting the trading fee rebate on the following day, the vouchers' balances will be:

Voucher A: 500 - 300 = 200 USDT
Voucher B: 1,000 USDT

The next day, user A generated 800 USDT trading fees. After deducting the trading fee rebate on the following day, the vouchers' balances will be:

Voucher A: 200 - 800 = -600 USDT as the balance is insufficient, the system will deduct 600 USDT from voucher B.
Voucher B: 1,000 - 600 = 400 USDT

The trading fee rebate reward expires after a certain period. Please refer to the expiry date on the individual voucher. You won't be able to apply or use the voucher's remaining balance in any way once it expires.
The Platform Fee Rebate Voucher is only applicable for trades on Binance NFT's secondary market.
The Platform Fee Rebate voucher is not eligible for third-party NFT listings on the Binance NFT Marketplace.
As per the Terms of Use and in compliance with local regulations, the Trading Fee Rebate Voucher and Platform Fee Rebate Voucher rewards may not be available in your region.