Binance Fan Tokens
are a type of utility tokens that powers the fan experience and connects brands and teams with fans worldwide. The
Binance Fan Token Platform
provides multiple ways for users to buy and sell Binance Fan Tokens:
For each new project, you can purchase BNB and join a Binance Launchpad to be among the first fans who will get their Binance Fan Tokens.
Once a Launchpad ends, you will be able to buy Binance Fan Tokens with fiat using a linked bank account, bank card or with stablecoins available via P2P.
Alternatively, you can get your Tokens with crypto on the Binance Spot market.
You can also purchase tokens with a debit or credit card via the Binance App or the Binance Lite, or get stablecoins via Spot and P2P using the application.
How to buy Binance Fan Token with a credit or debit card?
2. Explore team listings under the 'Featured teams' section, then scroll down on the page and click the [Buy] button to start your purchase. And select the Binance Fan Token you wish to buy, then choose [Credit/Debit Card] or your preferred payment method from the list.
3. Click [Buy now] and proceed to the [Buy Crypto] page. Buy Binance Fan Tokens with your preferred fiat currencies. Select a fiat currency and enter the amount you wish to spend. The system will automatically calculate the amount of tokens you can receive.
4. For card purchases, choose Visa / Mastercards and on the next page enter your card details. Don't forget to always use a card that has your own name on it—which you used to register your account with.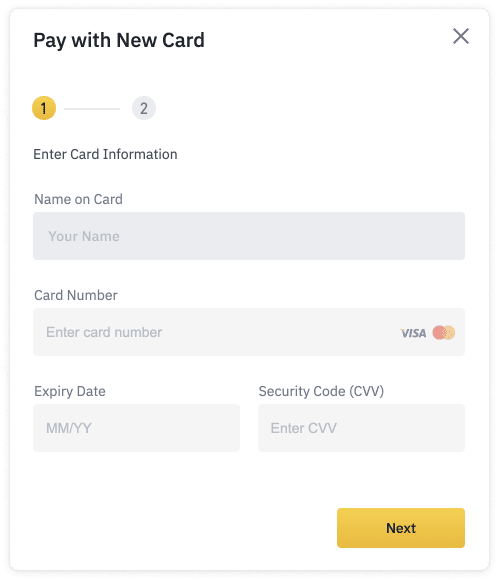 5. Enter your card billing address and click the [Add Card] button.
6. Check the payment details and confirm your order within 1 minute. After 1 minute, you will have to click on [Refresh] to recalculate the latest market price and the amount of Binance Fan Tokens you will receive with your order.
7. You will be redirected to your bank's OTP Transaction Page. Follow the on-screen instructions to verify the payment. Once your purchase is complete, Binance Fan Tokens will be automatically transferred to your [Fiat and Spot] wallet.
Note that depending on your region and currency, you might have P2P trading as an available option. You may use your fiat currency to purchase stablecoins via P2P to buy Binance Fan Tokens.