Currently, access to Binance Options trading is initially provided to mobile applications users only (Android version 1.21.0 and iOS version 2.10.0 above).
Step 1: Click "Trade" after logging into your account. Select "Options". Please be noted that you could only trade on Binance Options with a Binance Futures account.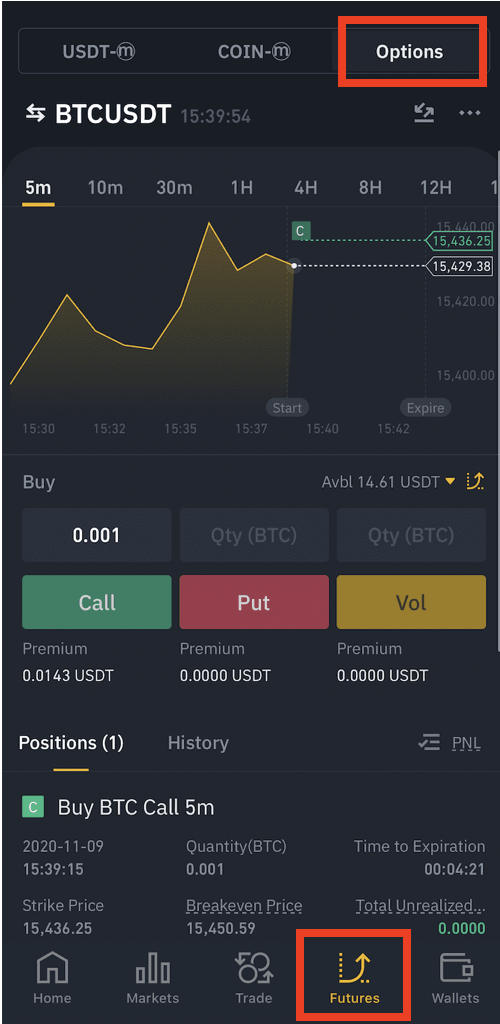 Step 2: Click the "Transfer" icon on the right corner. Next, enter the amount of USDT you wish to transfer. Once you have confirmed the amount, click 'Transfer'. The fund will be transferred from Spot Wallet to Futures Wallet.
Step 3: Choose the expiry date. The expiry dates are ranging from 10 minutes, 30 minutes, 1 hour, 8 hours, 12 hours and a day. There are three types of orders, namely "Buy Call", "Buy Put", "Buy Vol" . "Buy Call" if you have a bullish expectation whereas "Buy Put" for a bearish seller. For more detail about Vol option, please visit to our support article on
Vol Option.
Next, choose the order type and enter the quantity you wish to order. Then click "Confirm" to place your order.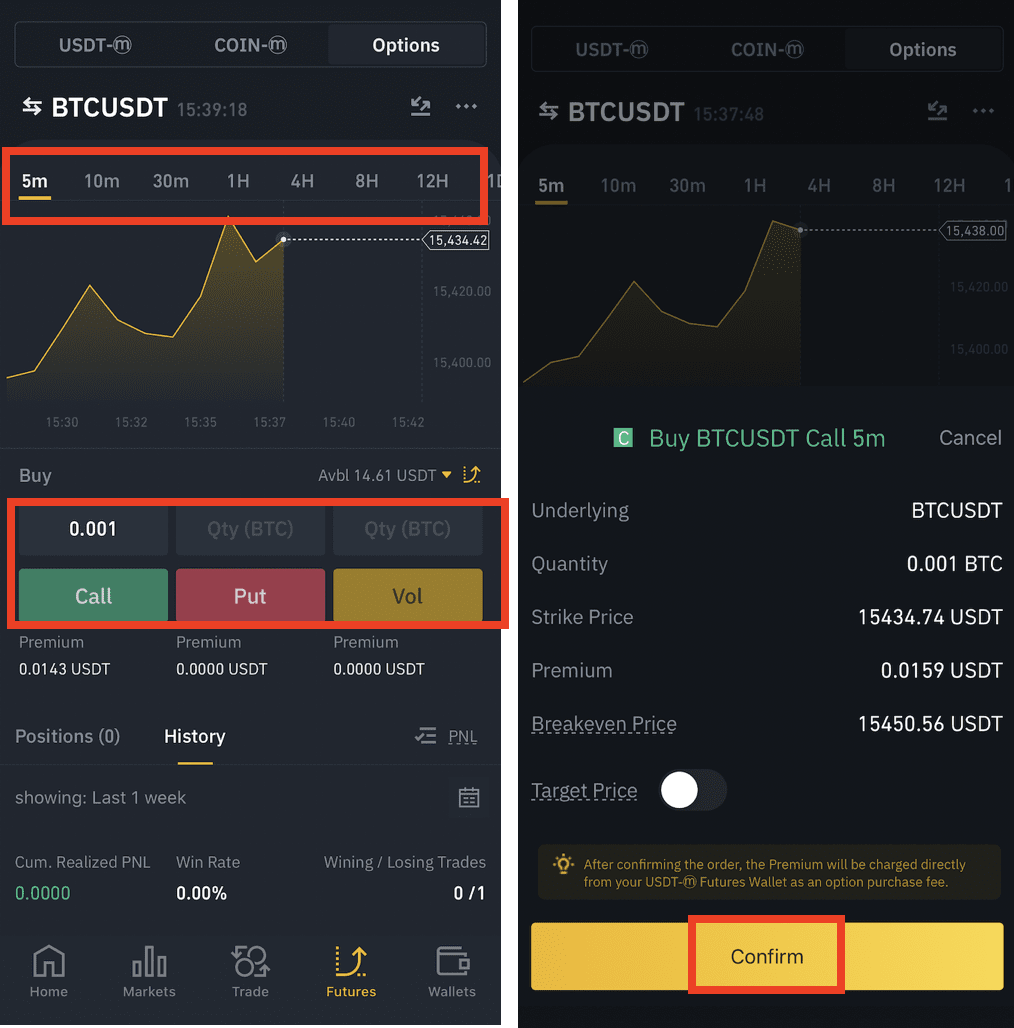 *Target price
You can choose to set Target price by entering the distance from Strike price, it will show "--" if not set. The estimated PNL will be calculated and shown underneath.
You can also add or adjust the Target price on the position tab after an order has been placed.
Step 4: Once you have placed the order, you shall be able to view your position, including unrealized profit and loss, time to expiration and breakeven price. And also, your option will be shown on the chart.
Step 5. Since Binance Option is American Style option, you could settle the option at strike price any time before the expiry date. Under "Positions" tab, click "Settle" to realize the Profit and Loss of your option. Click "Confirm" to settle your option. If you do not settle the option before the expiry date, it will be automatically settled or exercised when it comes to expiry date.
*Extend option ( Available on Mobile Apps version: iOS 2.21.0, Android 1.32.0)
You can choose to extend the expiry time of a position that has not reached its expiry date. Click "Extend" to extend the holding time and increase the potential profit opportunities.
Firstly, select the length of the extend period, and then check the premium requires to pay for the extension (you can enjoy a discounted premium compare to buy a new option with the same expiry date and of the same price). After confirming, the Premium and Time to Expiration will be updated in positions tab, and extension history can also be viewed on the history interface.