Binance NFT Marketplace Now Supports Bitcoin NFTs
2023-06-06 10:08
Fellow Binancians,
Binance NFT Marketplace is excited to announce that the Bitcoin network has been added to its list of supported chains, further expanding the NFT ecosystem for its community. 
The integration of Bitcoin network further elevates Binance NFT to a multi-chain, open marketplace ecosystem, where users can now explore and trade a wider variety of NFTs across multiple blockchains, including BNB Smart Chain (BSC), Bitcoin (BTC) network, Ethereum (ETH) network, and Polygon (MATIC) network, from their Binance accounts.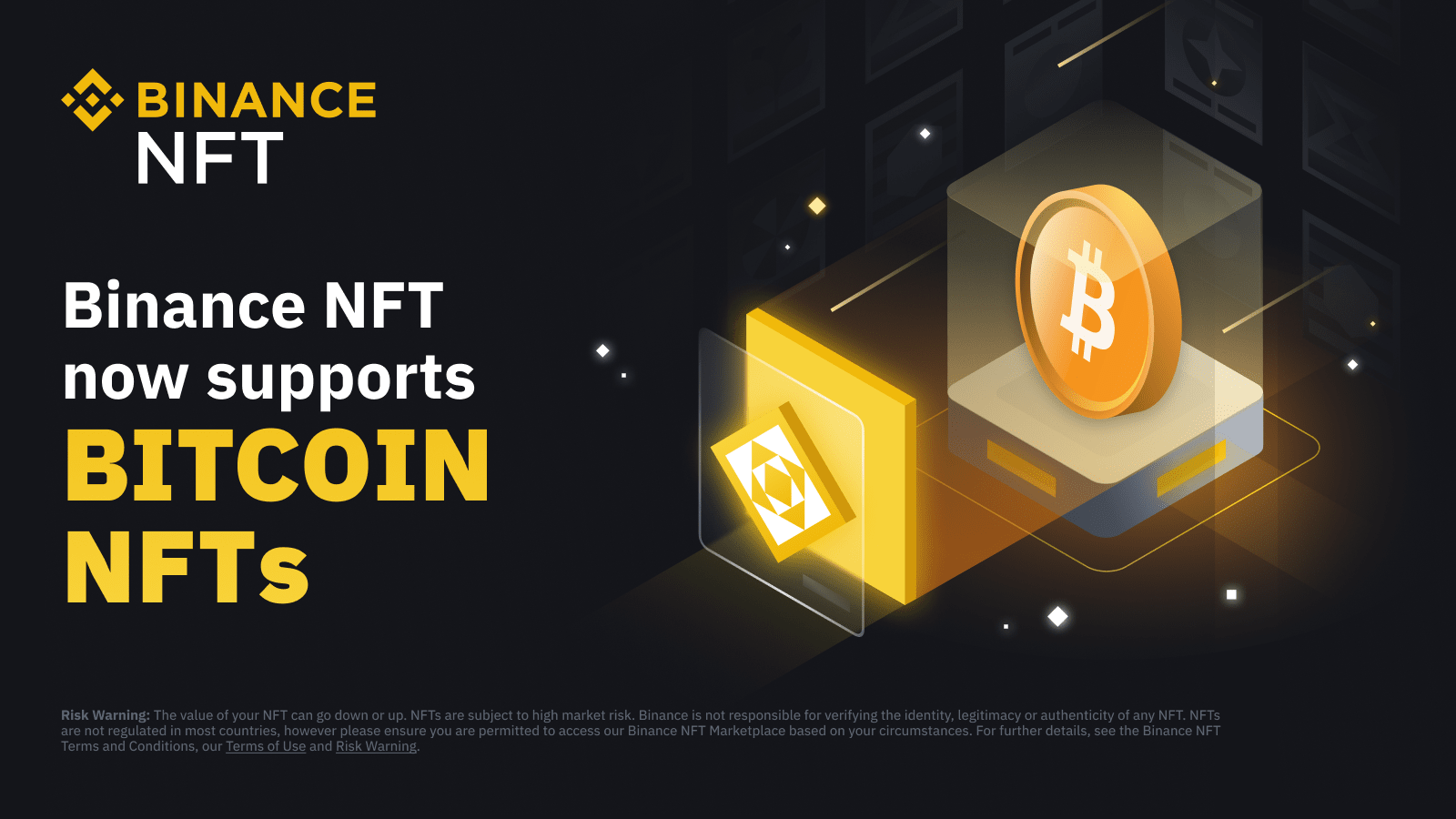 Key Benefits:
By holding Bitcoin or any token in their spot wallets, users can trade NFTs on the Binance NFT Marketplace.
Notes: 
Currently, only selected Bitcoin NFT Collections on the Bitcoin network are available on the Binance NFT Marketplace. Binance NFT will launch more NFT collections on a regular basis. Please refer to the FAQ for the list of Supported Bitcoin NFT Collections.

Users should exercise due diligence in checking that their deposit address is correct before depositing NFTs. NFTs may not be retrievable if they are deposited to the incorrect deposit address. For more information, please refer to the FAQ.

Users will need to hold Bitcoin in their spot wallets in order to withdraw Bitcoin NFTs.
Promotion: Trade Bitcoin NFTs On Binance NFT Marketplace to Grab Another Exclusive Bitcoin NFT
Promotion Period: 2023-06-06 10:00 (UTC) to 2023-06-19 23:59 (UTC) 
Snapshot Period 1: 2023-06-13
Snapshot Period 2: 2023-06-20
To mark the integration of the Bitcoin network in Binance NFT Marketplace, Binance NFT is launching a new promotion to reward the NFT community. Users who complete at least one trade for Bitcoin NFTs at the Binance NFT Marketplace during the Promotion Period (including buys or sells), can qualify to share a total of 80 Bitcoin NFTs, as per the rewards structure below. 
Rewards Structure:
Stay tuned as we continue to integrate more platforms and blockchains to Binance NFT Marketplace, and optimize our features to expand the range of our offerings. 
Terms & Conditions:
Users have to complete identity verification in order to list and trade NFTs on the Binance NFT Marketplace.

The Bitcoin NFT rewards will be automatically distributed to users' accounts within two weeks after the Promotion ends. Users can find their NFTs via Binance NFT Marketplace > My NFTs > Collected.

Each user may qualify to receive a maximum of one Bitcoin NFT from the Promotion.

Binance reserves the right to suspend, freeze or cancel the use of Binance accounts showing signs of fraudulent behavior.

Binance reserves the right to disqualify trades that are deemed to be illegally bulk registered accounts.

Binance reserves the right at any time in its sole and absolute discretion to determine and/or amend or vary these terms and conditions without prior notice, including but not limited to canceling, extending, terminating or suspending this Promotion, the eligibility terms and criteria, the selection and number of winners, and the timing of any act to be done, and all Participants shall be bound by these amendments.

Additional promotion terms and conditions can be accessed here.
Where any discrepancy arises between the translated versions and the original English version, the English version shall prevail.
Thanks for your support!
Binance Team
2023-06-06
Trade on-the-go with Binance's crypto trading app (iOS/Android)
Find us on 
Follow Binance NFT on 
Binance reserves the right in its sole discretion to amend or cancel this announcement at any time and for any reasons without prior notice.
Risk Warning: The value of your NFT can go down or up. NFTs are subject to high market risk. Binance is not responsible for verifying the identity, legitimacy or authenticity of any NFT. NFTs are not regulated in most countries, however please ensure you are permitted to access our Binance NFT Marketplace based on your circumstances. For further details, see the Binance NFT Terms and Conditions, our Terms of Use and Risk Warning.