Binance.com Stats 2017/8/27
2017-08-27 09:58
It's been 45 days since binance.com went live (2017/7/14). Thanks to your strong support, we have grown rapidly. Here we share some stats with you.
User Count: 122,729.
We just passed 120k users today. Active user ratio is high. More than 60,000 (50+%) of users have at least one trackable action per day. Trackable action include login, deposit, withdraw, place an order, trade, participate in an ICO, etc. We only track actions from logged in users. There are between 4000-6000 new registered users per day.
Countries:
Unlike other asia-based exchanges, our user base is quite unique. We bridge the west and east.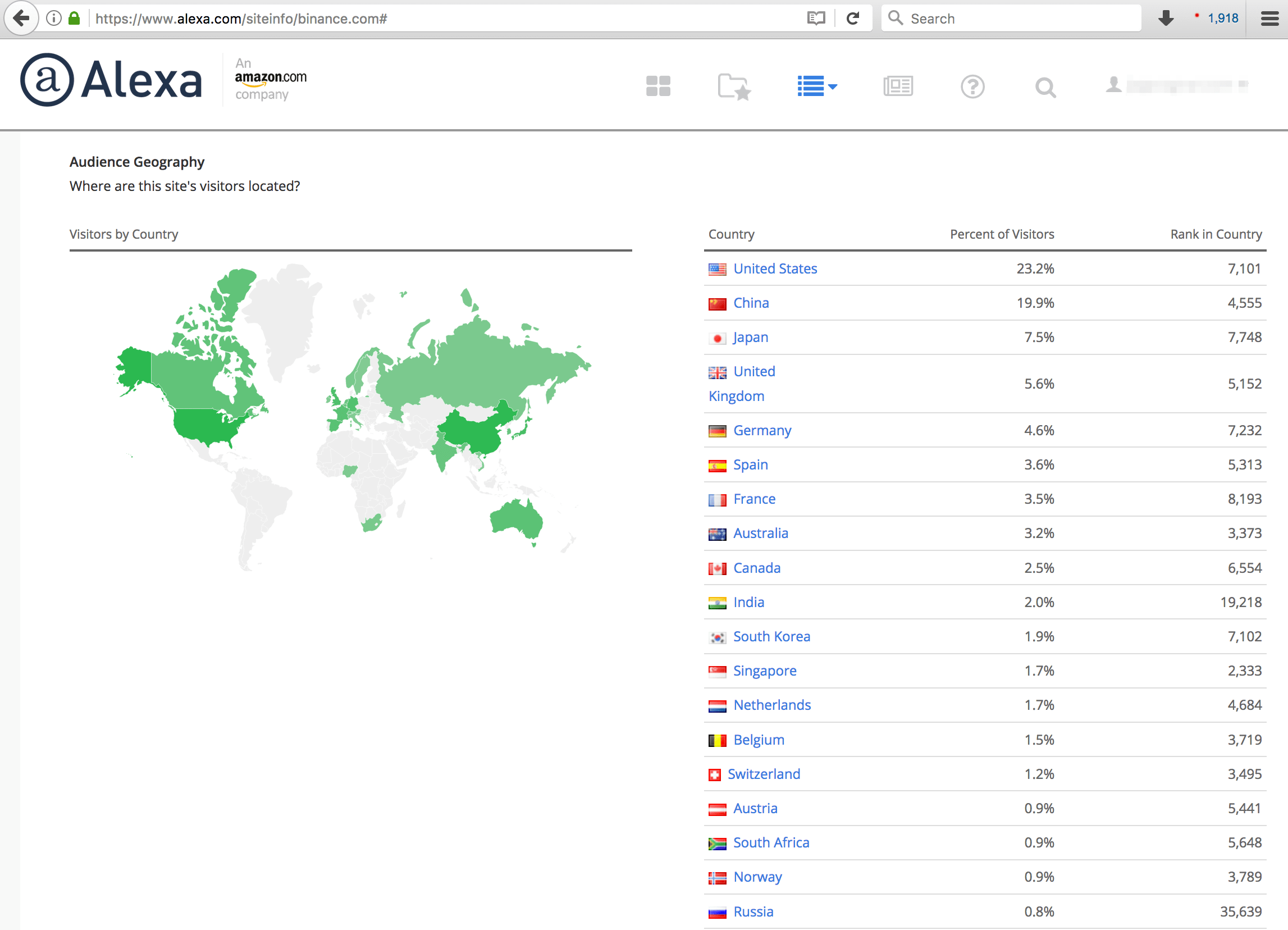 24-Hour Trading Volume:
We rank between 7-20th on Coinmarketcap's global 24hr trading volume. At the time of this writing, we are 12th globally. For a 45 day old exchange, that's not bad. We deeply thank you for supporting us.
BNB Coin
The BNB coins ranks 15th in market value among all digital assets globally, with a market cap of $189MM USD at the moment.
Team
The team is 78 in headcount now. We expanded rapidly, especially in customer support, to cope with the explosive growth and user demand.
History
Here is a brief list of events in our short history:
06/14 Decision to do an ICO, project start
06/18 Initial white paper distribution, in English and Chinese
06/20 Private angel round closed
06/22 Decide to do 60% of the ICO on binance.com, a brand new domain name
06/24 Binance.com launches, 9000 registered on day 1
06/25 Binance.com ICO functions code complete
06/26 ICO starts, 5 sessions over 7 days
07/03 ICO finishes, with each session lasting a couple hours to a few minutes
07/14 Exchange launches with BNB, BTC, ETH, LTC, and NEO. 11 days after ICO.
07/19 API trading released
07/24 Launched 0 fee trading for a month
07/27 Listed 4 new coins: QTUM, SNT, EOS, BNT
07/29 Add KYC
08/01 First NEOGas distribution to NEO holders
08/03 Listed NEOGas for trading
08/05 Listed BTM trading
08/05 Website redesign v2
08/09 Opens BNB/ETH market
08/11 HTML5/Mobile version online
08/11 Giveaway 10000 QTUM (Sponsored by QTUM team)
08/15 Listed HCC
08/17 Added USTD market
08/18 Listed HSR (HCash)
08/21 Listed OAX (Open ANX)
08/22 Listed DNT (District0x)
08/22 First ICO session open for TRX (TRON), finished in 53 seconds
08/23 Listed MCO and ICN
08/24 Listed ELC
08/24 Released Binance.com ICO and Listing Guidelines, draft v0.1
08/25 ICO for LLT
08/25 Released Korean language interface (translated by community volunteers)
08/25 Released RMB & USD price display
08/25 Restored trading fee
08/27 Listed WTC
08/27 Registered users passed 120k
There are many more minor tweaks and non-visible improvements under the surface of Binance.com. We have been hard at work! There are many more exciting features and positive news in the pipeline, stay tuned.
Join our slack group. Our team members and CEO (CZ) often drops in just to chill.