What Is the Binance P2P Merchant Program and Why You Should Become a Merchant
2023-01-20
Main Takeaways
Binance P2P is an easy-to-use peer-to-peer (P2P) platform that lets traders buy and sell cryptocurrencies directly with other individuals. Merchants on Binance P2P can make money by posting trading ads and completing trades on the platform. 

Binance P2P merchants can also enjoy special benefits including exclusive promotions, access to more trading tools, and lower fees.
Ready to take your crypto trading experience on Binance P2P to the next level? Learn all about the Binance P2P Merchant program and the benefits of becoming a merchant on our platform.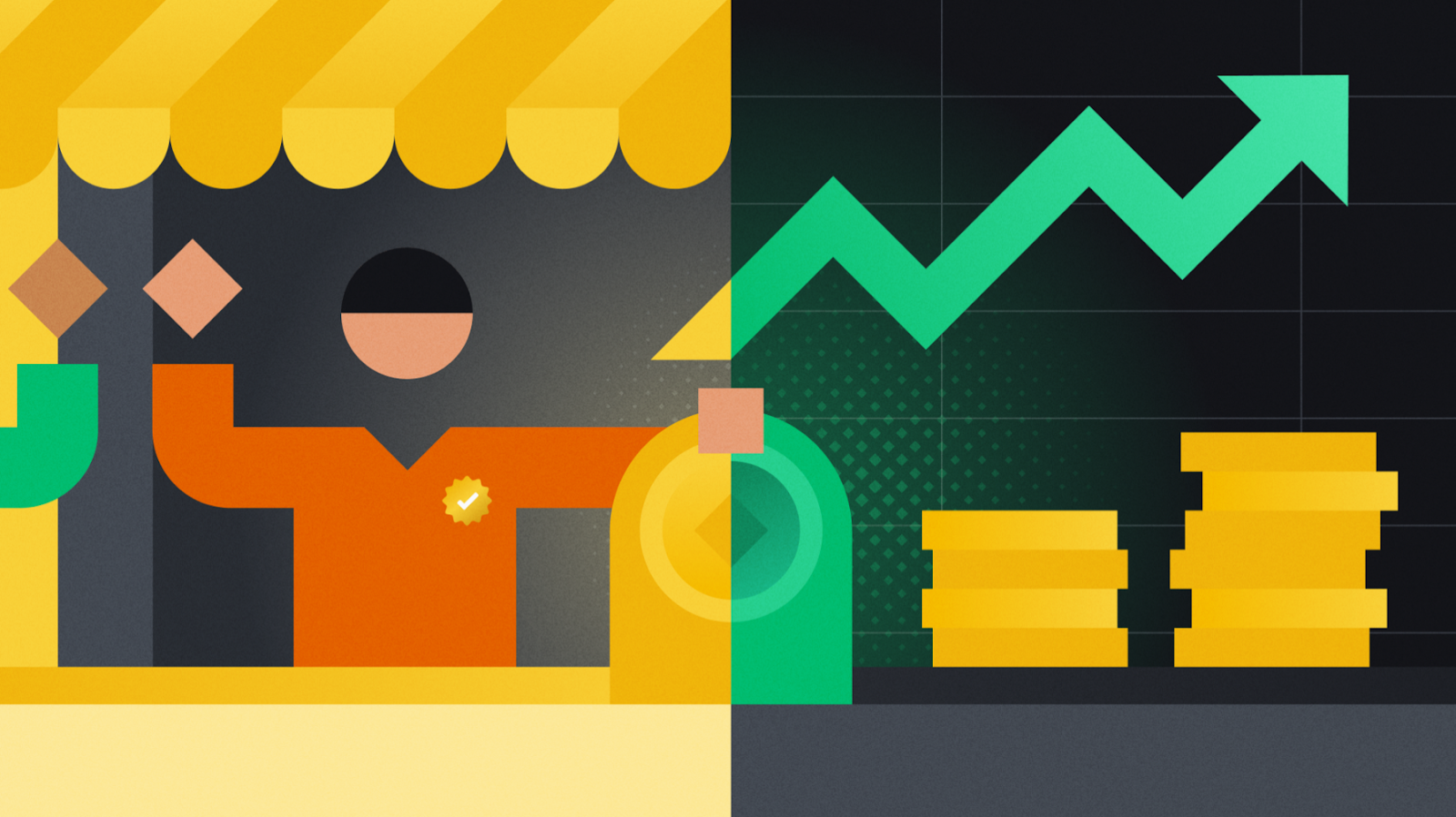 We launched the P2P Merchant program to provide better liquidity to our peer-to-peer (P2P) marketplace and serve the increasing growth of trading volume on our platform. When you become a merchant on Binance P2P, you can earn revenue by posting ads and completing trades systematically. To enhance your merchant experience, we offer exclusive perks, including merchant-only promotions, access to advanced ad management tools, verified badges, lower fee rates, access to block and cash trades and more.
What Are the Advantages of Being a Merchant?
Industry-leading security
When you process dozens of trades or more every day, security of your transactions is absolutely vital to your bottom line. A key safety measure implemented on the Binance P2P platform is our escrow service, a mechanism put in place to deter theft and scams by adding an extra layer of trust, thus preventing bad actors from running off with your funds without honoring their part of the trade. 
Dedicated customer support
If you have any inquiries or encounter an issue with the Binance P2P trading platform, our customer support team will respond promptly to your requests via Live Chat support. 
Special promotions 
On top of participating in exclusive P2P meetups, events, and online webinars, merchants can enjoy special fee discount promotions. 
Flexible payment methods
With over 700 payment methods supported, including SEPA, in-person cash transactions and bank transfers, Binance P2P delivers a more customizable trading experience than most comparable platforms. 
Advanced tooling
All verified merchants can access pro-level trading tools via the merchant portal to better manage ads and other aspects of their trading operations.
For more information on our merchant portal, check out our detailed guide Frequently Asked Questions on Binance P2P Merchant Portal.
Verified badges
Verified merchants play an essential part in providing liquidity on the Binance P2P marketplace. Such traders get a yellow badge next to their nickname, which provides an additional level of credibility on the marketplace.  
Lower fee rates 
In addition to enjoying some of the lowest fee on the market for posting ads, merchants can get 20% off trading fees on all fiat markets. Verified merchants who've reached a 30-day trading volume of at least 6 BTC and a trading completion rate of at least 98% in the previous month can enjoy a 30% fee discount on all fiat markets.
For more details on merchant fee rates, check out our in-depth guide What is Binance P2P Merchant VIP Program. 
Buy and sell with zero fees 
Unlike on most traditional exchanges, which collect a small fee from every transaction, takers on the Binance P2P marketplace are charged zero trading fees.
The Differences Between a Merchant and Normal User
Ways to Earn Crypto on Binance P2P As a Merchant
Below are a couple of helpful tips that can help kick off your P2P trading business as a merchant. 
Crypto and fiat arbitrage
One way to keep your prices competitive is by relying on arbitrage. This strategy involves trading the same asset on different markets or with other users and earning a profit on small price differences. Once you find a suitable price spread on the P2P crypto or fiat market, you could buy low, then sell high.
Configure your buy and sell ads
Binance P2P's ad posting feature is specifically created to meet the needs of the crypto community. You can set a thin price spread to reach more customers or a wide price spread to potentially generate more revenue with your ads. 
Trade crypto easily and safely on Binance P2P, become a merchant today! 
How to Become a P2P Merchant 
Interested in becoming a P2P merchant? Get started in a few easy steps. 
1. Log in to your Binance account and go to the P2P homepage by clicking on [Trade] and then  [P2P] in the main navigation menu.
2.  Go to the [P2P User Center] and click the [Become a merchant] button on the top right corner.
3. You'll then be asked to complete SMS or email authentication and advanced identity verification. Also, make sure that you have enough BUSD in your Funding Wallet.
4. Once you've met all the requirements, click [Apply now] to submit your application. Our team will reach out to you within a few days if you are qualified.
Get Started On Binance P2P Today 
Ready to open a trading business on Binance P2P? Sign up for a Binance account and complete the identity verification process. Once your account is verified, and you've met the merchant application requirements, you can start trading on the Binance P2P marketplace. 
Further Reading
Disclaimer: Your use of the Binance P2P services and all information and other content (including that of third parties) included in or accessible from the Binance P2P services is at your sole risk. Our only responsibility is to handle crypto transactions. All payments are final upon completion unless otherwise required by law. Binance P2P platform has neither the rights nor the obligations to resolve any disputes arising from a completed payment. Neither Binance P2P platform nor merchants shall be responsible for your loss in a completed payment.