Everything You Need to Know About Build the Block
Build the Block, the world's first Web3 entrepreneur reality show set entirely in the metaverse, will go live on May 12 at 14:00 (UTC).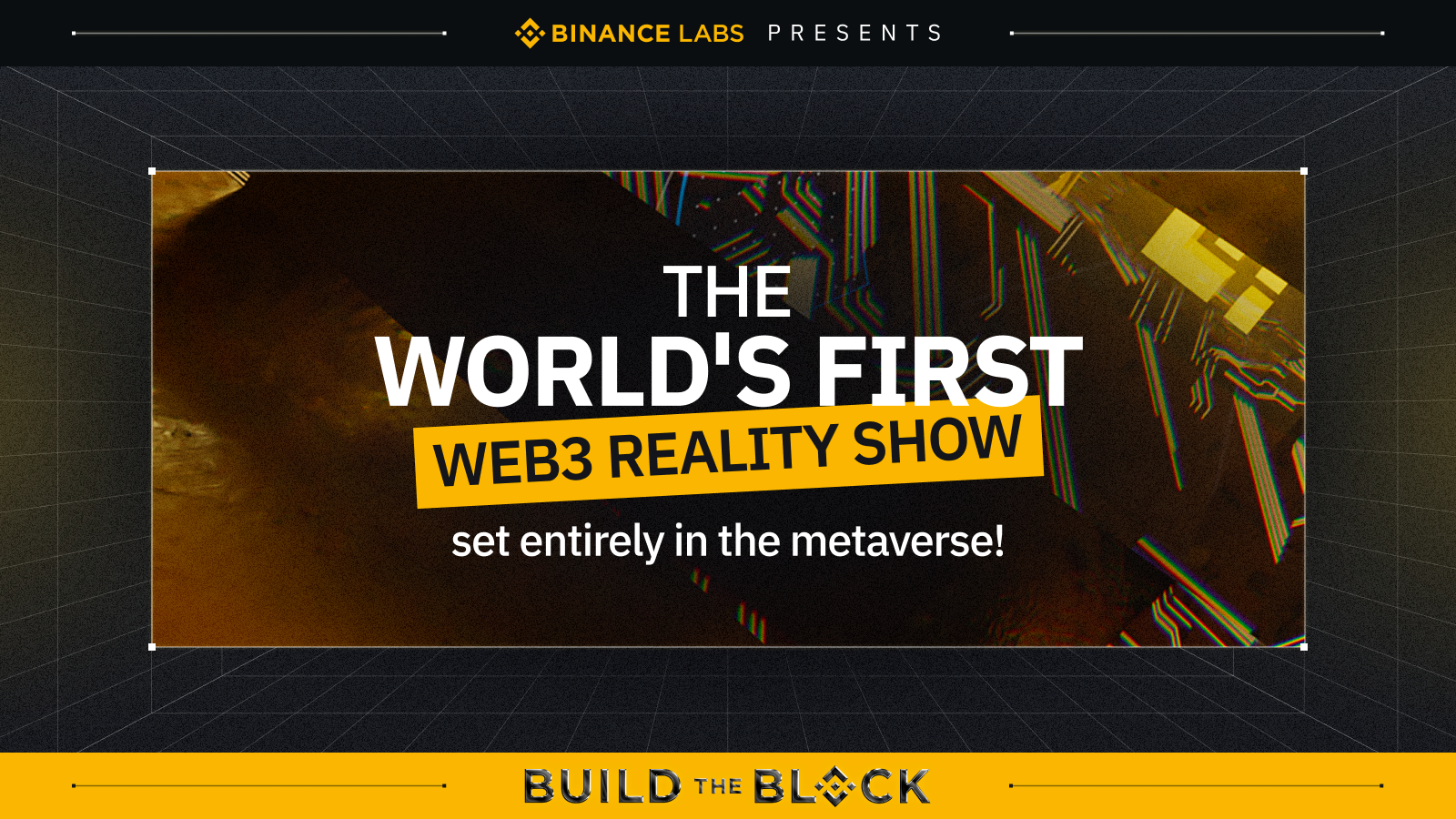 This May, viewers around the globe will be able to witness television history as some of the brightest minds in Web3 deck it out in an immersive virtual arena. 
Produced by Binance Studio, our in-house global creative studio, and in collaboration with Binance Labs, Build the Block pits 12 promising Web3 projects against each other for a chance to acquire the exposure and traction they need to scale their startups into trailblazing enterprises. 
The Format
Over seven 20-minute episodes, contestants will go head-to-head in a pitch-off to impress a live avatar audience and a panel of judges that features:
Yi He, Co-founder and CMO of Binance and Head of Binance Labs

Yibo Ling, Chief Business Officer of Binance Labs

Robby Yung, CEO of Animoca Brands Investment and partner of Animoca Capital

Azeem Khan, Fundraising and Partnership lead of Gitcoin

Guy Turner, Co-founder and face of Coin Bureau. 
The projects garnering the most votes from select audience members — including influencers, venture capitalists, and project founders — will advance to a Q&A session where they'll be grilled with additional questions from the judges, who will then score the participants. The winners of each episode will receive Binance Labs exposure, while the top-scoring project of the entire show will be crowned the winner during the season finale on June 2.
Meet the Projects

Handpicked from over 900 applications, here are your contestants for Build the Block's first season. 
Mind Network is a decentralized privacy-preserving tool that offers encrypted "pay as you go" data storage and computation. 

Kryptostatt is a software-as-a-service startup that offers a suite of finance-related solutions for accounting, portfolio management, and tax reporting, among others.

Sandbags Protocol is a security project that provides solutions to help businesses safeguard their clients' assets.

Wallet Guard is a Web3 browser extension that protects users from common crypto security threats, such as wallet drainers and phishing attacks. 

Ontropy is a project that aims to improve the speed and efficiency of blockchain transactions by removing the need for oracles and bridges via cryptography and zero-knowledge protocols.

HANA is a layer 0 network with trustless multi-chain interoperability that allows for secure private payments in apps and enterprises. 

PIP is a Web3 payment company that aims to accelerate the future of global micropayments. 

Harvest is a blockchain-based third-person shooter game with multiplayer online battle arena (MOBA) and battle royale elements.

Notebook Labs is a compliance infrastructure provider that allows institutions and retail investors to trade, borrow, and lend on DeFi in a compliant and privacy-preserving way.

zkPass is a composable identity protocol leveraging zero-knowledge proofs  (ZKP)and multi-party computation (MPC) to build infrastructure for a decentralized society.

Brackets Lab is a project behind a range of products that enable the creation of leveraged structured financial products on-chain.

dappOS is a provider of solutions aimed at lowering the barriers to entry to Web3, particularly those related to accessibility and ease of use. 
Viewers will be able to learn more about the projects involved through weekly recaps published on the Binance blog.
Where Can I Watch Build the Block?
Build the Block will stream exclusively on Binance Live and our official YouTube channel. New episodes will drop every Tuesday and Friday at 14:00 (UTC), starting May 12. 
Get Ready For The Series Premiere! 
Follow Binance Lab's official Twitter for more information, including exclusive sneak peeks and behind-the-scenes content, in the days leading up to Build the Block's premiere. 
See you in the metaverse!