Binance Academy TH's Learn and Earn Training Academy - September 2020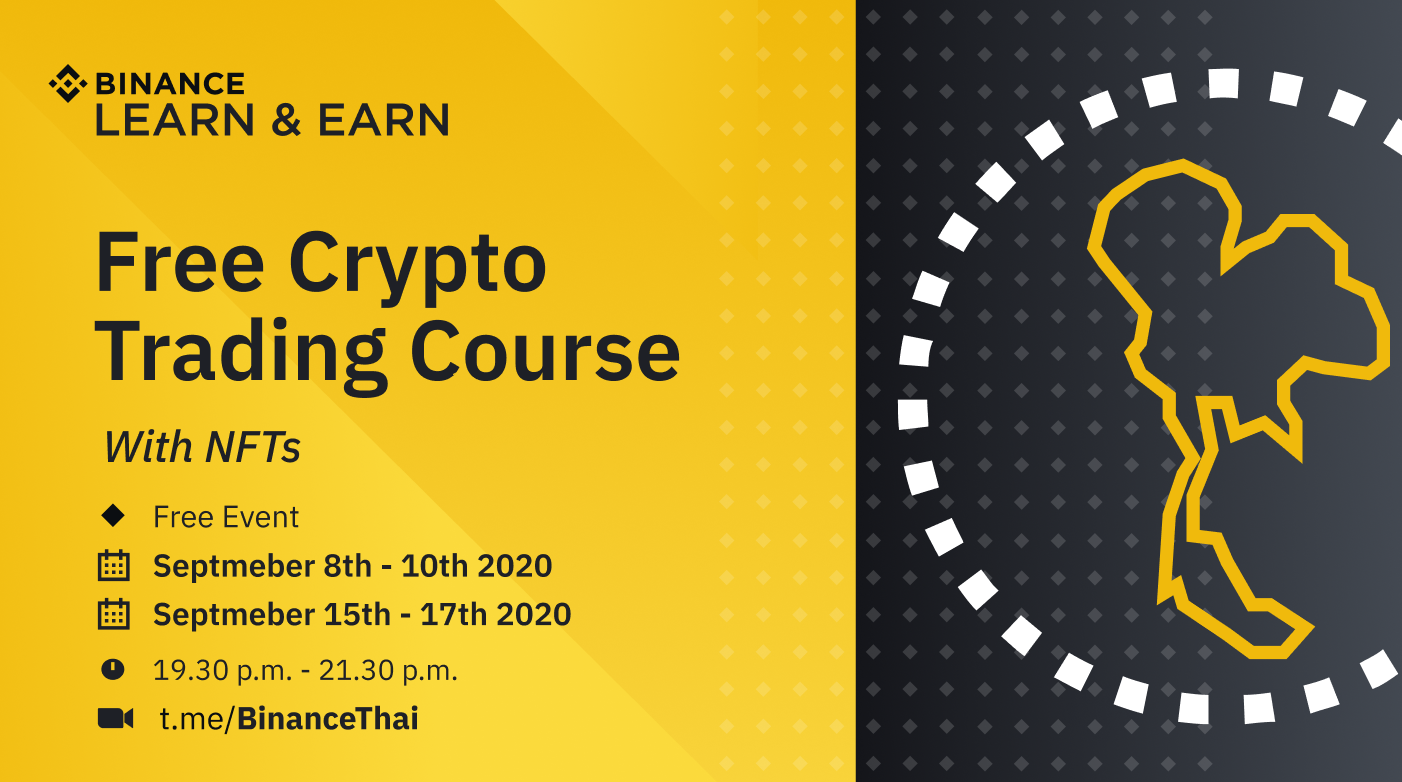 The Binance Academy TH edition course helps beginners learn how to trade crypto. If you've never traded before, getting started could be confusing. However, with some planning and a lot of research, you could build a trading strategy that's logical and works for you. To start on your trading journey, you need to have some training to make it work. If you've always wanted to learn to trade but have no idea where to begin, then this course is for you.
It is a 2-week back-to-back program taught live by a cryptocurrency trader in Thailand based on the live market. Lessons will be 2 hours per day on  Tuesday, Wednesday, and Thursday in the first week for beginners and the week after for intermediate course. 
Here are the courses divided by levels:
For Week 1: Thailand Learn and Earn with Binance - Beginner
For Week 2: Thailand Learn and Earn with Binance-Intermediate (Spot, Margin + Futures)
For students:
This course will be conducted in Thai language only. 

Interested participants need to register for Beginner course  HERE and  Intermediate course HERE to qualify for the prize.

Students from the basic training program automatically qualify for the intermediate training program. 

Interested participants who were not part of the basic training may still qualify for the intermediate training. 

Course is free of charge. 

All participants who passed this course will be provided with NFTs from Binance Academy. You will need to provide a Trust Wallet ETH address in a form. Register Trust Wallet HERE 
Benefits:
All students enrolled in the program will have perks on all upcoming Binance events or campaigns. 

For the duration of the course, there will be trading competitions each week exclusive for enrolled students to gauge on how much the students have learned on the course. 

Students who excel in the competitions throughout the course period will be rewarded each week.

Unallocated prizes for the first cohort will be rolled over the next cohort cycle.
Binance Academy เปิดคอร์สเรียนสำหรับผู้สนใจเทรดคริปโตเคอเรนซี่ฟรี !!!
Binance Academy TH เปิดหลักสูตรเพื่อช่วยให้ผู้ต้องการเริ่มต้นเทรดได้รู้วิธีการเทรดคริปโตเคอเรนซี่ หากคุณไม่เคยเทรดมาก่อนการเริ่มต้นเทรดอาจจะดูเหมือนเป็นเรื่องยาก อย่างไรก็ตามการเรียนรู้เครื่องมือและการวางแผนที่ดีจะช่วยให้คุณมีความมั่นใจในการเทรดและสามารถเทรดให้เหมาะสมกับคุณมากขึ้น ดังนั้นความรู้พื้นฐานสำคัญมากกับนักเทรดมือใหม่
หากคุณต้องการเรียนเทรดคริปโตแต่ไม่รู้ว่าจะเริ่มต้นที่ไหน Binance ได้สร้างหลักสูตรร่วมกับผู้เชี่ยวชาญทางด้านการเทรดและการสอนคริปโตเคอเรนซี่ในประเทศไทยโดยสร้างโปรแกรม 2 สัปดาห์ แบ่งเป็นคอร์ส Beginner และ Intermediate สอนโดยคริปโตโค้ชผ่านการ Live Youtube โดยบทเรียนจะใช้เวลาโดยประมาณ 2 ชั่วโมงต่อวันเป็นเวลา 3 วันต่อสัปดาห์ ในสัปดาห์แรกเป็นคอร์สสำหรับผู้เริ่มต้นที่ไม่เคยมีประสบการ์ณในการเทรดมาก่อน บทเรียนจะเน้นการสร้างความเข้าใจคริปโตเคอเรนซี่ การใช้เครื่องมือพื้นฐานบน Binance ความเข้าใจ แพลตฟอร์ม Peer to Peer และวิธีการใช้งาน ส่วนสัปดาห์ที่สองนั้นเป็นหลักสูตรสำหรับผู้ที่มีประสบการ์ณในการเทรดแต่ไม่เคยเทรดในตลาด Future และ Margin คอร์สนี้จะเน้นสอนเครื่องมือการใช้งานของแต่ละตลาด นอกจากนี้เมื่อจบคอร์สแล้วจะมีการแข่งขันการเทรดเพื่อสร้างความมั่นใจให้กับผู้เรียนมากขึ้น 
สมัครเรียนคอร์ส Beginner ฟรีที่นี้ 
สมัครเรียนคอร์ส Intermediate ฟรีได้ที่นี้ 
รายละเอียดคอร์สเรียนดังนี้
สัปดาห์ที่ 1: คอร์ส Thailand Learn and Earn with Binance - Beginner
วันที่ 8 กันยายน : พื้นฐานคริปโตเคอเรนซี่ BitCoins, Ethereum, and ALT Coins.

วันที่ 9 กันยายน : Market Cycle, Market trend การ KYC และการเริ่มต้นการใช้งาน

วันที่ 10 กันยายน : วิธีการเทรดและวิธีการใช้งาน P2P

วันที่ 10-16 กันยายน : แคมเปญพิเศษสำหรับผู้เรียนคอร์ส Beginner 
สัปดาห์ที่ 2: Thailand Learn and Earn with Binance-Intermediate
วันที่ 15 กันยายน : เครื่องมือและการเทรดบนตลาด Spot

วันที่ 16 กันยายน : เครื่องมือและการเทรดบนตลาด Future

วันที่ 17 กันยายน : เครื่องมือและการเทรดบนตลาด Margin

วันที่ 17-22 กันยายน : แคมเปญพิเศษสำหรับผู้เรียนคอร์ส Intermediate
สำหรับนักเรียน:
ผู้สนใจเรียนสมัครเรียนสามารถลงทะเบียนได้ตามรายละเอียดด้านล่างนี้

การเรียนการสอนเป็นภาษาไทยทั้งสองคอร์ส

คอร์สการเรียนทั้งสองหลักสูตรเป็นคอร์สฟรีไม่มีค่าใช้จ่าย

นักเรียนจากหลักสูตร Beginner จะมีสิทธิ์เข้าร่วมหลักสูตร Intermediate ได้โดยอัตโนมัติ

ผู้ที่ไม่ได้เข้าเรียนหลักสูตร Beginner สามารถสมัคร Intermediate ได้โดยไม่ถูกตัดสิทธิ์

ผู้เข้าร่วมทุกคนที่ผ่านหลักสูตรนี้จะได้รับ NFT จาก Binance Academy คุณจะต้องระบุที่อยู่ ETH ของ Trust Wallet ในแบบฟอร์ม ลงทะเบียน Trust Wallet ที่นี่
Benefits:
นักเรียนทุกคนที่ลงทะเบียนในโปรแกรมจะได้รับสิทธิในการเข้าร่วมแคมเปญของ Binance สำหรับคอร์สการอบรม

นักเรียนที่ผ่านการอบรมจะได้รับ NFT จากทาง Binance Academy ฟรี 

ตลอดระยะเวลาของหลักสูตรจะแคมเปญแข่งขันในแต่ละสัปดาห์โดยเฉพาะสำหรับนักเรียนที่ลงทะเบียนเรียนเพื่อวัดระดับความรู้ว่านักเรียนได้เรียนรู้จากหลักสูตรมากน้อยแค่ไหน

หากมีผู้ร่วมกิจกรรมน้อยกว่ารางวัลแจกจ่าย รางวัลที่เหลือจะถูกสมทบกับแคมเปญในคอร์สการเรียนรุ่นถัดไป