25,000 THB in BUSD to be Won! Join the Binance P2P Video Tutorial Competition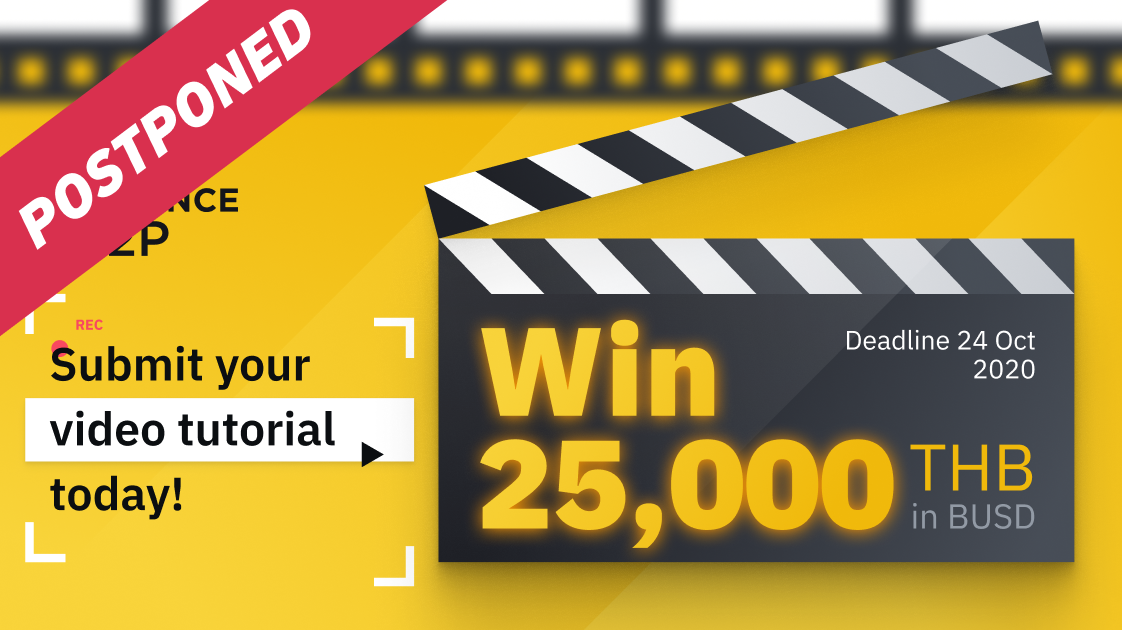 25,000 THB in BUSD to be Won! Join the Binance P2P Video Tutorial Competition 
Would you like to help educate Thai crypto traders on how easily they can buy/sell Bitcoin with THB using Binance P2P? Here's a chance for you to showcase your crypto skills, educate your friends and family, and also earn some money. Binance P2P presents a video competition for our amazing Thai crypto community.
Just make educational and informative videos on how to buy and sell on Binance P2P with THB and stand a chance to win from a pool of $800 in BUSD
How Do I Participate? 
1. Create a Binance P2P video that includes AT LEAST 5 of the following aspects: 
What is Binance P2P? 

How to register on Binance P2P with your referral link?

Add THB payment methods including bank transfer, Truemoney wallet. 

Buy crypto with THB on Binance P2P (app/web).

Sell crypto with THB on Binance P2P (app/web).

Post an advertisement against THB on Binance P2P (app web). 

Transfer funds from other wallets to P2P wallet.

Appeal an order.
2. Post your Binance P2P Tutorial Video on either your Facebook, YouTube, Instagram, or Twitter. Tag the Binance official accounts (Twitter, Facebook, YouTube, and Instagram) and hashtag #BinanceP2P #BinanceThaiCommunity
3. Once done, submit your video via the mandatory form here. 
4. The length of each video should not be longer than 8 minutes.
Activity Period
2020/10/2 23:45 (UTC+7) - 2020/10/24 23:45 (UTC+7)
Awards 
10 winners who will share a prize pool $ 800 in BUSD as per below.
1st place: 40% of the prize pool in BUSD

2nd place: 25% of the prize pool in BUSD

3rd place: 15% of the prize pool in BUSD

4th-10th lucky draws: share 15% of the prize pool in BUSD
Evaluation Criteria
50%: Voting from the community (the total number of views, likes, comments, video sharing on your Youtube channel)

50%: Voting from Binance-SEA according to 3 criteria: good content, easy-to-understand, clear presentation, creative and fun
The winners will be announced on the Binance Thai  Facebook page on October 30, and the videos will be shared across Binance Thai's social media channels.
Learn About How to Buy and Sell Crypto using Binance P2P
Notes
1. Participants MUST trade THB in the video. 
2. Please include "Binance P2P" and "Thailand" in your video description/title.
3. You can make videos in your regional language and add subtitles in English.
4. Rewards will be distributed to eligible participants within 2 weeks after the conclusion of the activity. 
Disclaimer note: By participating in this competition, authorship remains with the entrant, but the entrant acknowledges to transfer the copyright of the submitted video to Binance. All participants grant Binance, including but not limited to, copy, edit, display, and publish the submissions. Binance reserves the right of final interpretation.
------------------
ร่วมเข้าแข่งขันสร้างวิดีโอสอนใช้ Binance P2P ลุ้นรางวัล BUSD 25,000 บาท
การซื้อขาย Crypto อาจจะเป็นเรื่องยากสำหรับมือใหม่โดยเฉพาะการใช้เงินไทยซื้อคริปโต พื่อสร้างความเข้าใจและให้ความรู้แก่ผู้ใช้งาน crypto เรื่องการซื้อ-ขาย Bitcoin ด้วยเงินบาทโดยผ่าการใช้ Binance P2P ทาง Binance จึงออกแคมเปญแข่งขันกันทำวิดีโอการใช้งาน Binance P2P และแชร์บน social media เพื่อลุ้นรางวัล BUSD รวม 25,000 บาท
วิธีการเข้าร่วมกิจกรรม
1. สร้างวิดีโอ Binance P2P ที่มีอย่างน้อย 5 ประการต่อไปนี้:
Binance P2P คืออะไร

การลงทะเบียนบน Binance P2P ด้วย referral link ของคุณ

วิธีการเพิ่มช่องทางการชำระเงิน ด้วย Bank Account และ Truemoney Wallet

ซื้อ crypto ด้วย THB บน Binance P2P (App/Web)

ขาย crypto ด้วย THB บน Binance P2P (App/Web)

โพสต์โฆษณาร้านค้าบน Binance P2P (App)

โอนคริปโตจาก wallet อื่นไปยัง P2P wallet

อุทธรณ์คำสั่งซื้อ  (appeal)
2. โพสต์วิดีโอสอน Binance P2P ของคุณบน Facebook, YouTube, Instagram หรือ Twitter Tag account @binance (Twitter, Facebook, YouTube, และ Instagram) และแฮชแท็ก # BinanceP2P #BinanceThaiCommunity
3. เมื่อเสร็จแล้วส่งวิดีโอของคุณผ่านแบบฟอร์มที่นี้
4. ความยาวของแต่ละวิดีโอไม่ควรยาวเกิน 8 นาที
ระยะเวลากิจกรรม
2 ตุลาคม 2563 เวลา 23:45 (UTC + 7) - 24 ตุลาคม 2563 เวลา 23:45 (UTC + 7)
รางวัล
ผู้ชนะ 10 คนที่จะได้รับเงินรางวัลรวม $ 800 เป็น BUSD ตามด้านล่าง

อันดับที่ 1: 40% ของเงินรางวัลรวมใน BUSD

อันดับที่ 2: 25% ของเงินรางวัลรวมใน BUSD

อันดับที่ 3: 15% ของเงินรางวัลรวมใน BUSD

การจับรางวัลที่ 4-10: แบ่งเงินรางวัล 15% เป็น BUSD
เกณฑ์การประเมิน
50%: โหวตจาก Community (จำนวนการ views likes comments และ share video)

50%: โหวตจาก Binance-SEA ตามเกณฑ์ 3 ข้อคือ 1)เนื้อหาดีเข้าใจง่าย 2)การนำเสนอชัดเจน 3)สร้างสรรค์และสนุกสนาน
ประกาศรายชื่อผู้ได้รางวลบนหน้า Facebook ของ Binance Thai ในวันที่ 30 ตุลาคมและวิดีโอผู้ชนะจะถูกแชร์ผ่านช่องทางโซเชียลมีเดียของ Binance Thai Community 
เรียนรู้เกี่ยวกับวิธีการซื้อและขาย Crypto โดยใช้ Binance P2P
หมายเหตุ
1. ผู้เข้าร่วมต้องทำการแลกเปลี่ยนเงินบาทในวิดีโอ
2. โปรดใส่" Binance P2P" และ" Thailand" ในคำอธิบาย / ชื่อวิดีโอของคุณ
3. คุณสามารถสร้างวิดีโอภาษาไทยและเพิ่มคำบรรยายเป็นภาษาอังกฤษ
4. รางวัลจะถูกแจกจ่ายให้กับผู้เข้าร่วมที่มีสิทธิ์ภายใน 2 สัปดาห์หลังจากกิจกรรมสิ้นสุดลง