What Are Binance Vouchers and How to Redeem
2022-08-18 02:17
You may receive different types of Binance vouchers as activity rewards. Each voucher offers different perks, such as free tokens, VIP-level upgrades, and interest-free loans for Margin trading. Follow the step-by-step guide below to redeem your vouchers from the Reward Center.
Different types of Binance vouchers
Depending on the activities and tasks, you may receive Cash Vouchers, Cashback Vouchers, Futures Bonus Vouchers, Margin 0% Interest Vouchers, VIP Upgrade Vouchers, or Flexible Trial Funds.
| | |
| --- | --- |
| Type of Voucher | Description |
| Cash Voucher | Redeem free tokens to your Spot Wallet. You can use, transfer, or withdraw the tokens with no restrictions |
| Cashback Voucher | Enjoy Spot market trading fee cashback for a limited period |
| Futures Bonus Voucher | Redeem free tokens that can only be used as collateral in Futures trading |
| Margin 0% Interest Voucher | Enjoy interest-free loans for a limited period in Margin trading |
| VIP Upgrade Voucher | Upgrade your VIP level for a limited period |
| Flexible Trial Fund | Redeem trial funds for subscribing to specific Simple Earn Flexible Products. The funds cannot be withdrawn or transferred, but you can enjoy the daily rewards generated by the subscribed product for a limited period |
How to redeem Binance vouchers?
Log in to your Binance account and click on the
[Account]
icon. Select
[
Reward Center
]
.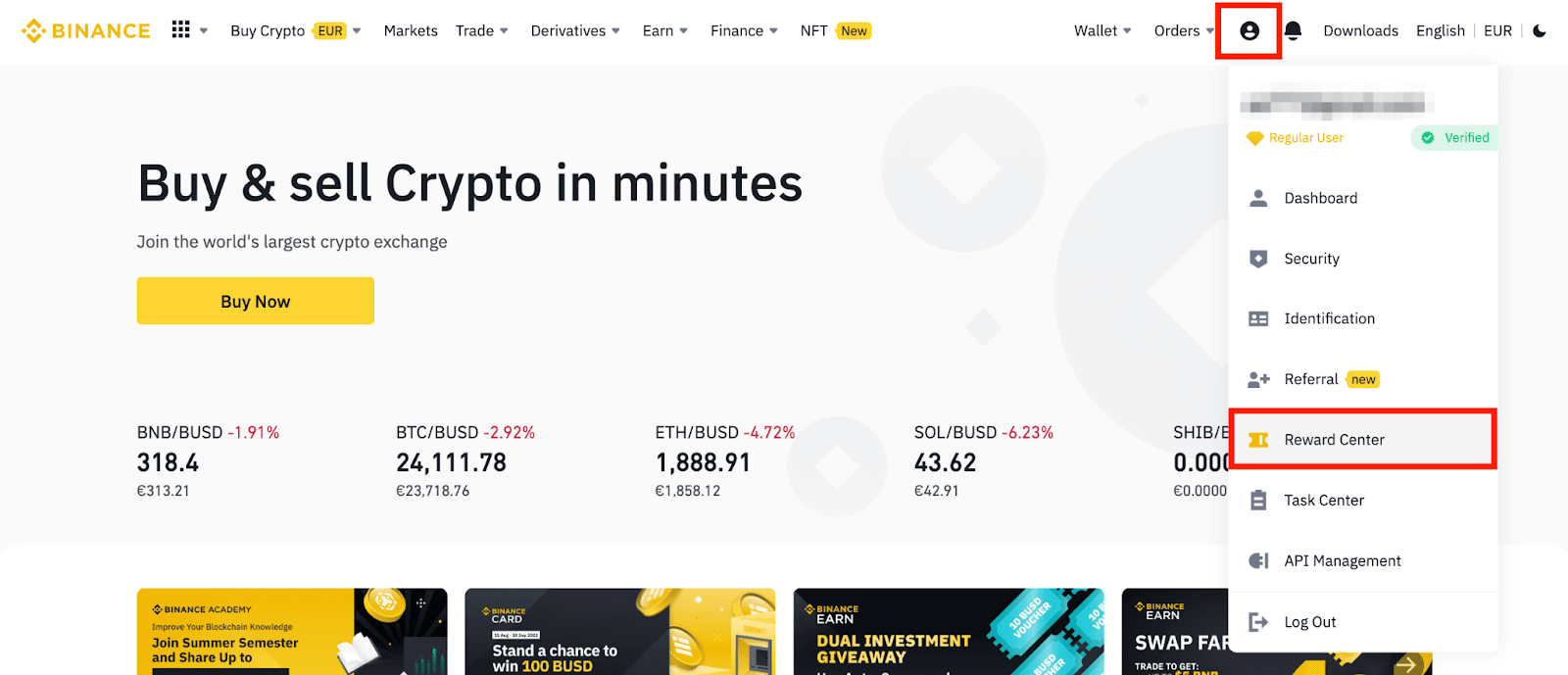 If you're using the App, tap [More] from the homepage. Scroll down to [Gift & Campaign] and tap [Reward Center].
You will see all the available vouchers here.
Important note: Please redeem the voucher before it expires, and read the voucher rules carefully before redeeming. Some vouchers are only applicable to certain Binance products.
Via distribution
1. After the activity ends, the reward voucher will be automatically distributed to your account. You will be notified when the voucher is ready.
2. Go to
[
Reward Center
]
to see your voucher. Click
[Redeem]
on the voucher you want to use and follow the instructions to redeem.
Via voucher codes
You may also redeem vouchers using the voucher codes.
1. Go to
[
Reward Center
]
and click
[Voucher Code]
. Enter the code and click
[Claim Voucher]
to redeem.
Please note that each code can only be redeemed once per user.
2. Your voucher is now ready to use.
For specific voucher redemption guides, please visit: