1. Open the Binance app and click on [Login/Register] at the top left-hand corner.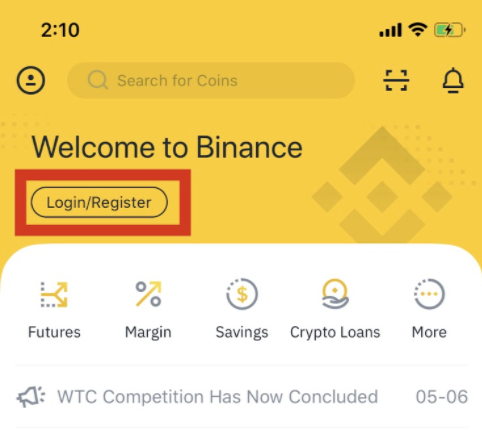 2. Follow the instructions and insert the email address and password you'll use for your account. After reading carefully the Terms of Use (TOU), click on [Register].
NOTE:
Your password must contain at least 8 characters, including one uppercase letter and one number.
If you've been referred to register on Binance by a friend, make sure to fill in the Referral ID (optional).

3. After clicking on [Register], you'll see a sliding jigsaw verification code. Please, drag the slider to complete it.
4. Once you have completed the jigsaw, we'll send a confirmation email to the address you've specified. Please check your inbox to confirm your registration within 10 minutes.
Notice:
For your own account security, we highly recommend you to enable the two-factor authentication (2FA) after your first login. (Google 2FA or SMS 2FA)
*Before starting P2P trading, you may need to complete KYC and 2FA authentication.