How to Trade Spot on the Binance Website
2021-06-17
Go to the Binance website. At the upper right corner of the page, tap on [Login] so you can log in to your account in Binance.
On the homepage, tap on any cryptocurrency and directly go to the corresponding page in spot trading.
Here is how your trading interface would appear: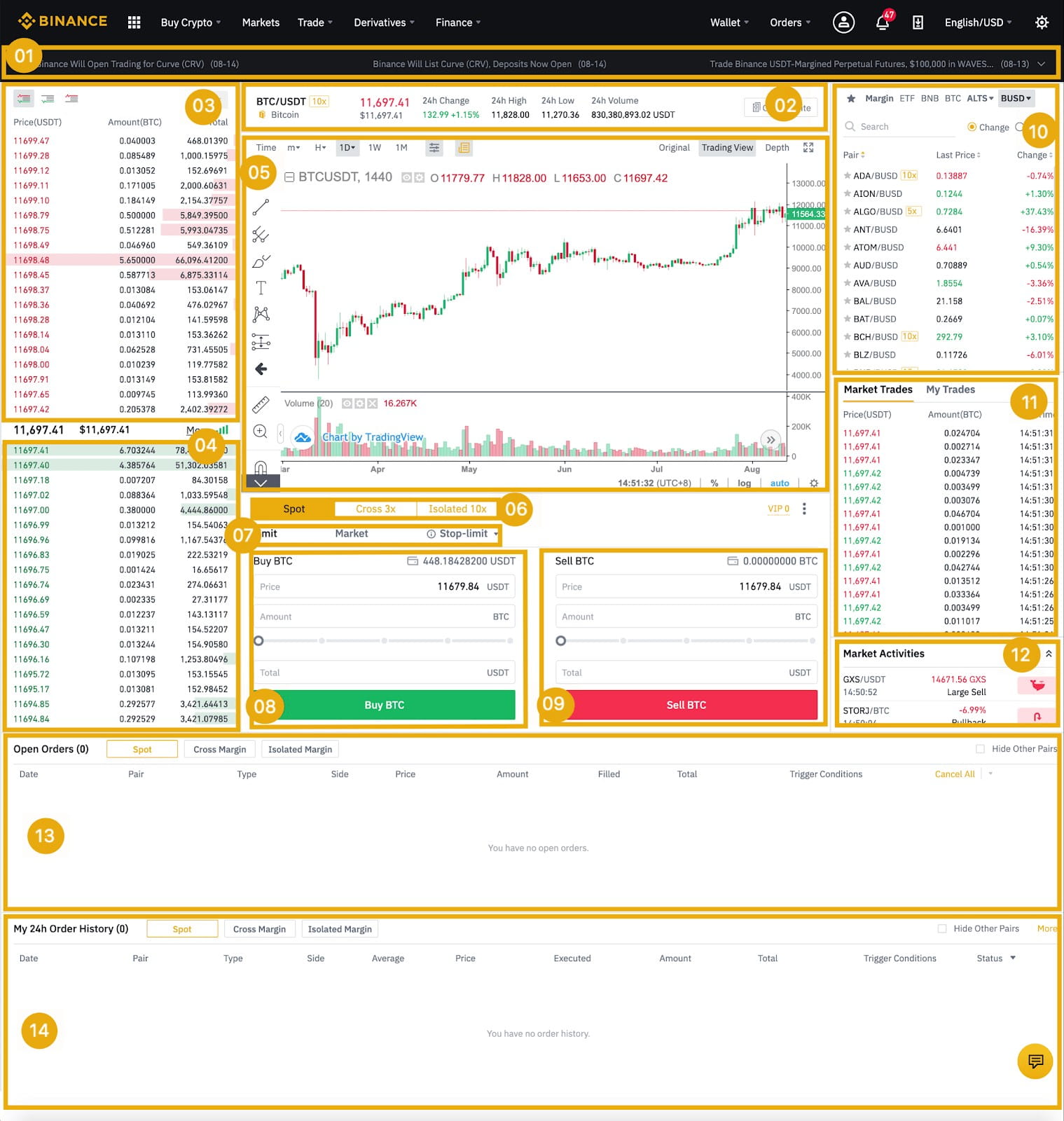 Binance Announcement

The trading volume of trading pairs within 24 hours

Sell order book

Buy order book

Market Depth and Candlesticks

Trade Type: Isolated Margin/Cross Margin/Spot

Order Type: Stop-limit/Limit/OCO(One-Cancels-the-Other)/Market

Buy Cryptocurrency

Sell Cryptocurrency

 Markets and Other Trading Pairs.

 Recently completed transactions

 Market Activity: High volatility/activity in the trading market

 Orders are open

 Your 24-hour order history

 Binance Customer Support
As an example, you can try to buy BNB. Tap on [Trade] at the top of the Binance homepage. Then, select from [Advanced] or [Classic]. Go to the page buy BNB and then have the amount and price entered for your order. After that, complete the transaction by pressing [Buy BNB].
If you want to sell BNB, you may have the same steps followed:
Limit Order is the default type of order. However, whenever you want to place an order immediately, you can have it switched to the [Market] Order. With the use of Market Orders, investors are capable of directly trading at the current market price.

The BTC/BNB may have a market price that is 0.002. You may want to have it purchased at a specific price like 0.001, have an Order [Limit] placed. If the market price gets to your order price, they will have your order executed.

You can use the percentage number underneath the BNB Amount box to indicate the amount of BTC that you want to purchase with BNB. Have the amount entered, and then buy the cryptocurrency.
Improve Your Finance by Trading Crypto with Binance NOW!
Binance is the best cryptocurrency exchange when it comes to trading volume and number of users. With its P2P or peer-to-peer trading platform in Philippine Peso, Filipinos can use their local currency to buy and sell cryptocurrency. With Binance, Filipinos can now use their local Philippine Peso in buying BNB, USDT, EOS, ETH, and BTC. 
With Binance's Earn platform, Filipinos can trade cryptocurrencies without having to pay any transaction fees. Having this integrated can let users trade crypto in payment modes and prices that they want. They can even have their crypto assets transferred to their Binance wallet without additional expenses. The platform offers an escrow service with zero transaction fees that allow users to have their crypto in their wallets. With the Binance platform, you can even get better access to different financial services like Binance lending, spot, margin trading, and futures. With 
Binance's platform, users can have better access to various financial services, including Binance's futures, spot, lending, and margin trading. Allow yourself to earn a lot of passive income by becoming involved in Binance Savings and Binance Staking!
If you desire to earn interest, the best option for you would be having your cryptocurrency placed in Binance Savings. Many available packages and products are available depending on when you would like to access your funds. Included here are so many great features, such as the APY rates, that are great for any investor. You may even opt to get into Binance Flexible Savings if you want to have your coins redeemed anytime with a 7-Dat APY of 1.2%.
If you feel that it is better to invest, get involved in Binance Staking. With Binance Staking, your crypto earnings could significantly increase. You may also have your cryptocurrency stored in hot or cold wallets. When you become active in the cryptocurrency trade, you may even earn a lot more. Provide support to the blockchain network by having your assets locked by putting your cryptocurrency at stake so you can gain so much more tokens. If you do this, you will gain many benefits that can help bring up your coin's value!
Make your funds do the work for you by trading cryptocurrency. It can be so much better compared to trading fiat currency. Now, the Philippines is involved in blockchain technology and cryptocurrency. Thus, we recommend that Filipinos get involved in trading cryptocurrency. With this, their earnings would continuously rise!
Go ahead and start downloading Binance from Apple's App Store or Google Play NOW! Let Binance help you earn so much from trading crypto! Since cryptocurrency is continuously expanding and developing, anyone can have substantially increased earnings. Let yourself become involved in the crypto trade with Binance NOW so you can have improved and prosperous finances and increased gains!