To protect our users and ensure that listed tokens and trading pairs continue to meet the high level of standards we expect, Binance conducts periodic reviews of each listed token and spot/margin trading pair on our platform based on our
Delisting Guidelines
.
When a listed token or spot/margin trading pair no longer meets these standards, Binance will conduct a more in-depth review, and potentially delist the token or spot/margin trading pair to protect users' interests.
Where to access delisting information?
You can view delisting announcements from the Binance website and the Binance App.
Website
1. Scroll down to the bottom on the Binance homepage and click
[
Support Center
]
.
App
1. Tap [Profile] - [Help & Support].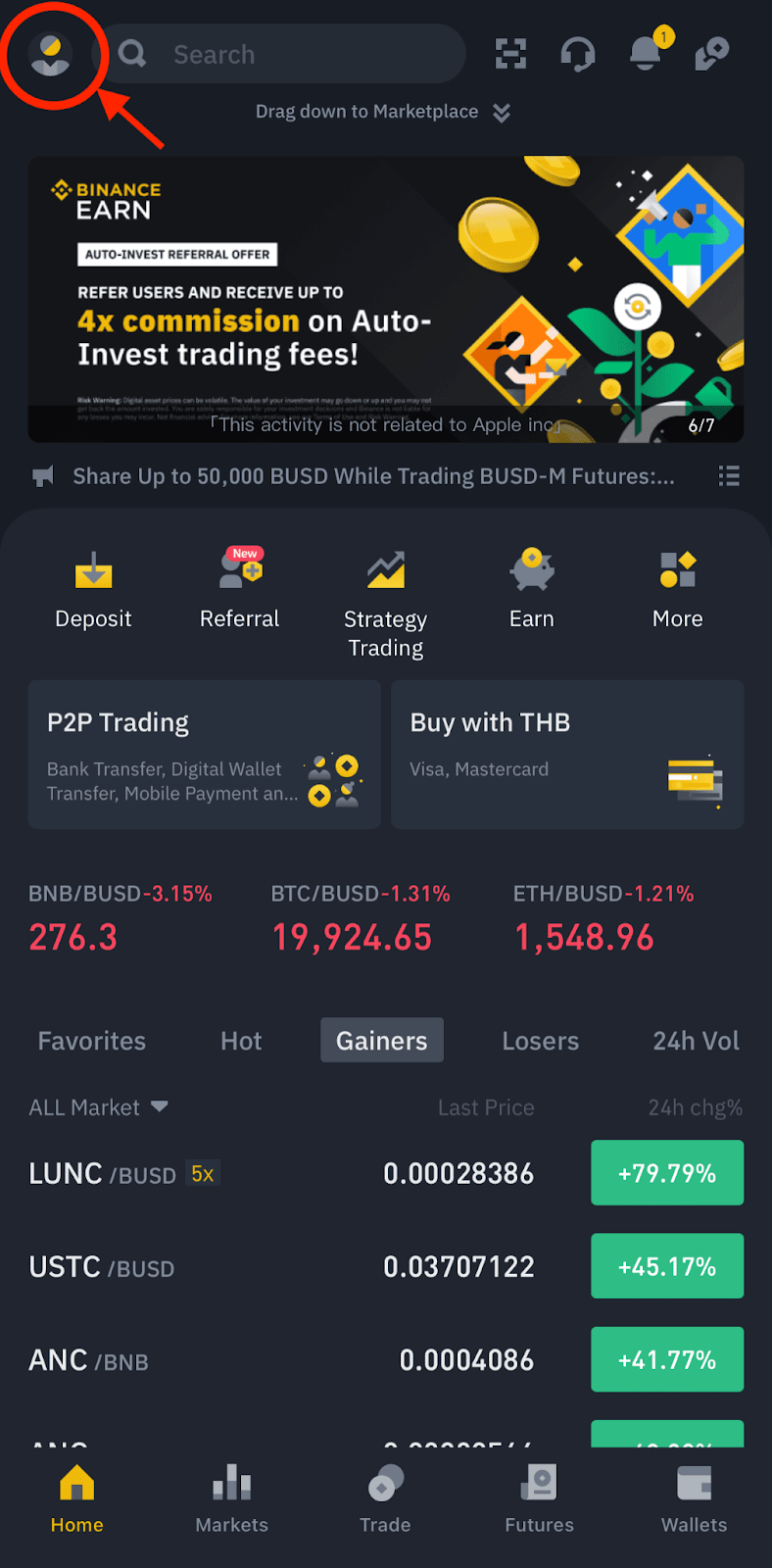 2. Tap [Help Center (FAQ)].
3. Scroll down to [Announcement] and tap [Delisting].
How to view the delisting details?
Binance will post delisting announcements for tokens and spot/margin trading pairs to notify users. If you hold the specific token in your Spot or Margin Wallet, you will be notified of the upcoming token or spot/margin trading pair delisting via Binance App and email.
For tokens about to be delisted, you will be notified via the Binance App and email on the day of the announcement and one day before the delisting of the token(s).
For trading pairs about to be removed, you will be notified via the Binance App and email on the day of the announcement.
For token swaps, rebranding and redenomination events, you will not receive any notification via the Binance App or email.
Binance Margin will suspend borrowing for upcoming margin pair delistings before the delisting date. If you have open margin positions for the token or margin trading pair that is to be delisted, your positions will be automatically closed and liquidated at the time of delisting. Please close your positions manually before the delisting date to avoid any potential losses.
In addition, Binance Spot will also put up notification banners for each spot trading pair that is to be delisted at its corresponding spot trading page. This is to remind users of upcoming spot trading pair delistings, and you will be able to see the spot trading pair's upcoming delisting date and time after selecting the corresponding spot trading pair at Binance Spot.
After the token is delisted, it will be labeled as [Delisted] in your Wallet.
Disclaimer: A list of the Supported Digital Assets is published on our Website. According to
Binance Terms of Use
, we may remove or suspend one or more Digital Assets from the list of Supported Digital Assets and we will use reasonable commercial efforts to notify you in advance. Meaning that you will no longer be able to access such Digital Assets as part of the Binance Services and will only be permitted to withdraw the Digital Assets from your Binance Account.
Risk Warning: Digital asset prices are subject to high market risk and price volatility. The value of your investment may go down or up, and you may not get back the amount invested. You are solely responsible for your investment decisions and Binance is not liable for any losses you may incur. Past performance is not a reliable predictor of future performance. You should only invest in products you are familiar with and where you understand the risks. You should carefully consider your investment experience, financial situation, investment objectives and risk tolerance and consult an independent financial adviser prior to making any investment. This material should not be construed as financial advice. For more information, see our
Terms of Use
and
Risk Warning
.