1. Log in to your Binance account and go to
[Wallet]
-
[Overview]
-
[
Verification
]
. Select the corresponding audit to verify. Click the copy icon to copy the Merkle leaf used for verification.
3. Further down the page, navigate to "Search for your Merkle Leaf, which is located on your Binance profile" and paste your Merkle leaf information in the field below. Click [Search].
4. Here, you can verify the Merkle leaf information generated from the tree. Click on [Tree Break] to show the path to your Merkle root hashes.
5. Verify the root hash from the
Proof of Reserve
section on the Binance website. Ensure you choose the correct audit report.
Verify Merkle Leaf
This feature helps to calculate and generate your Merkle leaf by using a Merkle hash.
1. Log in to your Binance account and go to
[Wallet]
-
[Overview]
-
[
Verification
]
. Click the copy icon to copy the Merkle hashes used for verification.
2. Go to "
Calculate your merkle leaf
" on
https://merkle.silversixpence.io/binance-PR22NOV22.html
, paste the copied Merkle hash information, and click
[Calculate]
to generate your Merkle leaf. For the 22 November 2022 audit, the first 16 digits displayed on the platform are your corresponding Merkle leaf.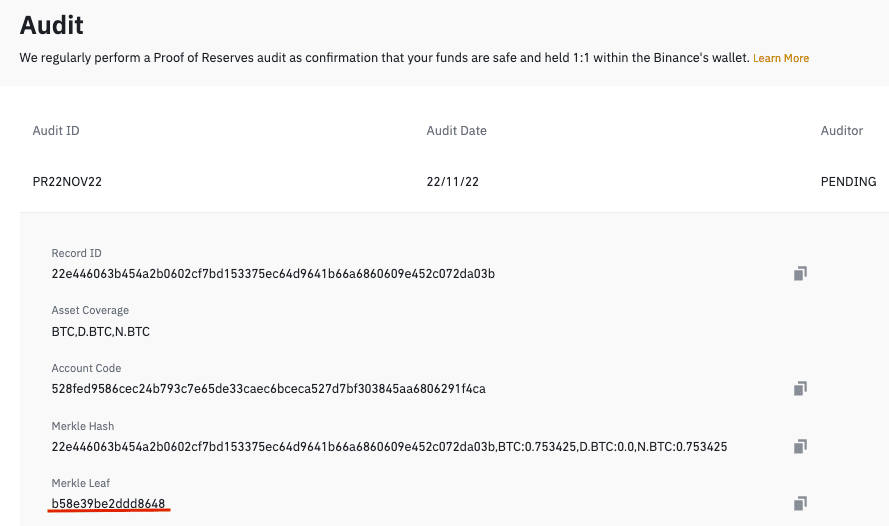 Verify Tree Nodes
Verify tree nodes allows you to verify the parent nodes of children nodes.