Binance P2P has launched the UAH Gift Card as a new payment method for P2P users. You can add the UAH Gift Card as your payment method to pay and receive payments in Binance Gift Cards that contain a UAH fiat balance.
Please note that this function is currently only available on the Binance App.
What is a UAH Gift Card?
UAH Binance Gift Card is a
Fiat Gift Card
containing a UAH fiat balance. You can create it using your UAH fiat balance from the Spot Wallet.
How to pay a seller with a UAH Gift Card on Binance P2P?
1. Log in to your Binance account and go to Binance P2P. Select an order from a seller that accepts Binance Gift Card as a payment method.
2. Confirm the order details and tap [Transfer Funds Now]. You will be prompted to make a payment from your wallet balance using Binance Gift Card. Tap [Proceed] and you will be redirected to the Gift Card page.
3. The [Coin], [Amount], and [Transfer To] fields will be automatically filled based on the P2P order details. You can choose to use your Spot and/or Funding Wallet balance. Tap [Send].
4. You will be redirected back to the P2P order page. Tap [Transferred, Notify Seller] and wait for the seller to confirm your payment and release your crypto.
How to confirm a UAH Gift Card payment for a P2P order?
1. After the buyer indicates that they have made a payment, you will be notified. Please check your email to obtain the UAH Gift Card redemption code. Verify that the order number in the email matches the order number in the App. Tap [Redeem Code Now].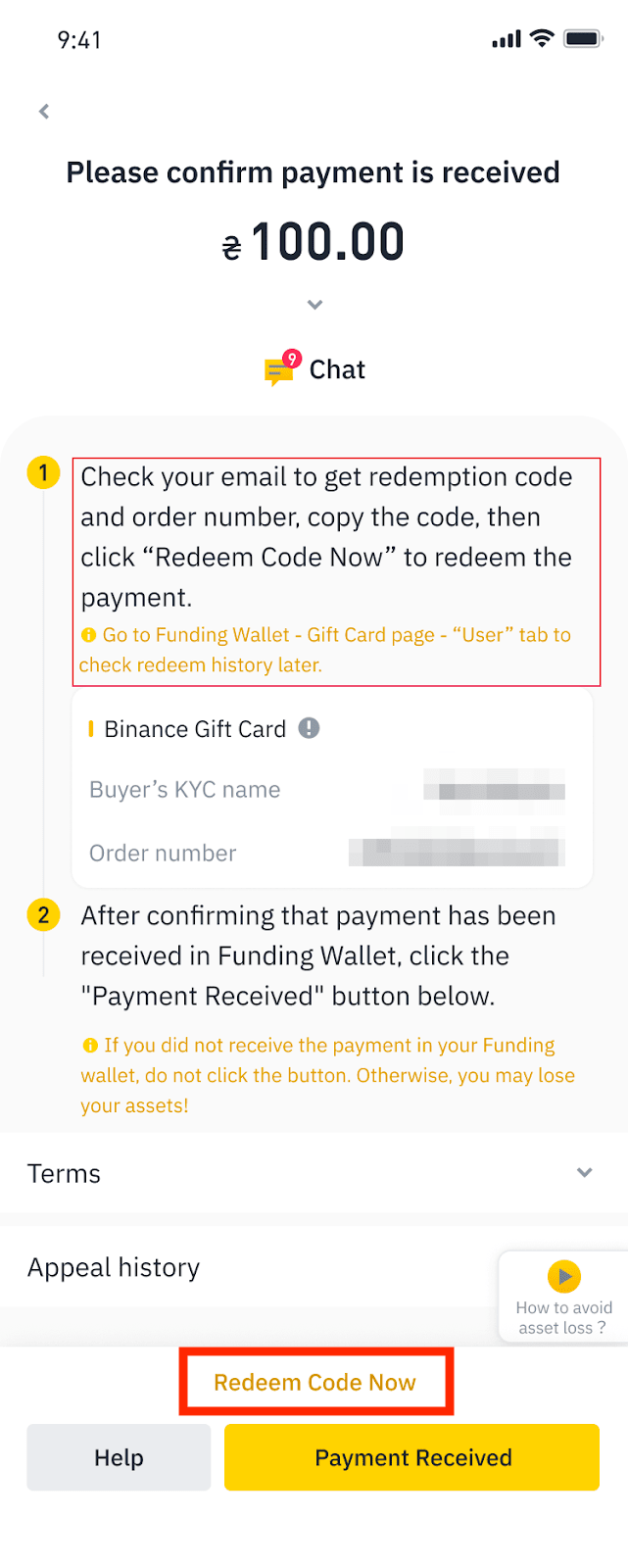 3. Tap
[Redeem Now]
and paste the gift card redemption code you received to redeem the UAH into your Funding Wallet. For more details, please refer to
How to Redeem a Gift Card on Binance
.
4. After confirming you have received the payment in your Funding Wallet, tap [Payment Received] and [Confirm].