What is the Fan Shop?
Fans can explore and buy special merchandise and items at a discount with their respective Binance Fan Tokens. Some of these items include match tickets, exclusive sports equipment, NFTs, VIP experiences, and a growing list of products listed by partnering teams and brands.
How does the Fan Shop work?
Depending on the availability of listings, you may have to indicate your interest for items in a pre-sale subscription. Once a sale begins for an item, you can buy it with the corresponding team's Binance Fan Tokens. Due to the exclusiveness of products, you may only be able to buy a limited number of items at once.
How to subscribe to a product sale?
2. Access the [Fan Shop] tab from your preferred team's profile page or the Binance Fan Token Platform main page.
3. Depending on the availability of the items, you might have to indicate your purchasing interest via subscription.
Please note that subscriptions will run for a limited period. You may refer to the countdown under each item.
4. You can click on your preferred items to check their detailed description, including the price and the remaining subscription time.
5. To indicate your buying interest, click [Subscribe] and you will see a green checkmark on the item page and the "Subscribed" title written over the listing.
6. To purchase items once a sale begins, you will need to have
set up Binance Pay
. To do so, click on
[Activate]
in the pop-up window after subscription. Remember, items can have limited stock, so make sure you finish this step in time.
7. Get ready for the sale and top up your token balance by clicking [Buy More Binance Fan Tokens] on the item's information page.
How to purchase products from the Fan Shop?
1. Enter the Fan Shop under the team profile page to find new products on sale. You can purchase listings that don't have a subscription countdown or the "Sold Out" title overlay. Please note that Fan Shop products can have limited availability.
2. Enter your preferred product's page for a detailed description and select an amount you wish to purchase. You may only be able to purchase a limited number of items. Click [Buy Now] to continue your purchase to the checkout page.
3. Review your purchase and click [Place Order] to proceed with payment via Binance Pay. If the 'Insufficient Stock' message comes up, please edit the purchase amount and try again.
4. Please note that the system will deduct Binance Fan Tokens from your Spot Wallet. If your balance is insufficient, click [Buy Token] to top up.
5. You will be redirected to the checkout on Binance Pay to complete your purchase. Choose [Spot Wallet] as your payment method. Please make sure you have sufficient Binance Fan Token balance before confirming your payment. You may need to enter your Pay PIN for payment verification. Your payment is now completed.
6. Once your payment is finalized, click [Back to Merchant] to return to the Fan Shop. You may need to register your purchased items in the pop-up window. After you finish, you will be automatically redirected to the [My Orders] page.
7. You can check all your successful and open orders under [My Orders]. You can finalize unfinished orders here or check how to claim your purchased items.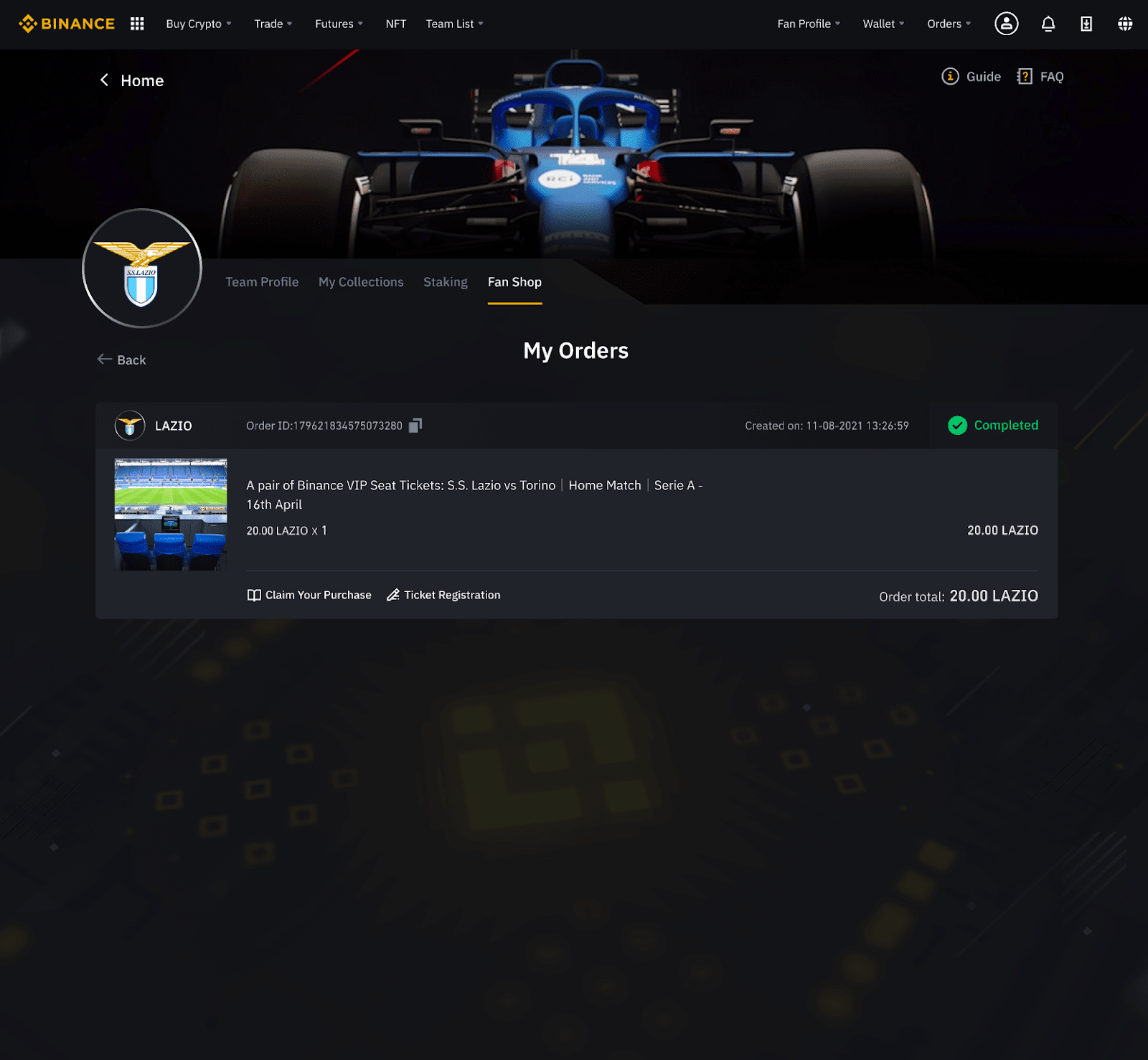 How to claim your items in the Fan Shop?
1. Once your purchase is complete, you will be able to register and claim certain items or experiences in the Fan Shop. Fill out the form with your personal information and click [Submit].
2. The order details and redemption method will be sent to your email address.
3. You can revisit the contact information page to update your personal details 7 days before each match.
Frequently Asked Questions
How to pay for my order?
We support and encourage using Binance Pay for secure transactions. To support the team, you can only use the corresponding team's Binance Fan Token to pay for your preferred items. For additional questions regarding this payment method, please refer to the
Binance Pay FAQ
.
Can I ask for a refund?
Refunds and cancellations are strictly not allowed once purchases have been made. There will strictly be no monetary refund if the user is not able to attend the events they purchased tickets for via the Fan Shop.
Can I reserve items in the Fan Shop?
You can indicate your interest to purchase certain items but keep in mind that products are sold on a 'first-come, first-served' basis and the final allocation will be determined by the speed of completing the checkout process.
How to use my match ticket?
Once you successfully place an order, our staff will contact you offline to collect your information and you will receive a confirmation email later with your e-ticket. Make sure to provide correct personal details as we will rely on those to issue your tickets and contact you.
Who can place orders in the Fan Shop?
You are required to complete
Identity Verification
before you can place orders, and you will need to activate Binance Pay in order to purchase items from the Fan Shop. For some scarce items, you may only be able to buy a limited number of items.
How can I redeem my NFTs from the Fan Shop?
NFTs will be automatically airdropped to your Spot Wallet within 7 working days after each NFT launch. The non-tradeable NFT tickets for selected matches will be airdropped to your Binance wallets 3 working days after each match sale has ended.
Disclaimer:
Binance reserves the right to disqualify any buyers immediately for any improper behaviors. Binance also reserves the right to cancel or amend the Fan Shop rules at our sole discretion.