What is Binance Swap Farming?
Powered by AMM (automated market maker), Binance Swap Farming offers 260+ pairs for you to trade. You can enjoy extra BNB rewards, totaling up to 30% of the trading fees.
Benefits of Swap Farming
Easy to use: Swap with the click of a button. Swap Farming is the simplest way to trade crypto for high-volume traders
Arbitrage opportunities: Capture arbitrage opportunities between spot and swap markets
Capital efficient: Low slippage with better rates compared to trading via DEX
Earn BNB rewards: Earn BNB rewards totaling up to 30% of the transaction fees
Fee deduction: Save up to 30% on trading fees for VIP users
VIP tier requirements: Swap Farming trading volume counts towards the trading volume for VIP tier requirements
How to use Swap Farming API?
Step 1: Create your API
If you already have an existing Binance API, please skip to Step 2.
1. Log in to your Binance account and click [API Management] from the [User Center] icon.
2. Enter a label/name for your API key and click [Create API].
Security tip: Before creating an API, two-factor authentication
(2FA)
must be enabled on your account.
3. Complete the security verification with your registered 2FA device.
4. Your API is now created. Please keep your Secret Key secured as it will not be shown again. Do not share this key with anyone. If you forget your Secret Key, you will need to delete the API and create a new one.
Please take note of the IP access restrictions. We recommend choosing [Restrict access to trusted IPs only] for security reasons.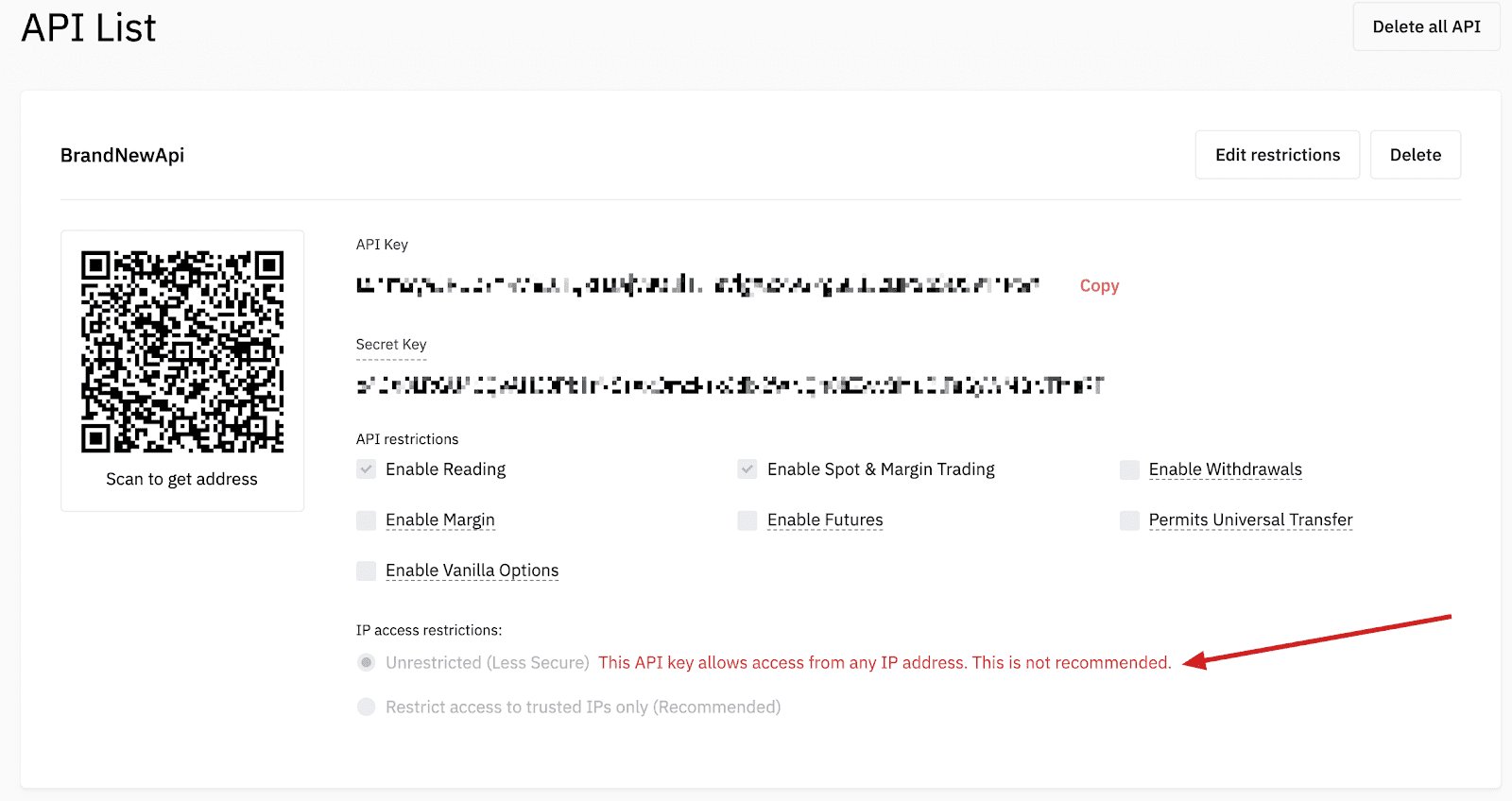 Step 2: Connect to Binance Swap Farming API
Here are the materials you need to be connected to Binance Swap Farming via API:
Step 3: Start trading on Binance Swap Farming
Once you are connected to the Binance Swap Farming API, you are all good to go. You can compare the prices in different markets and set your own trading strategy.
Frequently Asked Questions
1. What is the minimum trade frequency for Swap Farming API?
Regular users will enjoy a Swap Farming frequency of 2 seconds per trade/pool.
Whitelisted users will be allowed to trade at 0.7 seconds per trade/pool.
Please note that whitelisted users are generally Binance VIP/API traders. If you are a Binance VIP and wish to get a higher frequency setup, please contact
Binance Support
or the VIP team.
2. What are the weight limits for Swap Farming?
Endpoints are marked according to the UID limit and their corresponding weight value.
Each endpoint with UID limits has an independent 180,000 limit per minute.
For more information on Swap Farming, please visit: