On-chain Transfer, a new feature on Binance Pay, enables direct transfers of cryptocurrencies from your Binance account to your Web3 crypto wallet address. Trust Wallet now supports this feature.
How to make on-chain transfers via Binance Pay
1. Log in to your Web3 wallet app (e.g. Trust Wallet). Choose the token you want to deposit and tap [Receive].
2. Click [Deposit from exchange] and choose [Binance]. You will be directed to the Binance App to start the transfer.
3. Enter the amount, and confirm the fee and receiving amount.
Please note that the auto-populated address and network are directly sent from your crypto wallet. You don't need to paste the address or choose the network in this step.
4. The transfer will be processed within the estimated completion time. You can return to your crypto wallet app by tapping [Done]. Alternatively, you can view the transfer status by selecting [View Details].
5. You'll receive a notification email from Binance Pay once the on-chain transfer is successfully completed. You can also check the status on the Binance App by going to [Binance Pay] - [History] - [Transfer Details].
Frequently Asked Questions
1. What is the fee on Binance Pay?
When transferring cryptocurrencies via Binance Pay to a De-Fi wallet, certain fees apply, including both
network fee
and
platform fee
.
2. How long does it take for my funds to arrive?
Once you confirm your request on Binance Pay, the transaction submission and confirmation on the blockchain will take some time. The
confirmation time
varies depending on the blockchain and its current network traffic.
3. Can I make a crypto transfer if my balance in that particular crypto is insufficient?
Binance Pay supports cross-currency payments. For example, if you want to transfer 10 USDT but you have only 5 USDT or none in your Binance account, Binance Pay will convert other currencies in your account to USDT to complete the transfer. You can check the real-time conversion rate from the confirmation pop-up. Confirm the transaction within 2 minutes, or the quotation will expire. Tap [Refresh] to get a new conversion rate.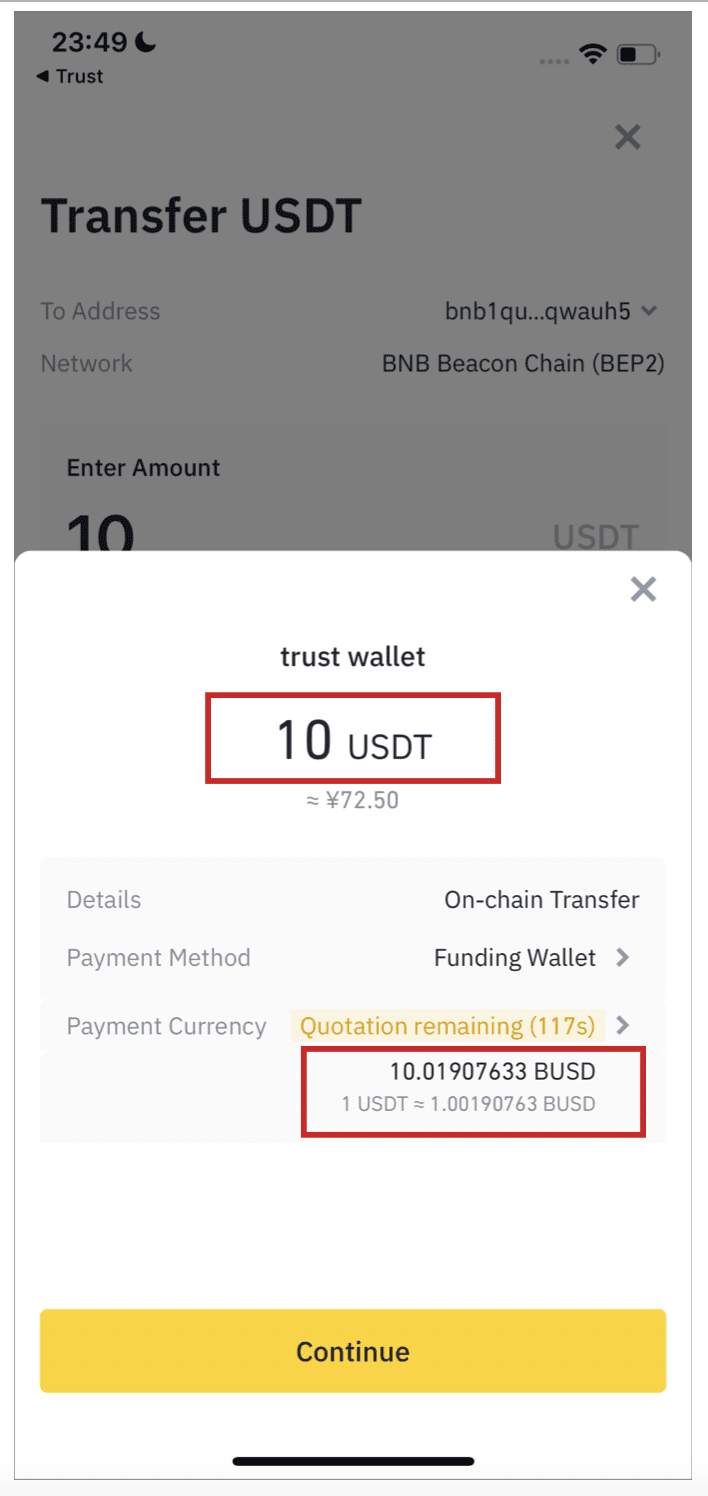 4. How to check my transfer history
In the Binance App, go to [Binance Pay] and tap the history icon on the top right corner of the screen.
5. Why has the fund been deducted but I haven't received the crypto yet?
The on-chain transfer via Binance Pay from a Binance account to a Web3 wallet involves two steps: payment and transfer.
Once your payment is successful, the funds will be deducted from your Binance account. That means Binance Pay has received your request for an on-chain transfer, and your transaction is being processed. Please keep in mind that blockchain confirmations take time.
You'll receive an email once the on-chain transfer is completed. If the transfer fails, you'll be refunded. You can also check the estimated completion time and the latest transfer status in
[
Payment History
]
.
6. Why are there some assets not supported?
On-chain transfer supports a wide range of assets available in Binance Pay and your crypto wallet. If a token is not supported, it could be due to unavailability on Binance Pay or your Web3 wallet. Additionally, Binance Pay might support the asset but not the chosen network. If this occurs, switch to a network supported by Binance Pay in your Web3 wallet app. You can find more information about the assets and networks supported by Binance on the
Deposit & Withdrawal
list.
7. What is Withdrawal Address Whitelist?
If your payment is unsuccessful, you'll see a pop-up window with the following message: "withdrawal address whitelist enabled and this address is not on the list."
That means you have turned on the withdrawal address whitelist function in Binance, and only whitelisted addresses are available for on-chain transfer or withdrawal. You can check and manage your whitelist in the:
Binance App by going to [Setting] - [Crypto Withdrawal Settings] - [Withdrawal Whitelist].
Binance web by selecting [Security] - [Advanced Security] - [Crypto Withdrawal] - [Withdrawal Whitelist].