What is Capital Connect?
Capital Connect is a self-service platform for crypto investment fund managers to connect with interested institutional investors. Subject to regional restrictions, the platform is open to Binance VIP users, including asset and fund managers, brokers, hedge funds, family offices and high net-worth individuals, liquidity providers, and corporations.
Please note that Binance is not involved following the introduction, and all subsequent dealings between the participants are conducted independently of the Capital Connect platform.
Who can use Capital Connect?
Capital Connect is available to all Binance VIP users in non-restricted regions for free. You can apply for [Investor] or [Investment Manager] access with your VIP manager. If you're not a Binance user yet and wish to use Capital Connect, please register for a Binance account first.
In addition, you must complete Identity Verification for your Binance account:
How to use Capital Connect?
How to apply for access?
2. Select a role to apply.
2.1 Investor
Select
[Investor]
, then read and agree to the
Terms for Investors
. Your application will be reviewed and processed within three business days. We will notify you of the result via email.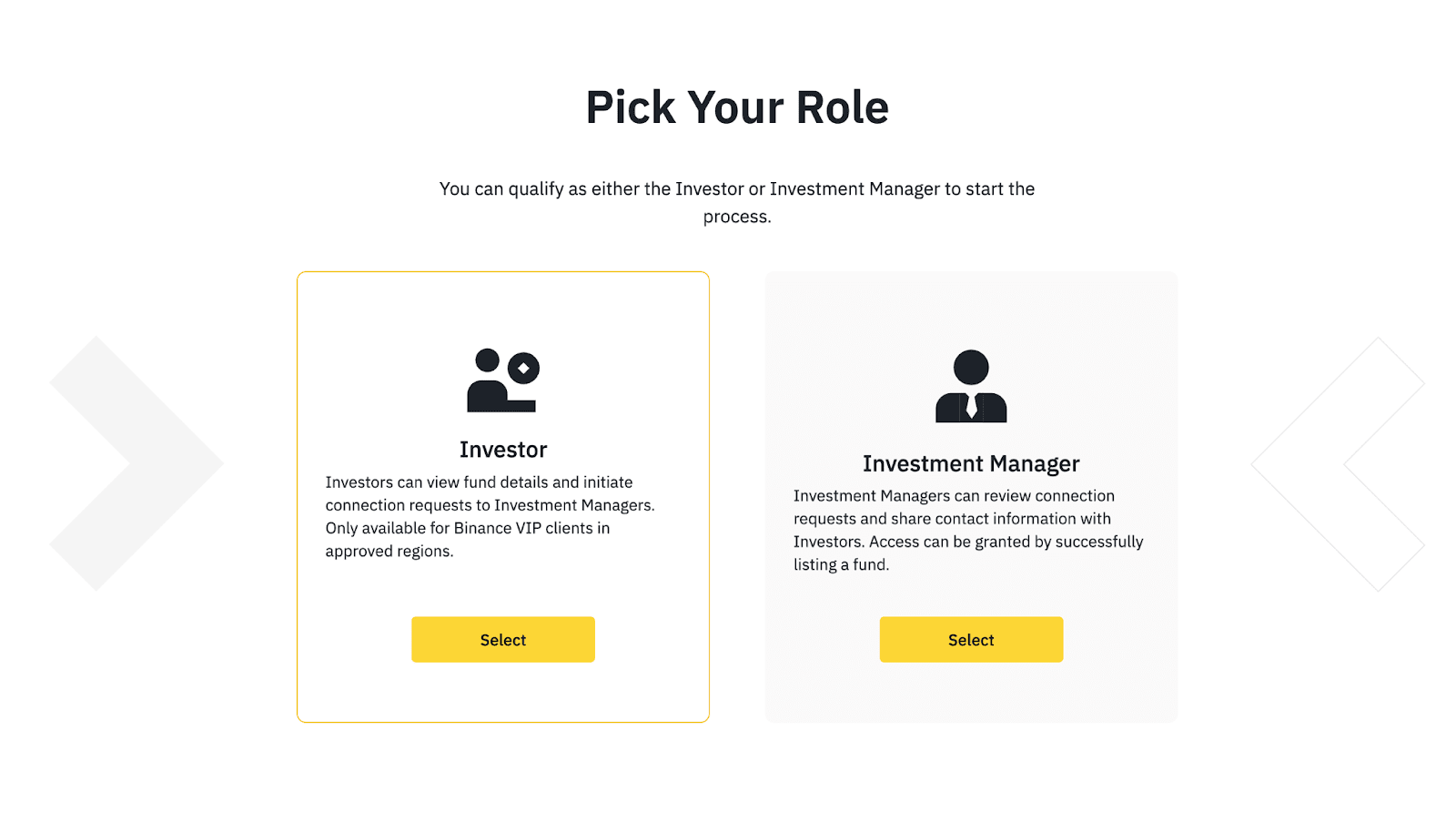 2.2 Investment Manager
Select
[Investment Manager]
, then read and agree to the
Terms for Investment Managers
. Please note that to qualify as Investment Manager, you are required to submit a fund listing application first.
Complete the required fields and submit your fund listing application for review. Your application will be reviewed and processed within five business days. The Binance VIP & Institutional Team will contact you to confirm the listing details.
How to browse funds?
1. After your application is approved, log in to Capital Connect. On the [Fund Finder] page, you can browse the available funds and use the filters to find matching funds. The results are sorted in Assets Under Management (AUM) from the largest to the smallest by default. You may sort by Track Record and Sharpe Ratio too.
2. You can view each fund's AUM, strategy, track record, minimum investment amount, Sharpe Ratio, and monthly return chart.
Click [Details] for more in-depth information, including fees, redemption terms, strategy descriptions, and monthly returns.
How to connect with Investment Managers?
1. On the [Fund Finder] page, click [Connect] next to an investment fund. Enter your desired investment size and select an investment horizon. Click [Submit] and your connection request will be submitted to the Investment Manager for review.
2. Once the Investment Manager accepts your request, you can find the investment fund under the [My Contacts] tab and all the investment funds you've connected. To view fund details, click [View Fund]. To chat with the Investor Manager, click [Chat Now].
Risk Warning: Capital Connect is a purely introductory service presented on an "as is" basis without representation or warranty of any kind. This service is only accessible to qualified persons and may not be available in your region. Binance has not verified and is not liable or responsible for the completeness or accuracy of any information regarding an Investment Manager presented here. This information should not be construed as financial advice. For more information, see our
Terms of Use
and
Risk Warning
.
Execution and investment discussions are strictly between the Investor and the Investment Manager without Binance's involvement. Capital Connect is purely an introductory service presented on an "as is" basis. Binance does not participate in investment discussions, subsequent dealings, or guarantee any investment return.
However, Investors may contact their VIP managers for general inquiries regarding Capital Connect. Binance strongly recommends that Investors conduct their full due diligence before investing, and Investment Managers should complete their Investor qualification verifications.