How to Apply for Binance Pay Merchant
2021-09-17 03:42
Video
What is Binance Pay Merchant Verification?
Binance Pay Merchant is a business platform within Binance Pay that enables payment transactions between merchants and customers. As a business owner who is part of the Binance Pay Merchant Program, you will now be able to accept crypto payments for your businesses.
Here is a brief overview of the account opening process:
Stage 1: Create a Binance Pay account;

Stage 2: Submit documents for merchant account opening and KYB (Know-Your-Business) or KYC (Know-Your-Customer) checks;

Stage 3: Provide additional documents/clarification upon requests;

Stage 4: Verify your merchant account to obtain the corresponding credentials.
How do I apply for a Binance Pay Merchant account?
2. Select your status, and click [Apply].
3. You will see an overview of the application access. Click [Apply], then fill in the form. We will review your application.
4. Select [Individual Merchant] Option and click [Next].
5. Enter your business information and click [Next].
6. Click the [Submit] button. Please make sure that all the information entered is correct. You won't be able to change it once confirmed unless our compliance team requires you to do so.
For Individual Merchant:
7.1 Click [Verify Now].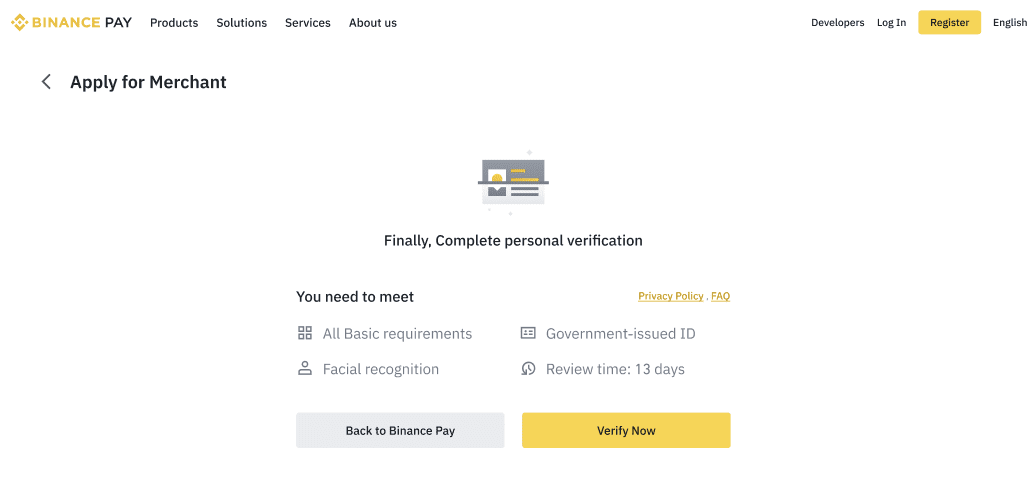 7.2 Enter your basic information and click [Continue] to start the verification. Please ensure that your country of residence is consistent with your ID documents.
For more information about Identity Verification, please visit
here
.
For Corporate Merchant:
7.1 Click [Verify Now].
7.2 You will then be redirected to the Enterprise Verification page. Select the country/region of registration and entity type, then click [Start Verification].
Please select the entity type and country carefully. If you need to change to another country/region of registration or entity type during the verification process, you will be required to start from the beginning.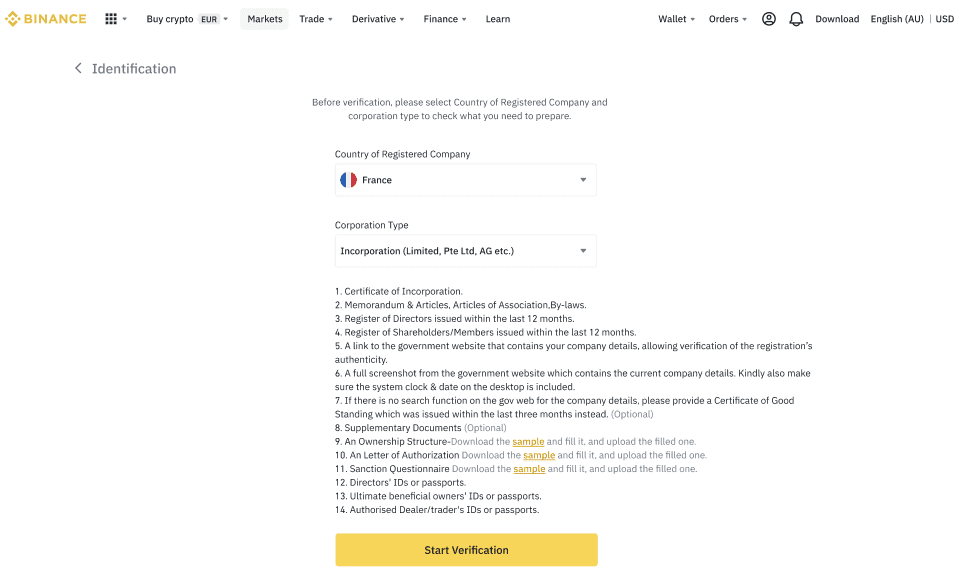 For more information about Enterprise Verification, please visit
here
.
Frequently Asked Questions
Is the Binance Pay Merchant Identification Verification process same as that of Personal/Enterprise Verification?
No, they are independent identity verifications. Even after you've completed the Binance Pay Merchant verification, you still need to complete the Binance.com Identity Verification to gain access to other Binance products and service offerings, including cryptocurrency deposits, trades, and withdrawals.
Where can I check the status of my application?
2. Click [My profile] and you will see your application status.
3. If your verification failed, you can click [View Details] to see the rejection reasons.
You may click [Verifiy Again] or [Apply Again] to complete verification again.
If you have any questions about your application status, you can contact us via merchant@binance.com.
How to increase my daily transaction and withdrawal limits?
Binance Pay gathers information from merchants when determining their transaction and withdrawal limits. To further increase your limits, we need additional information from you to better understand the nature of your business.
Corporate Merchants enjoy higher limits than individual merchants. You can indicate that you wish to verify as a Corporate Merchant when submitting your onboarding application;

If you want to raise your approved transaction limit, go to [My Profile] from [Merchant Management Platform]. Click [Verify Now] or [Upgrade to higher limits] and complete the verification.
Overview of different verification level limits
Verification Type

Identification Level

Receiving Limit

Payout Limit

Personal Verification

Level 1

Daily limit: 50,000 USD

Annual limit:

4,500,000 USD

Your payout limits are dependent on your

Binance VIP Level

. Please see the below table for more details.

Corporate Verification

Level 1

no limit

Level 2

no limit

Level 3

no limit
| | |
| --- | --- |
| VIP Level | Daily Payout Limit (BUSD) |
| Regular | 8,000,000 |
| VIP 1 | 8,000,000 |
| VIP 2 | 8,000,000 |
| VIP 3 | 8,000,000 |
| VIP 4 | 16,000,000 |
| VIP 5 | 24,000,000 |
| VIP 6 | 40,000,000 |
| VIP 7 | 64,000,000 |
| VIP 8 | 80,000,000 |
| VIP 9 | 96,000,000 |
Important Note: These are your limits for using the merchant management platform. We reserve the right to revise these limits at any time according to our policy.
How are the daily limits calculated?
The system calculates limits in a 24-hour rolling. When your order is successfully filled, we will deduct the amount from your limits.
For example, you created a 1,000 USD order at 23:00 on August 18 (UTC+0), and the customer paid at 00:15 on August 19 (UTC+0), the 1,000 USD will be deducted from your transaction limit on August 19.
When I submit the Corporate Account application, it shows that "Personal verification has passed" and cannot proceed to the next step. What can I do?
If you have used the same email to verify for a Personal Account on Binance.com, you cannot upgrade to a Corporate Account. Please use another email to submit your application.
What documents are required for a Personal Account application?
In order to comply with local government regulations, we might require additional information from you. Generally, Personal Account applications only require the followings:
1. Personal details, such as name, date of birth, address;
2. Your ID document, such as ID Card, driving license, passport;
3. Proof of address, such as Utility bill, statements/letters issued by a bank/financial institution, or an authorized insurer (for credit card statements, please mask the card number).
What documents are required for a Corporate Account application?
The documents required vary for different corporate types. Please refer to the list shown on the screen. For example, you need to prepare:
1. A copy of the original Certificate of Incorporation and Business Registration;
2. Memorandum and Articles of Association / Constitution / By-laws / Operating Agreement;
3. A letter of authorization. Please issue a letter of authorization to Binance and indicate the Binance login email, applicant's position, authorizing the applicant to operate a Corporate Account on behalf of the company. Note that it must be dated within the past three months. If the company has only one director, then the Letter of Authorization may be signed by that sole director. If the company has more than one director, it should be signed by at least two directors. If using a template, ensure that it is customized to fit your own situation.
4. An official Company Report or Government Documents issued within the last 12 months, including:
a) A list of current directors (natural person),
b) A list of ultimate beneficial owners (natural person), and their percentage of holdings, etc.
5. An ownership structure;
6. Valid passport copies/IDs of the directors, UBOs, and traders. Please do not upload edited photos/images;
7. A Sanctions Questionnaire.
Why do I need to submit additional documents?
In order to comply with local government regulations, we might require additional information from you. Binance uses Identity Verification to ensure the security of users' funds, therefore, please provide accurate information to us.
Why is my application rejected?
Binance Pay is committed to becoming a compliant financial service provider. We work closely with legal advisors and pay close attention to the development of industry regulations to ensure that we provide merchants with safe and reliable payment solutions. Any application that does not meet the regulatory requirements will be rejected.
Can I apply multiple Binance Pay Merchant accounts?
No, you can only own 1 merchant account.
What are the differences between a Personal Account and a Corporate Account?
Currently, corporate accounts can enjoy higher withdrawal and transaction limits. We will be opening all our products and services to corporate account merchants, therefore we have more stringent requirements for corporate account applications.
How do I upgrade my Personal Account to Corporate Account?
If you have used the same email to verify for a Personal Account on Binance.com, you cannot upgrade to a Corporate Account. Please use another email to submit your application.
How do I manage payment and refunds?
Merchants have the ability to view orders and address payment exceptions directly from [Transactions] in the merchant management platform.
1. You can filter orders by the [All] or [Paid] tabs. [
All]
allows you to view all orders you created, including paid or unpaid orders. [Paid] only shows orders that are paid by your customers.
Additionally, you can search by order ID, order status, order currency, or date range.
2. To view order details, click [Details] next to an order.
You can see the following details: Order ID, Total Payment Amount, Order Status, Merchant Reference, Product Description, Time that the order was created, Time that the order was updated, and the Binance ID.
If this order has been refunded, we will show refund details here too.
3. You can also click the [Refund] button to review the dialog and enter the amount you want to refund. Each transaction can only be refunded 10 times.
You can choose to refund the full or partial amount of a fully paid order.
How do I withdraw crypto?
You can transfer crypto from your merchant account to an external platform or wallet. We'll use BNB (BEP-2) as an example.
1. Log into your Binance account and go to the Merchant Management Platform. Click [Accounts] - [Withdraw].
2. Click the [Crypto] tab.
3. Select the cryptocurrency you want to withdraw.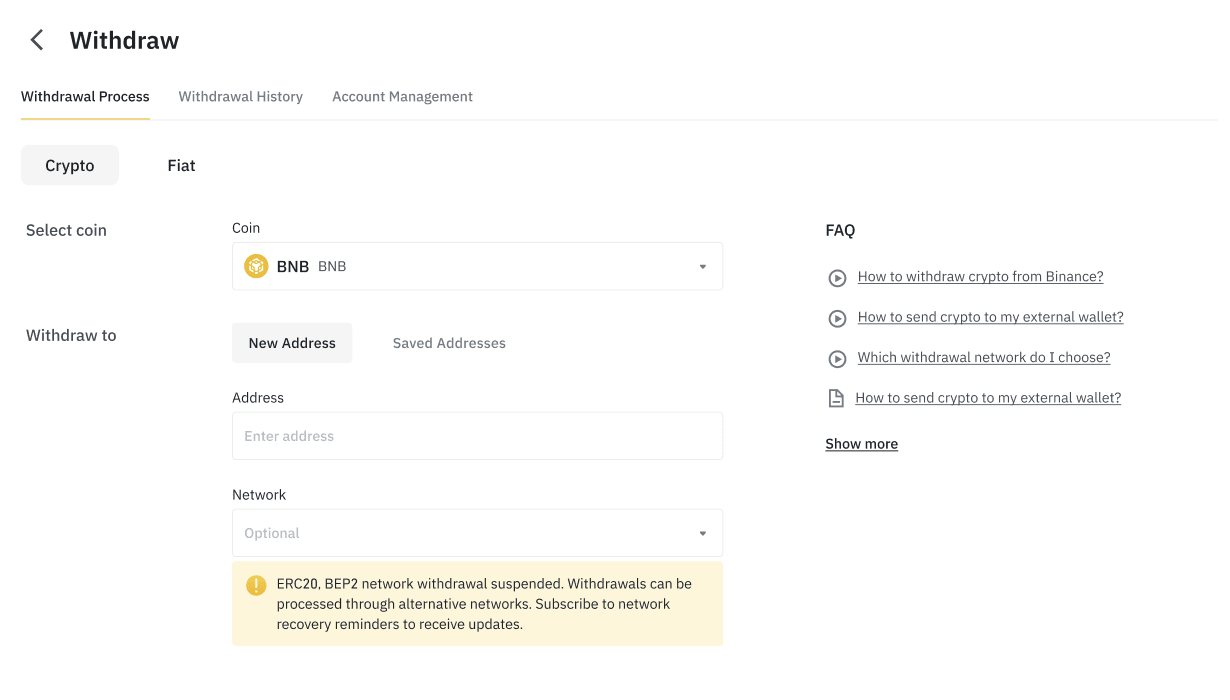 4. Next, enter the recipient address or select it from your address book list.
5. Select the network. As we are withdrawing BNB, we can choose either BEP2 (BNB Beacon Chain) or BEP20 (BSC, BNB Smart Chain). You will also see the network fees for this transaction.
Please make sure that the network matches the addresses network entered to avoid withdrawal losses.
6. Enter the withdrawal amount and you will be able to see the corresponding transaction fee and the final amount you will receive. Click [Withdraw] to proceed.
7. You need to verify the transaction with 2FA devices. Please follow the on-screen instructions.
Please note that if you input the wrong information or select the wrong network when making a transfer, your assets will be permanently lost. Please make sure that the information is correct before making a transfer.