Tutorial Video
Binance Pay is a contactless, borderless and secure cryptocurrency payment technology designed by Binance. Binance Pay allows you to pay and get paid in crypto from your friends and family worldwide. Let us understand how this new crypto payment technology closes up the circle for our different users within the Binance ecosystem. Live the crypto lifestyle you always desired
How to use Binance Pay?
How to set up a Binance Pay account?
1. Log in to your Binance account on the App and go to [Wallets] - [Pay]. Tap [Open Binance Pay].
2. Enter a nickname and accept the Terms of Use.
Please note that once you have created your nickname, you cannot change it.
3. Set a Pay PIN for your account. Never share your PIN with anyone.
4. You can top up your Binance Pay Wallet with cryptocurrencies from your Spot Wallet now, or tap [Skip for now] to top up anytime.
5. Your account setup is now complete. You can now go to [Pay] and start using Binance Pay.
How to make payments with Binance Pay?
1. Tap the QR code scanner from the App homepage and scan your recipient's Binance Pay QR code.
Or tap [Wallets] - [Pay] to paste their Pay ID.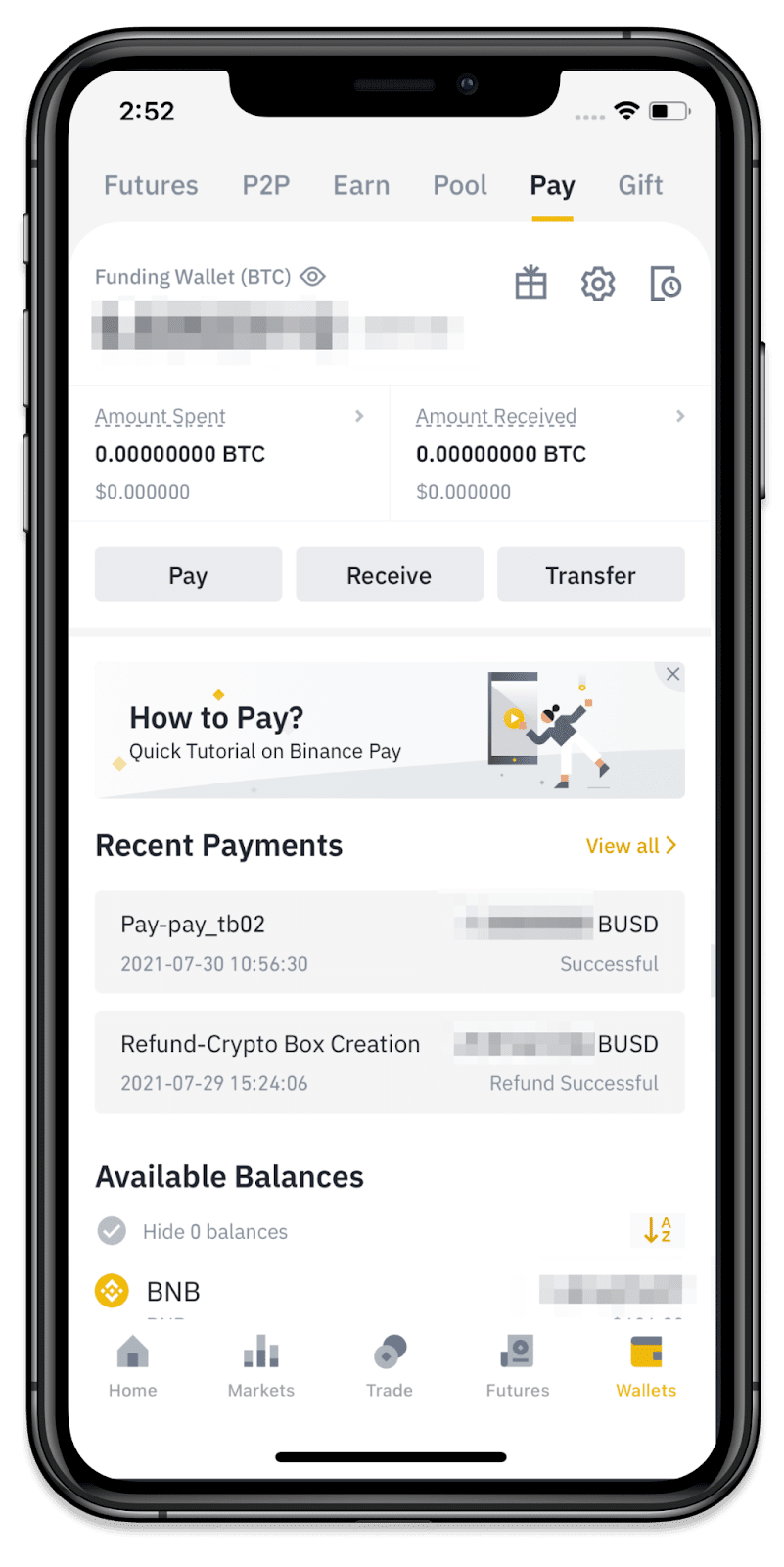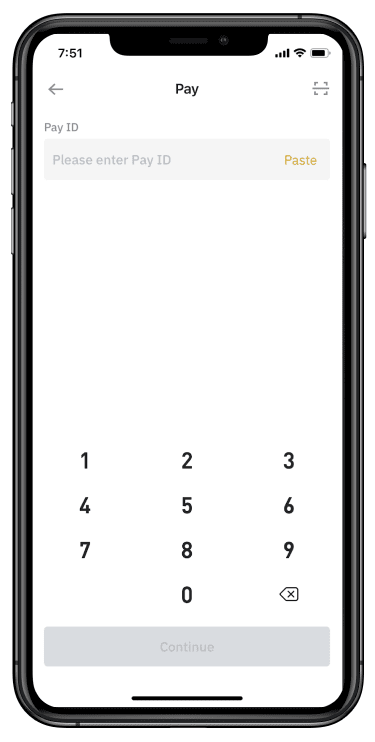 You can also long-press the Binance App icon from your mobile home screen, and tap [Scan] to open up the QR code scanner.
2. Check and confirm the payment details, then tap [Continue] to proceed with your payment.
3. If you wish to change your payment cryptocurrency order, tap [Funds To Use] to view the available cryptocurrencies for payment. Tap [Confirm] after reviewing the payment details.
4. Enter your Pay PIN for payment verification. Binance Pay will then deduct the payment amount from your balance according to the cryptocurrency order you set.
How to receive payments with Binance Pay?
1. Tap the QR code scanner from the App homepage, then tap [Receive].
Tap [Add Amount].
2. For example, you want to receive BNB from your friends. Select BNB under [Currency] and enter the amount (option). You may leave the [Amount] field blank if you don't want to specify the payment amount. You may add a note as well.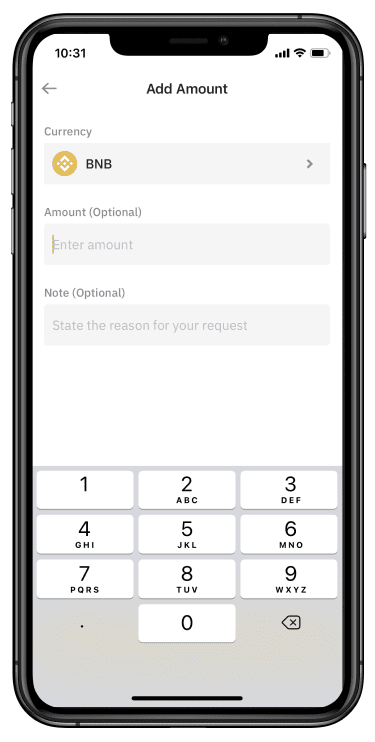 3. Binance Pay will generate a unique QR code based on the payment details. Simply send this QR code or your Pay ID to your payer to receive cryptocurrency payment.
4. After the payment is successfully completed, the funds will be reflected in your Pay Wallet.
Frequently Asked Questions
1. Is Binance Pay available for all users?
Binance Pay is currently only available to eligible users on Binance.com. To start using Binance Pay, please register on Binance.com and complete your
identity verification
.
2. What are the currencies supported by Binance Pay?
Binance Pay currently supports more than thirty cryptocurrencies, including BTC, BNB, BUSD, ETH, ADA, ATOM, BCH, DASH, DOGE, DOT, EOS, ETC, FIL, HBAR, LINK, LTC, MATIC, NEO, PAX, QTUM, TRX, TUSD, UNI, USDC, VET, WRX, XLM, XMR, XRP, XTZ, ZEC, USDT, FRONT, STRAX, ONE, EGLD and SXP.
Please refer to the Binance App for the most updated list.
3. How long does it take for a Binance Pay transaction to be completed?
Binance Pay transactions are usually confirmed instantaneously. However, please note that due to compliance requirements, funds made to your Funding Wallet account can only be utilized 24 hours after it has been received.
You can find detailed guides as follow: