How to Join Binance Savings Activities
2020-07-21 03:07
Binance Savings Activities are special events that pop up from time to time under the Activities tab. These generally have a capped supply, meaning you'll need to be quick to subscribe. They can offer even higher returns than Locked Savings usually does.
Please note that there is a preparation period for Binance Savings Activities after it is announced. When the purchase begins, you can choose the available item to purchase.
1. Log in to your Binance account and click [Finance] - [Binance Earn].
2. Scroll down to
[Savings]
and click [View More], or you can access it directly from
here
.
3. Click [Activities] to see the list of available activities.
Here you can find information about each Savings Activity:
Activity name: the coin, the locking period, and the annual interest rate.

Annualized Interest Rate

Activity Duration (days)

Subscription progress

Activity status: whether it is in preparing, ongoing, subscription ended, accruing interest, interest accrual ended or ended.
4. Click [Transfer] next to the activity you want to join and enter the lot amount. The system will automatically calculate the expected interest after redemption.
Please ensure that you have sufficient assets available for Savings (not in open orders and/or in your Margin account).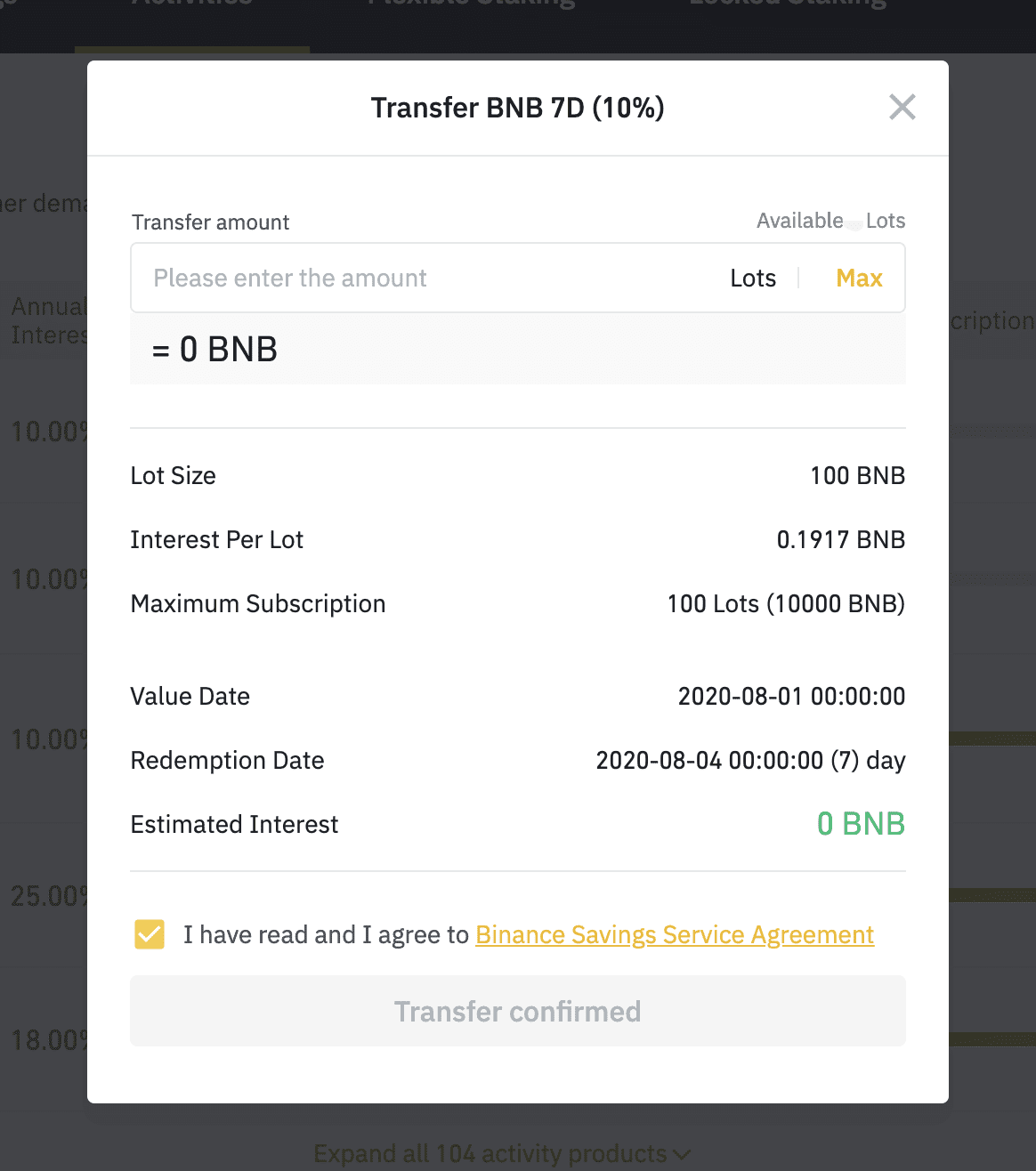 5. After confirming your purchase, the system will transfer the asset from your Spot Wallet to your Savings Wallet. You can review the subscription by clicking [History] under Savings balance.
The locked savings products will be redeemed automatically after maturation. Assets and interest will be paid to your Spot Wallet. You can check your asset balance in your Spot Wallet.