An Overview of the Binance Argentina Card
2022-08-02 03:51
All
new and existing Binance users residing in Argentina who have completed Identity Verification with a valid national ID (Documento Nacional de Identidad)
can apply for the Binance Argentina Card and spend cryptocurrencies in over 60 million online and physical stores. Follow these steps to order a Binance Argentina Card and learn essential tips on how to use it.
1. Register a Binance account and complete Identity Verification
2. How to order a Binance Argentina Card?
2.1 Before ordering a card, make sure you've added a phone number and email to your Binance account. You can do this by going to [
Security
]. Please note that for security reasons, withdrawals, P2P selling, and payment services will be disabled for 24 hours after you change the phone number.
2.2 To order a Binance Argentina Card, hover over [Finance] and click [
Binance Card
] from the top navigation bar.
3. How to use the Binance Argentina Card?
3.1 To top up your card, you need to transfer your assets from the Spot Wallet to the Funding Wallet. Click [Top up] in the Card Dashboard and enter the amount to transfer. The funds will be credited to your account instantly. For more information, check out our guide on
How to Top up My Binance Argentina Card via the Funding Wallet
.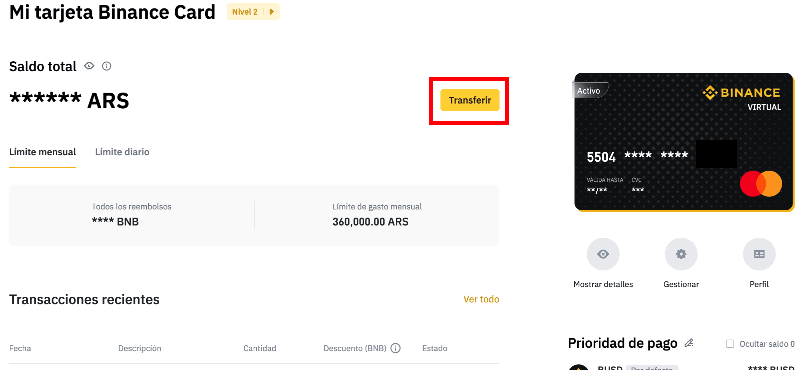 3.2 To view your card details, such as the card number, CVV code, and the expiry date, click [Show Details] below the image of the card in the Card Dashboard and enter your 2FA code.
To temporarily freeze your card, click the [Freeze] and [Unfreeze] buttons.
3.3 To adjust the sequence of spending currencies, click on the edit icon under [Payment Priority] and drag and move the cryptocurrency names to reorder. The system will follow the payment priority when you make a purchase with your Binance Argentina Card. Please note that you must have at least 6 cryptocurrencies in your Payment Priority list, and a maximum of 12 cryptocurrencies can be selected.
4. How to make payments with my Binance Argentina Card?
5. Do I receive any cashback when I pay with my Binance Argentina Card?
Binance Card offers a
cashback
of 1% to 8% for every purchase you make with the card*. The cashback percentage depends on your card level, based on the amount of BNB holdings in your Binance wallets. Cashback is calculated daily for each settled** purchase from the previous date. Binance will continue to add new benefits to this program.
*Cashback is paid daily in BNB to your Funding Wallet. The Binance Card cashback program only applies to eligible purchases made with your Binance Card. The list of qualified merchants and conditions is subject to change by Binance's sole discretion.
**"Settled" purchase or transaction means that the funds of this purchase have arrived in the bank account of the seller, e.g. your grocery store. The process of settlement is performed by the payment network and may take up to 30 days.
Frequently Asked Questions
1. Who issues the Binance Argentina Card?
Binance has partnered with Swipe to provide a card platform for Binance Argentina Card users. The card issuer differs from region.
2. What are the terms of using the Binance Argentina Card?
Binance Card is bound by Terms and Conditions between Binance and the card issuer. Using the Binance Card means that you agree with these terms and conditions. You can check the details of the Argentina Card program in this
Terms of Use
.
3. Will I be able to get a physical card?
Yes, you will get a physical Binance Argentina Card and a virtual Binance Argentina Card. The physical card can take up to 21 days to arrive, please wait patiently.
4. How safe is it to use a Binance Argentina Card?
The Binance Argentina Card is very secure. Most importantly, never share your CVV code or card details with anyone. Check out the
Binance Argentina Card security tips
to see how to protect your card.
Got more questions about the Binance card? Check out our
FAQs
or contact the 24/7
Binance Support
for assistance.