Examples of Phishing Emails
Phishing is a type of social engineering attack; a fraudulent attempt to obtain sensitive information such as username, password, 2FA code, etc by disguising as Binance in electronic communication.
1. Phishing Email Example 1
This email below was created by hackers to steal the user's email account, password and 2FA backup key
Phished email was sent from a scam Binance <do-not-reply19@www--binance.com> address

If you hover over the Verify Email button, you can see the phished link which in this case was




https://

www--binance

.com/binance/login.php?id=xxxx@axxxxl.xxm

. After clicking the button one can see this page:

Unfortunately, some victims will fill in their Binance email account and password data on the scam '

www--binance.

com' website. After clicking the Log In button, the hacker will have prepared a special dialog window as seen below:
It is really unfortunate that some victims will decide to disclose their '2FA backup keys' without hesitation. At this point, the hacker will have successfully collected the victim's username/password/2FA - thus gained full access to the victim's accounts.
2. Phishing Email Example 2
The phishing email below persuaded users to download a fake PDF file which was actually malware/virus/Trojan software.
3. Phishing Email Example 3
The phishing email below instructed users to click a malicious link in order to receive a nonexistent 0.129 BTC.
Please note:
When you notice such a message, it's always best to hover over the link to see where it points.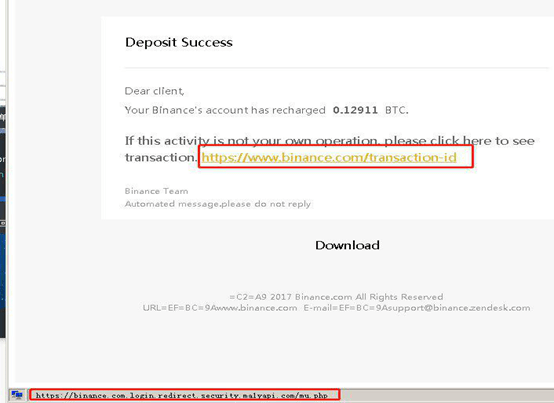 4. Phishing Email case 4
The phishing email below instructed users to click a malicious link in order to participate in a competition called ETH Giveaway. Once again, the email was sent from an email address that was not an official Binance email.