I. Merchant Application
Q: How do I become a merchant?
A: Please submit an application at https://docs.google.com/forms/d/e/1FAIpQLSfBp8Au1TfP5CXRlCxZi-Ok91rzttD2gSU6MH8ujKdndVurlw/viewform. If you have any questions, please send an email to p2p@binance.com.

Q: What's the criteria to become a P2P merchant?
A: We will ask applicants to provide
Complete Binance KYC verification;

Local bank account, mobile phone number, and email;

Proof of crypto asset and transaction volume on other platforms;

Permanent address and proof of address;

Bank account statements
After users submit the applications, we will review them one by one and get back to you in 48 hours.


II. Account Management
Q: Why is there an error every time I log in?
A: Please use the latest Chrome browser to log in and it only works in the web browser for now.


Q: Can I change our nickname?
A: Yes, you can change the alias once on the top right corner.

Q: Where is my Binance UID?
A: It's the 8-digit referral ID and your profile page.


Q: Can I link a new account to the same mobile phone number that I have linked to an old Binance account?
A: No, you need to unlink the mobile phone number on the old account, or link a new mobile phone number.


Q: Does the merchant need to use the real name to trade?
A: Yes, merchants and users both need to use real names. The account owner's name of payment methods has to be consistent with the Binance account verified name.


Q: Can I use an institutional account to register a merchant account?
A: Not for now, you can only use an individual account to register.


Q: Can I apply for multiple accounts in Binance with different types of ID?
A: A person can only apply for one account with one type of ID. For example, if a user has gone through the KYC process with a national ID card, he/she will not be able to go through the KYC process again with a passport, even with a new account.


Q: Why is my asset frozen and how to unfreeze it?
A: It's because you have SELL ads online or offline. To unfreeze the asset, you need to close the ad.


Q: When do users see my payment details and description of my ad offer?
A: The payment details that you specify when creating your ad are only visible to other users when they open a transaction with you.
Comments to your ad can be seen by every user, even if they are not logged in.


III. Assets and Transactions
Q: Why are my assets are frozen and how to release the frozen assets?
A: If you have ads online & offline, your asset will be frozen in the wallet; Only "close the ads" will release this amount.


Q: How can I close the ad?
A: On the Online Ads tab, you can close the ads:

Q: How will I be notified of a new order?
A: You will receive an SMS and a notification in the browser each time a new order is placed.


Q: I (the buyer) paid the user, but the user didn't release the crypto. What should I do if I can't reach the user?
A: First, you can contact the other party by clicking on the chat bubble and start an instant chat with them. If you cannot contact the user, you can file an appeal. All crypto will be locked once the appeal process is started. If the matter gets resolved, the user who initiates the appeal can always cancel the appeal. Our customer service will assist with any unresolved appeal cases via Email.


Q: A buyer has not transferred money but clicked on "Mark as paid". What should I do?
A: Contact the user through chatbox/phone call directly. You should confirm if the user is using an instant payment method.
If it is and you still don't receive the money, you can file an appeal:

Our customer support will reach out to you in 12 hours via Email.


Q: I received payment from the buyer after I opened a dispute. I want to confirm the payment and release the assets. But the button is not active. What to do?
A: You can cancel the appeal and proceed with the order.


Q: How do I see my completed orders?
A: click on "Order"
choose "History" tab

click on Calendar icon

click on "Select Date"

choose "23: 59: 59"



Q: What is the daily withdrawal amount of Binance?
A: If you haven't done KYC, the daily limit is 2 BTC. If you have done KYC, the daily limit is 100 BTC. The new withdrawal amount is recalculated after 12 am (UTC) every day.


Q: How does the exchange rate work?
A: Merchant can customize the Exchange Rate through 2 methods:
1) The merchant can edit the "Current Exchange Rate", the upper right corner button on the advertisement tab to change the rate from -50% to 50% with the base as Market Rate (Binance Internal Source).
Note: Once edited, the rate will not be following the Market Rate anymore.

This attempt of change means on ads posting page, the exchange rate base will be different:

2) The merchant can also edit the Exchange Rate with the range +-10% when posting ads:

Q: What is the frequency of completion rate recalculated and what's the time span?
A: Your completion rate is calculated once per hour, and the time span is 30 days.


IV. Security and Compliance
Q: How does Binance ensure compliance with fiat transfers?
A: Binance P2P does not handle any fiat transfers. Binance P2P is a marketplace that facilitates direct trades between merchants and users. The fiat transfers are completed on third-party payment platforms on a peer to peer level.


Q: As a buyer, is there a risk that I will not receive coins after making a payment?
A: After the buyer places an order, the platform will lock the seller's position in the platform's wallet, so you can safely send money to the seller. 30 minutes after completing the payment, if you have not received the coins, you can contact us by filing an "appeal". Our dedicated customer service team will contact the users to resolve the dispute.


Q: How can I contact online customer support?
A: You can log in to the Binance official website: www.binance.com, and contact customer service in the lower right corner, or you can go to the Binance mobile app, select the "Account" Tab at the bottom and select "Help & Support ''.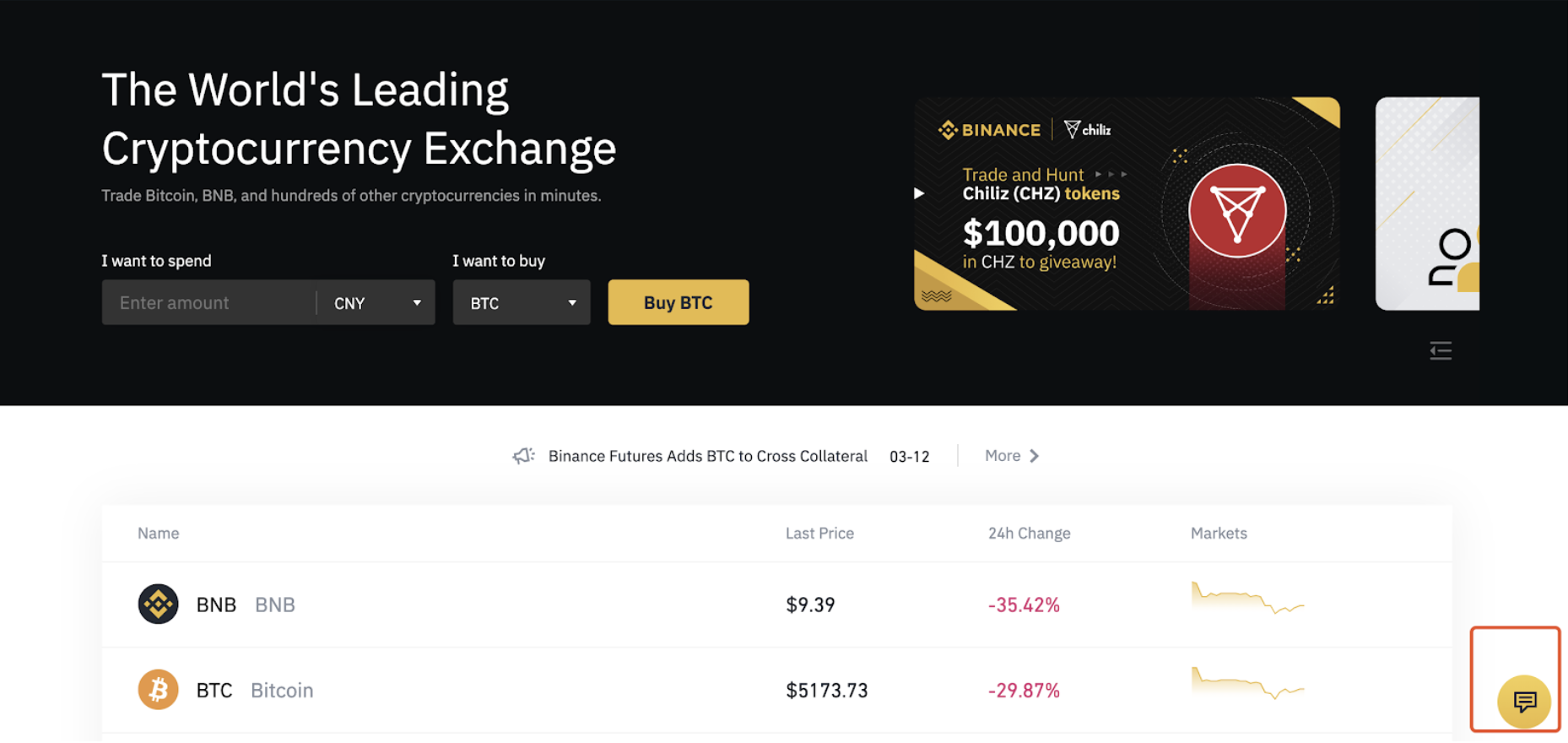 V. Payment
Q: Can a linked bank account be deleted?
A: Yes.


Q: Am I allowed to link only one bank account?
A: You can link multiple bank accounts and up to 20 payment methods.


Q: Does Binance P2P support non-real-time payment methods?
A: Binance does not support non-real-time payment methods. The seller has the right to refuse to continue the transaction in case of any dispute on the receipt of fiat payment.

Q: I am a merchant on other fiat-to-crypto P2P platforms and I am interested in joining Binance. Are there any requirements for the amount of cash and crypto deposit I hold?
A: Not right now.


VI. Certification
Q: Is it possible to trade fiat currencies on Binance P2P without KYC?
A: All Merchants must complete KYC to conduct P2P fiat currency transactions.

Q: How do I enable Google authentication?
A: For desktop, after logging in to the account, click [Account Security]-[Google Authentication]-[Enable] and follow the instructions. For mobile apps, click [My]-[Security]-[Google Authentication ] and then follow the instructions.

VII. Fees
Q: What is the transaction fee for P2P fiat currency trading?
A: There is no transaction fee at this moment.


VIII. App download
Q: How do I download the latest version of the app?
A: Go to this address: https://www.binance.com/en/download.