Trade XOF & XAF on Binance P2P to Share 2,800 BUSD in Gift Cards
2022-09-07 13:05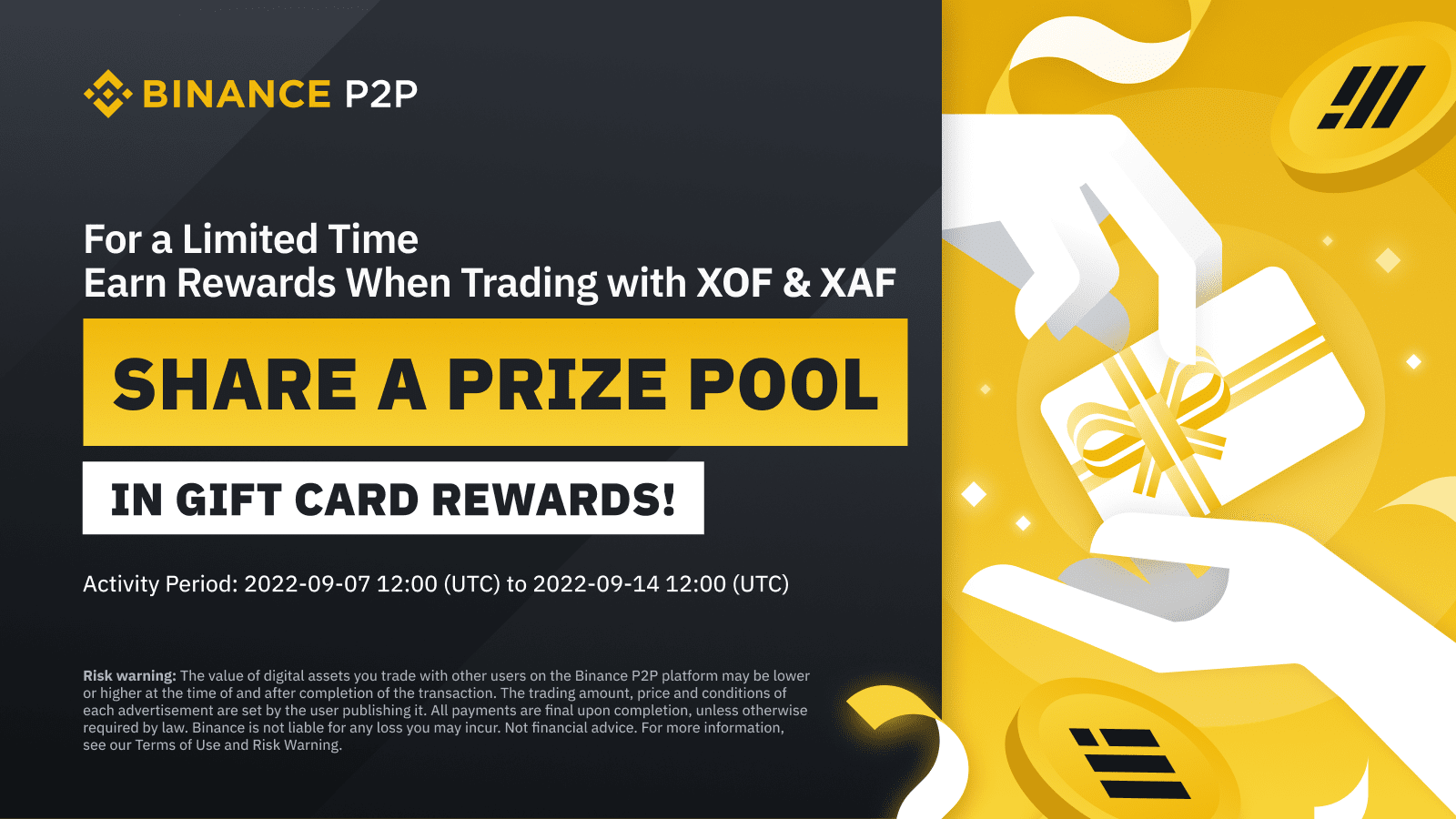 Binance P2P
is launching a promotion for new P2P users in West and Central Africa, who complete trades with
XOF
and
XAF
.
Promotion Period: 2022-09-07 12:00 (UTC) to 2022-09-14 12:00 (UTC)
New P2P users who complete their first trade (buy or sell) on Binance P2P that is worth at least $30 equivalent with
XOF
or
XAF
during the promotion period will qualify for this promotion.
For each day of the promotion period, the top 10 eligible users ranked by their net
XOF
and
XAF
trading volume on Binance P2P will share a daily rewards pool that is worth a total of 400 BUSD in Gift Cards, as per the table below. A total of 2,800 BUSD in Gift Cards are up for grabs in this promotion.
Daily Reward Structure:
| | |
| --- | --- |
| Rankings | Reward (in Gift Card) |
| | |
| | |
| | |
| | |
| | |
*Net P2P trading volume = Total P2P purchase amount - Total P2P sell amount
Terms & Conditions:
Users must

get their accounts verified

to be eligible for any rewards.

The

Binance terms and conditions for prize promotions

apply to this activity.

This promotion applies to takers only.

Taker: When you place an order that trades immediately without going on the order book on p2p.binance.com, you are a taker. These trades are 'taking' volume off the order book, and are therefore taker trades.

The local currencies that are eligible for the promotion are XOF and XAF.

Binance will use the average closing price at 23:59:59 (UTC) of the XAF/USD or XOF/USD foreign exchange rates during the activity period for the calculation of the user trading volume requirement.

Eligible users are limited to one reward per Binance account.

Gift Card rewards will be distributed within two weeks after the activity ends.

Gift Card rewards

will be sent through email with a unique Binance Gift Card redemption code

to the email address bound to the user's Binance UID

, and users can claim their Gift Cards on

Binance App

or

website

. To redeem via Binance App, visit the homepage > Profile > Gift Card. Please make sure your app is updated to iOS 2.32.0 or Android 1.43.0 or above.

Users who do not have an email address bound to UID will not receive the rewards.

Learn how to use a Gift Card

.

All the distributed Gift Cards will expire within two weeks after distribution. Eligible users should claim their Gift Cards before the expiration date.

Binance reserves the right to disqualify trades that are deemed to be wash trades or illegally bulk registered accounts, as well as trades that display attributes of self-dealing or market manipulation.

Binance reserves the right to cancel or amend any Activity or Activity Rules at its sole discretion.

Where any discrepancy arises between the translated versions and the original English version, the English version shall prevail.
Binance reserves the right in its sole discretion to amend or change or cancel the products referred to in this announcement at any time and for any reasons without prior notice.
Risk Warning: Digital asset prices can be volatile. These fluctuations may affect the value of digital assets you buy or sell on the Binance P2P platform, which may be lower or higher at the time of and after completion of the transaction. You are solely responsible for your investment decisions and Binance is not liable for any losses you may incur. By using the Binance P2P platform you trade digital assets directly with other users. Binance facilitates transactions by releasing the digital assets once the offline fiat currency exchange is confirmed by both parties. The trading amount, price and conditions of each advertisement are set by the user publishing it. All payments are final upon completion, unless otherwise required by law. Binance has neither the right nor the obligation to resolve any disputes arising from a completed payment. Binance is not liable for any loss you incur in connection with a completed payment. Not financial advice. For more information, see our
Terms of Use
and
Risk Warning
.