Binance Options Will Launch ETHUSDT Daily Options
2022-10-12 05:00
Fellow Binancians,
Binance Options will launch ETHUSDT Daily Options on 2022-10-13.
Please note:
ETHUSDT Daily Options are European-style Options contracts.

Binance will launch T+1 and T+2 ETHUSDT Daily Options on 2022-10-13. Thereafter, T+2 ETHUSDT Daily Options will be listed everyday at 08:00 (UTC).

Please note that there will be no new T+2 ETHUSDT Daily Options listing if it coincides with the expiration of another ETHUSDT Weekly, Monthly or Quarterly Options contract that day.

ETHUSDT Daily Options will have a trading lifetime of two days and expire at 08:00 (UTC). There will be a maximum of two Daily Options contracts listed at any time.

Please refer to

Binance Options Contract Specifications

for more details.
New Feature:
In addition, users may now customize their Options trading view by selecting the corresponding fields on the Market List tab.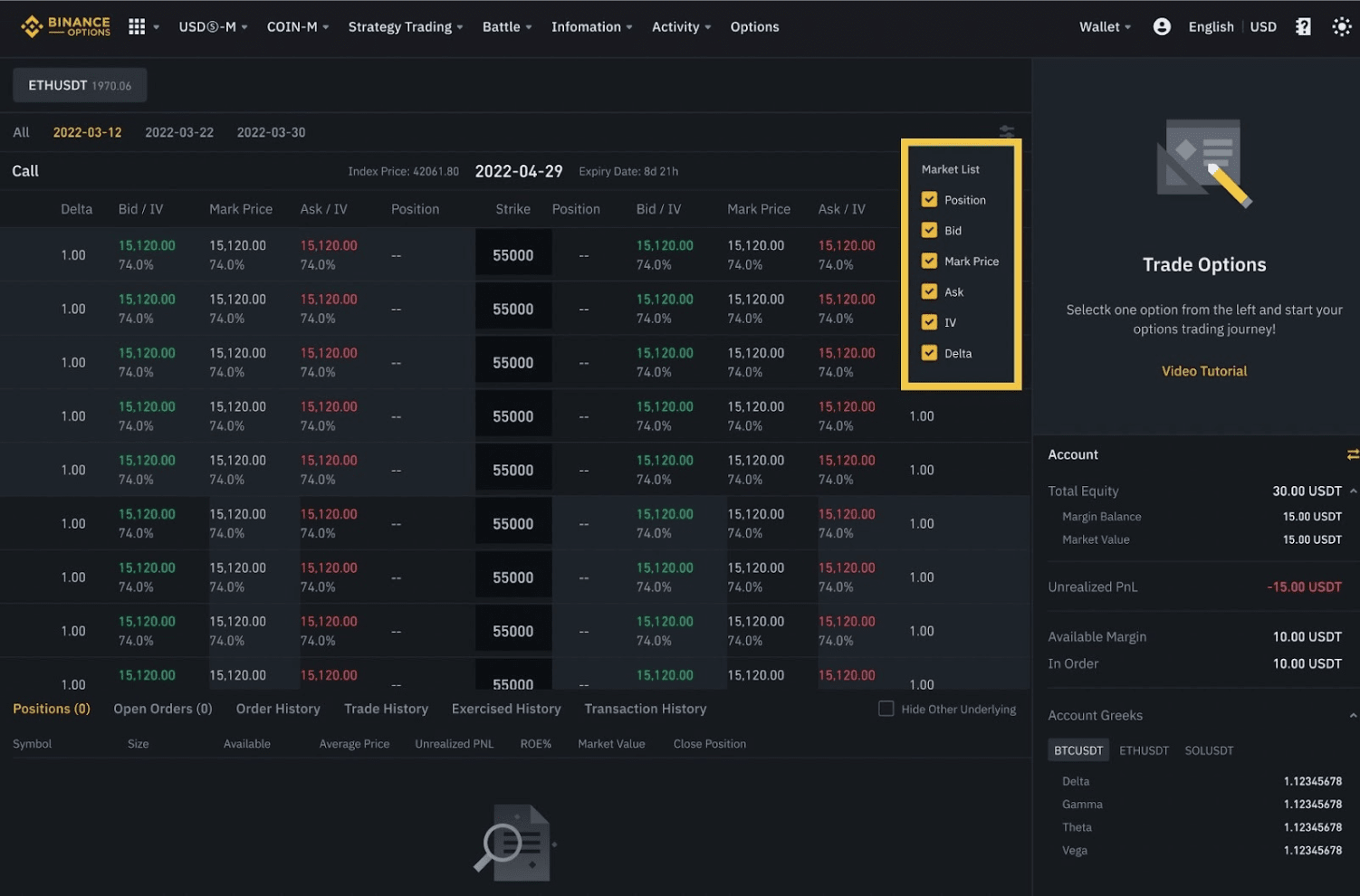 Binance reserves the right in its sole discretion to amend or change or cancel the products referred to in this announcement at any time and for any reasons without prior notice.
Risk Warning: Digital asset prices can be volatile. The value of your investment may go down or up and you may not get back the amount invested. You are solely responsible for your investment decisions and Binance is not liable for any losses you may incur. Options trading, in particular, is subject to high market risk and price volatility. Past performance is not a reliable predictor of future performance. Before trading, you should make an independent assessment of the appropriateness of the transaction in light of your own objectives and circumstances, including the risks and potential benefits. Consult your own advisers, where appropriate. This information should not be construed as financial or investment advice. To learn more about how to protect yourself, visit our
Responsible Trading page
. For more information, see our
Terms of Use
and
Risk Warning
.