General Intro
1.What is P2P trading?
P2P (Peer to Peer) trading is also known as P2P (customer to customer) trading in some regions. In a P2P trade user directly deals with his/her counterparty, exchanging the fiat asset offline and confirming the transaction online. Once the offline fiat asset exchange is confirmed by both parties, the digital asset is released to the buyer.

A P2P platform serves as the facilitator of the trade by providing a platform for buyers and sellers to broadcast their offers. At the same time, the escrow services of online digital asset ensure the safety and timely delivery of digital asset during trade execution
2. How to Buy Crypto with P2P
In order to buy crypto with P2P, you must pass KYC and add a payment method in your account settings,
Register and complete KYC.

Add payment method: Click on account > Fiat setting > payment method > add new payment method > activate

Buy Crypto: Click on Trades > select Fiat Tab > select Buy Tab > put in the quantity you would like to purchase > Click on Buy BTC > confirm trade details > select a payment method > transfer fiat offline according to the instruction in transaction details > click on " I have paid" button > wait for seller's confirmation > the transaction is completed and crypto is being released to buyer's account.
3. How to sell your crypto?
In order to cash out your cryptocurrency, you will first transfer your crypto from the exchange wallet to the Fiat wallet.
Transfer fund to Fiat Wallet: Click "Funds" > click "Fiat" > select to exchange from Exchange wallet to Fiat Wallet > put in the amount you would like to transfer > click "Transfer"

Sell your crypto: click on Trades > select "Sell" tab > put in the quantity you would like to sell > Click on "Sell BTC" > confirm trade details > select a payment method > wait for the buyer to transfer money offline > click on " release crypto" button after confirming the offline payment > the transaction is completed and crypto is being released to buyer's account
4. Are the offers I see on P2P exchange provided by Binance?
The offers you see on the P2P offer listing page are not offered by Binance. Binance serves as a platform to facilitate the trade, but the offers are provided by users on an individual basis.
5. As a P2P trader, how am I protected?
All online trades are protected by escrow. When an ad is posted the amount of crypto for the ad is automatically reserved from the seller's fiat wallet. This means that if the seller runs away with your money and does not release your crypto, our customer support can release the crypto to you from the reserved funds.
If you're selling, never release the fund before you confirm that you have received money from the buyer.
6. Can I trade without KYC, what do I need to do before trading on P2P
You can only start P2P trading after completing KYC verification and enabling SMS authentication.
Device Related
7. Is P2P available on the web or app?
Users can now buy and sell USDT, BTC, ETH, BNB and BUSD through Binance P2P on Binance.com and Binance mobile App. P2P trading function is available on version 1.17.0 (Android) / 2.6.0 (iOS) or higher.
8. What if I disagree with the buyers/seller's action during a transaction?
During a trade, you can click on the "contact" button to start a chat with your counterparty.
If you can not resolve the disagreement between the two parties, you can click on the "appeal" button. Our customer support will assist in resolving the issue. When a trade is in appeal the crypto will stay locked until the case is resolved.
Our customer support will contact the users involved in the dispute as soon as possible via email. Currently, only English support is provided for dispute handling, please be prepared to provide evidence, for example proof of payment from banks, in English in order to facilitate the investigation.
9. What are the commissions on Binance P2P?
The commission fee on Binance P2P is 0 now.
Trading & Orders
10. What are the coins that I can trade on Binance P2P?
Currently we support trading of BTC, USDT, ETH, BNB and BUSD.
11. What is the minimum number of bitcoins per ads I can trade?
Users can sell from a minimum of 0.01 BTC, to a maximum of 5 BTC.
12. How do I post an ad?
Right now you can post ads through up-to-date Binance App:
IOS https://apps.apple.com/hk/app/binance/id1436799971?l=en
Android https://ftp.binance.com/pack/Binance.apk
Or you can apply to be our Merchants: fill in the form if you are interested, any questions please send your information to P2P@binance.com.
13. Can I make transactions with users from other countries?
Yes, the set of fiat currencies you can trade is determined by users' KYC region. For example, if you and a foreign user are both located in SouthEast Asia, then it is highly likely that VND and MYR are all available to both of you.
14. Are there any restrictions on setting the ad price?
when you are posting floating price ad, the price range is 80%-120%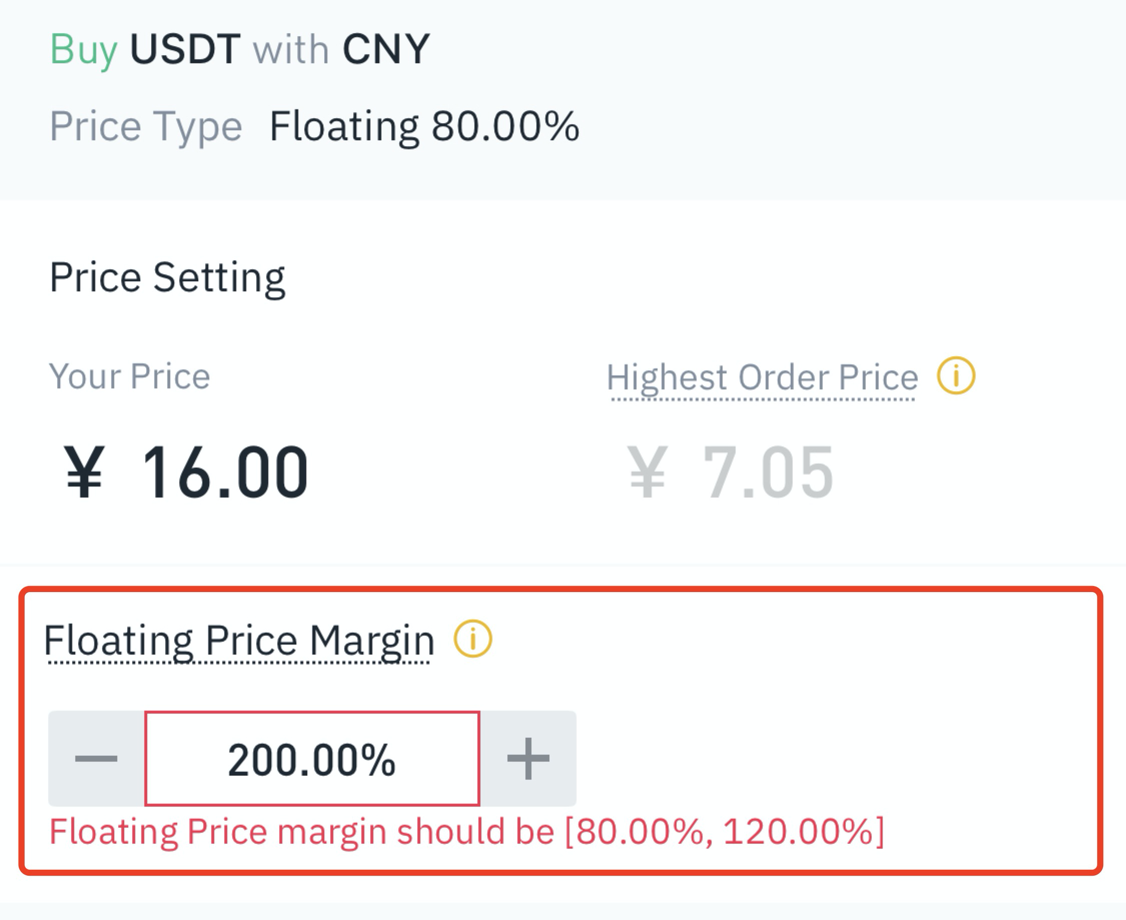 When you are posting a fixed Price ad, it is a +- 20% range compared to the "Market Price".
15. I placed an ad but I don't have any orders. What is the reason?
It depends. Probably you need to set up a more competitive price, or less strict requirements for counterparties.
16. What is the "total trading amount"?
Total trading amount indicates how much crypto assets you want to Buy/Sell.
17. Are there any trading limits for users?
Users can find 2 types of limits when editing ads: The first is the crypto trading amount limit, which defines the range of the total amount of your ads. The second is the Fiat Min/Max order limit, specifying the min/max amount your counterparty can take per order.
18. What is the difference between "Remarks" and "Auto Reply"?
People can check your remark before they place orders, under "Trade Requirements" section:
But "Auto Reply" only pops up in the chatbox after the order was placed.
19. What is "Counterparty condition"?
It's the trade requirements you can set up for ad takers.
20. Can I temporarily make my ad unavailable?
Yes, on "My ads" Tab, you can take them offline, or even "Close" the ads.
21. How do I close my ad?
Click on the 3 dots in the tab "Ad Management", then press "Close".
22. The site says that "Advertisement surplus is less than minimum amount, you should increase the surplus amount". What should I do?
You can increase the ad amount, or close this ad and create a new one.
23. What is "completion rate"?
The completion rate basically measures the number of completed orders v.s. total number of orders created. Note only the cancellation initiated by you will affect your completion rate, your counterparty's misbehavior does not pose any influences.
The completion rate is calculated with a time span, covering orders for the past 30 days, while updated on the hour. (that's say, 24 updates per day)
24. How will I be notified of a new order?
You will receive a sms notification if you've enabled it before.
Dispute and Appeal
25. What should I do if the buyer sends the wrong amount?
You can appeal directly.
26. What should I do if a buyer sends money from a different bank account?
You can appeal directly.
27. I received the money after the appeal was opened. What should I do?
You can negotiate with the counterparty to cancel the appeal. If that was you who appealed at the first place, then you can cancel your appeal directly.
Or, our Customer Support will contact you.
28. I paid, but forgot to mark the order as paid, and the order has expired. What should I do?
Contact Customer Support Team, provide Order Number, Payment Proof (which contains info such as the Payee 's Name, Account Details, Payment Time, Payment Amount, etc.) and our Customer Support will reach out to you within 12 hours.
29. How long after the appeal will the customer support contact me?
Our customer support will reach you out within 12 hours.
30. How will the customer support contact me?
Our customer support will contact you through email.
31. I would like to make a suggestion / report a fraud. Where to contact?
Please send an email to p2p@binance.com.
Payment
32. How do I pay for my purchase in fiat?
You have to follow the instructions provided on the order detail page and make a transfer to the buyer's account with the indicated third party payment app or bank transfer. After that please click on the button "I have paid"
33. How many payment methods can I link to my account?
You can add up to 20 payment methods, and they can be the same type (for example you can add 20 different bank cards). You will have to enable the payment method before you can use it for selling orders.
34. When will people see my payment details?
After they place the order.
35. Can I use someone else's account as a payment method?
No, for security reasons, when adding a new payment method, we only allow using the name from verified KYC information as the account owner's name. If there is a mistake in the verified name, you will have to contact customer support to correct it before you can add the payment method correctly.
36. What is a "payment time limit"?
The payment time limit is usually preset by Maker. When posting ads, Maker can choose how long they would like to receive/make payment, ranging from 15min - 6 hours.
Account
37. How do I set/change my nickname?
A user cannot change the nickname on App once set.
38. What does the yellow badge near the user's nickname mean?
The yellow badge differentiates Merchants from Regular Users.
39. What does the "Merchant" status mean? What is the difference between a merchant and a regular user?
Merchants are experienced, frequent traders who enjoy high levels of trading limits and more functions. To become a Merchant, you need to apply for the Merchant Program here. Binance P2P will review the qualifications of each candidate and give responses.


40. How can I cancel an order?
When you are posting buy ads as a Maker, you can cancel the order before you pay the seller:
If you click "Transferred, next", then you can still cancel the order here:
Note, the cancellations will diminish your "Completion Rate".