OTC Weekly Trading Insights - Jul 15, 2022: BTC's next move on the horizon?
Binance OTC
2022-07-15 11:05
BTC

has seen some wild swings this week, overall remaining range bound, whilst the majority of altcoins have seen sharp declines.

Unsurprisingly, we have seen an increase in selling pressure across

TRX

,

SHIB

,

FTM

and

XLM

.

SAND

was the only coin which had greater buying volume, however it was the worst performing coin on our list in the past 7 days.

Last week, SHIB announced that it has plans to expand their ecosystem by introducing a stablecoin, bonus token and NFT collectables. This can be attributed to the increase in volume over the past 7 days.

Tony Hawk announces plans to enter the Metaverse, creating a skatepark and 3D avatar collections in the Sandbox. Read more

here!
Trade our top 5 weekly coins of interest
here!
Convert Portal Volume Breakdown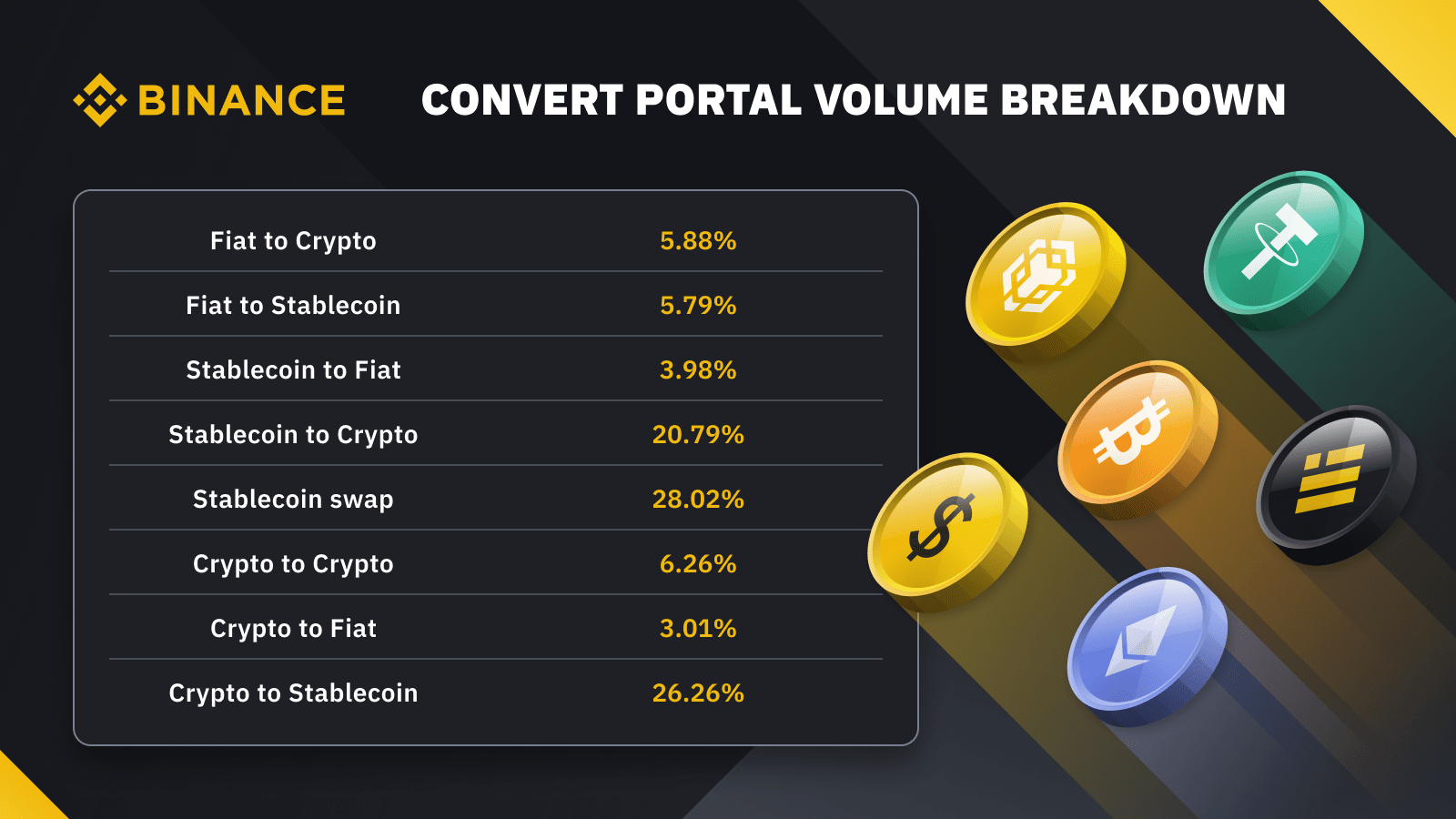 Stablecoin swaps still top the list this week, however they have taken a backseat compared to last decreasing 46.53%. The market is still experiencing a lot of uncertainty and with the ongoing FUD we can expect to see this trend continue.

Crypto to stablecoin was 2nd on the list again, increasing 17.58% from last week. With the market still confused on its next move, investors will continue to move funds to the sidelines and wait patiently.

On the other hand, we have seen an increase in stablecoin to crypto transactions as risk on investors will average into positions.
Overall market technicals
BTC: Narrative remains the same whilst volume spikes
Not much has changed since last week, BTC started the week moving towards the downside finding support at the previous lower highs marked out around $18,950.

We saw wild swings intraday as volatility picked up midway through the week, as the US CPI report was released, beating expectations.

Since then the market has been slowly making its way to the upside, as of now BTC is trading around $21k which coincides with the

golden pocket fib ratio

, so it is safe to assume we can expect a reaction at this level.

The overall range still remains intact so until it is broken, we would expect the range to hold. One thing to bear in mind this week is that volume has picked up substantially compared to previous weeks, indicating that a potential move may be in the works.

The

Crypto Fear & Greed Index

is at '15' showing Extreme Fear within the market, decreasing by 5 from last week.
SHIB
Everyone's favourite meme coin has made it as a coin of interest this week, as volume increased over 60% on our convert portal. Last week they announced that they are expanding their ecosystem with plans to introduce a stablecoin.

Looking at the charts, SHIB was not immune to the markets as it has been downtrending since the start of the year. However, earlier last month, it found support at its previous 2021 resistance and is currently up nearly 50% since then.

More recently SHIB formed a local support around 0.0000098 which also coincides with the golden pocket fib ratio. As of now it is currently trading within a range between the support level and daily resistance .

SHIB's next move will be determined by BTC, but the bullish scenario would be a break past daily resistance retesting the level (resistance support flip) and then making its way past previous highs.
Crypto calendar
07/19/22 - Ethereum Community Conference
07/31/22 - ADA Vasil Hardfork
09/28/22 - TOKEN2049 Singapore
News events of note
Burn baby burn!
- Binance undergoes its quarterly BNB burn as $405m was burned on Wednesday.
CryptoPunks resurge
- With the market going through a down period, NFT's have experienced the same treatment. However volume has started picking up again as one sold recently for $2.7m
Celsius explodes
- The troubled crypto lending giant which froze user withdrawals a few weeks ago has filed for chapter 11 bankruptcy
Binance Execution Solutions
Whilst Binance Convert Portal and RFQ Block Trading is a great, simple way to execute trades across a wide range of Crypto pairs, sometimes this is not the most efficient method especially for the more illiquid pairs. Binance has developed a way round this by using agency execution algos that provides an intelligent solution to optimise execution.
Our execution algos ​​facilitate the execution of large crypto trades while reducing average cost of execution and market signalling. Algorithmic execution is already widely used in traditional financial markets, with a majority of large-volume trades in the market executed via algo orders.
Binance's execution algos have been fully optimised for the cryptocurrency markets, executing your orders into smaller blocks with logic-based strategies. Order types include time-based (TWAP) and volume-based strategies. More information on our algos can be found
here!
Join our
Telegram
to stay up to date with the markets!