Volatility still remains prevalent in the market, with BTC continuing in its upwards trajectory the altcoin market remains hot with a number of coins outperforming the market over the past week. 

We have seen an increase in buying volume on our convert portal, leading up to the FOMC meeting earlier this week, fueling prices higher across the board.  

$STX has outperformed the market again this week, seeing a volume increase of over 200% followed by price rallying over 31%. STX recently launched its 2.1 version introducing a range of updates sending price higher as speculators piled into positions. 

$MASK is another top performer this week, currently up 38.8% after seeing a huge increase in buying volume across our convert portal. Whilst there is no specific news driver, the continued rise of BTC has had a part to play across the altcoin market. 

$IMX and $MATIC have partnered together to focus on creating a new ETH scaling solution looking to onboard more gamers and developers into the web 3 space. Currently IMX is up 27.2% whilst MATIC has been somewhat lagging, up only 1.1% the past 7 days.   
Trade our top 5 weekly coins of interest here!
Convert Portal Volume Breakdown
Crypto to stablecoin transactions have topped the list again this week with a value of 31.89% (+2.13%), with the market showing no signs of slowing speculators look to secure gains in case of any sudden reversal. 

Stable coin to crypto transactions came in 2nd this week, increasing 2.55% from last week. With the market rallying investors will continue to pile into positions whilst the market continues to rally higher. 

Stablecoin swaps placed third again this week with a value of 18.41%, still remaining relatively low to what we have seen earlier this year. 

With some altcoins lagging behind the rest of the market, crypto to crypto transactions have remained consistent with a value of 8.9%, as speculators look to further rotate their holdings into other altcoins with the hope they will catch up with the market. 
Overall market technicals
BTC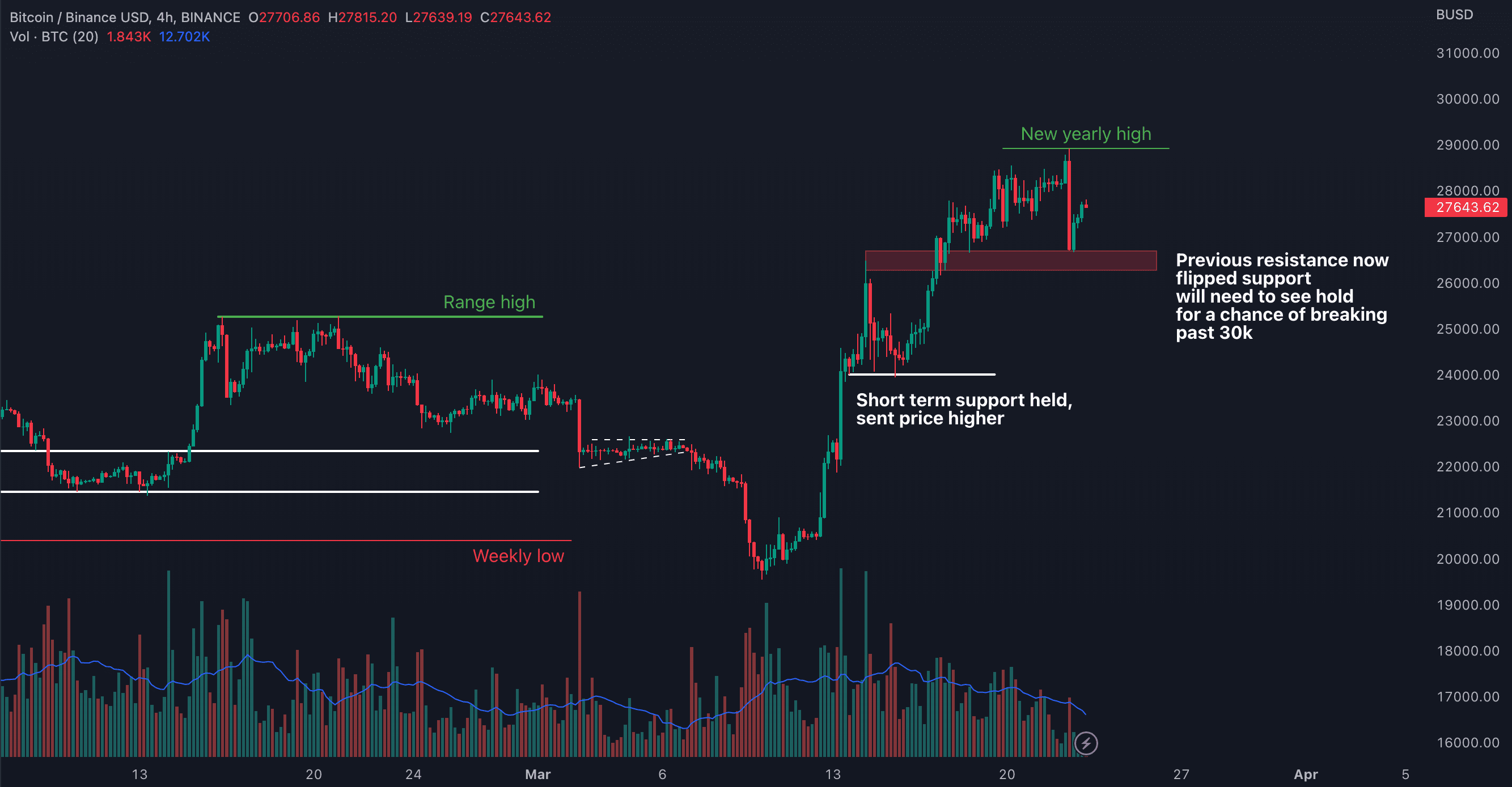 Following on from last week, the short term support we identified around $24k held sending price higher as BTC rallied over 18% trading to a new yearly high of $28,922. 

The build up to this week's FOMC meeting was extremely volatile as price continued higher with the altcoin market following suit. 

The FED announced they will be increasing interest rates by 0.25bps to 5% as the market anticipated. BTC briefly traded above 28.8k, however quickly changed tide after the US Treasury Secretary Yellen commented that FDIC will not provide "blanket insurance" for bank deposits causing BTC to sell off below $27k. 

As it stands BTC found support at its previous resistance level around $26,600 and has initially shown a willingness for this level to hold. Buying volume will need to pick back up here for BTC to show any chance of breaking past $30k. 

Alternatively, if the support fails to hold we would likely see further downside movement targeting the previous support level at $24k. 
STX
$STX failed to break above the May resistance we outlined in our report a few month as short interest grew with speculators piling into short positions. 

Throughout March price steadily retraced following the rest of the market eventually finding support around 0.5 taking out the previous candle's lows. 

As BTC suddenly picked back up, STX regained its steam as it rallied over 100% trading through the previous resistance, outperforming the entire market. 

Currently STX is sitting nicely above the May resistance (now flipped support) and appears to be trading in a wedge formation. 

For a further shot to continue to the upside we would need to see this resistance no turned support successfully hold with STX breaking above the wedge pattern followed with further upside movement from BTC.
Macro at a glance 
Last Wednesday (03/15/23), after Saudi National Bank refused to provide additional financial assistance to Credit Suisse, the share price of Credit Suisse dropped 24% by the close. The risk-off sentiment spread to crypto, as BTC dropped 5% finding support at $24k.
Last Thursday (03/16/23), US initial jobless claim was reported as 192k, lower than the estimated 205k and the previous week's 212k, implying the labour market remained strong. 
Over the weekend following the turmoil with Credit Suisse, Swiss regulators changed the law in order to allow UBS to buy Credit Suisse with $3.2b, risk sentiment improved, with BTC soaring 5% to 28.3k.
On Wednesday (03/22/23), Fed hikes interest rate by 25bps to 5.00%, as the market anticipated. The dot plot suggests the Fed rate peaks at 5.1% in 2023 and will be at 4.3% in 2024. The S&P500 closed with a -1.65% loss, while BTC dropped over 7% and traded below 27k in the last hour before the US market close. BTC price gradually climbed back above the 27.3k level after the US market closed.
Why trade OTC? 
Binance offers our clients various ways to access OTC trading, including chat communication channels and the Binance Spot Block Trading platform for manual price quotations, or automated price quotations via our Binance Convert and the Binance Convert OTC API. For manual price quotations, you may visit our Spot Block Trading Platform, where you can RFQ (request-for-quote) and trade directly with our OTC trading team via a live chat, or reach out to us via our email at liquidity@binance.com for our trading desk to get in touch with you and get started. 
Alternatively, OTC trades may also be automatically quoted on Binance Convert and via API, offering users a quick and simple way to execute trades across 60,000+ pairs with one simple click. Binance Convert supports over 350 tokens listed on the exchange including fiat pairs. Begin trading from as little as 1 USD. To start, simply navigate to the Binance Convert, select the coins you wish to trade, preview and confirm the quote with settlement reflecting almost instantly in your wallet balance. For details and access to  Binance Convert OTC API, please refer to our Convert Endpoints  and reach out to us at liquidity@binance.com if you have any questions or require assistance.
Visit Binance OTC and Execution Solutions to get more information on our OTC products and solutions. 
Experience the main benefits of Binance Convert and OTC Trading: 
Fast & Competitive Pricing 

Instant settlement 

Widest availability of coins 

Bespoke service with unique market insights 

Zero fees and slippage 
Email: Liquidity@binance.com 
Join our Telegram to stay up to date with the markets!