Binance Expands Account Statement Function
Main Takeaways
With our VIP and institutional clients in mind, we've upgraded the account statement function with more useful features.

You can now see a daily snapshot of your wallet balances across different products, including Spot, Margin, Futures, and Earn. 

You can also meet tax and audit reporting requirements easily with file sharing to external parties, while maintaining data security with password protection.
We've enhanced our account statement function to support the tax, audit, and compliance needs of our VIP and institutional clients.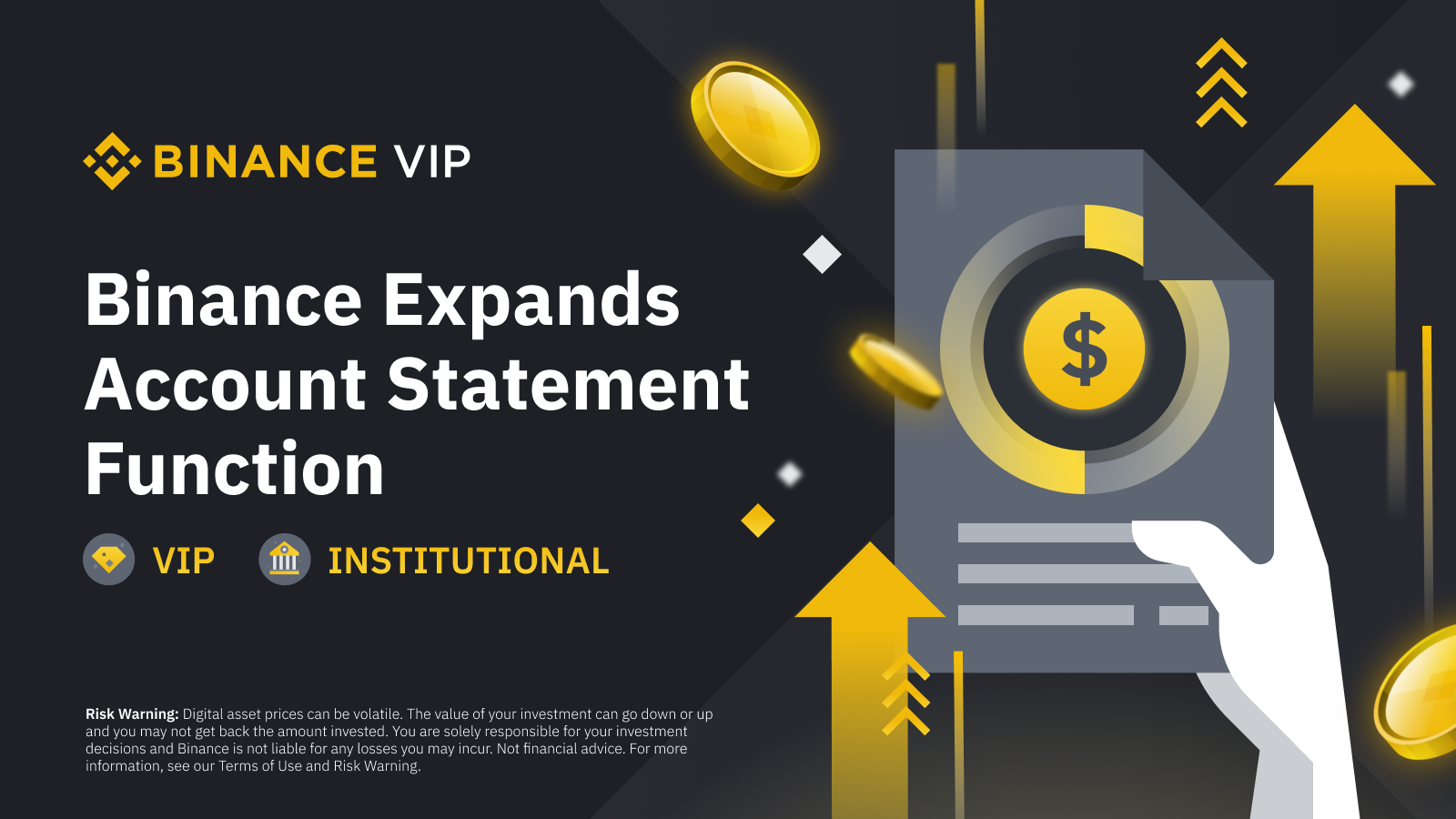 The account statement function, available on the Binance website, lets clients view and download a historical record of their assets across various Binance products. 
This is especially important for VIP and institutional clients who may need to access their balance history over a specific period for accounting purposes or to send a certified report to third parties such as auditors. 
These changes help institutional clients meet their tax and audit reporting obligations more efficiently and are a key addition to Binance's pipeline of institutional-quality data and reporting services.
What Can You Expect With This Update
The updated account statement function now supports:  
Earn Wallet snapshot 
Users can now view a daily snapshot of their balances across Spot, Margin, Futures, and Earn Wallets. The cumulative profit in their Earn Wallet has also been integrated into the snapshot. 
What's more, the account statement function can generate historical reports on individual or aggregated accounts for up to one year from the current date. Account balances are shown in BTC equivalent by default. Users can choose to have their account balances shown in BUSD and USDT depending on their reporting needs. The conversion rate will also be provided in the statement.
File sharing and PDF export
Users can also export their account statements in JPEG or PDF format, as well as send PDF statements directly to external email addresses. Each PDF statement can be shared with up to three recipients, including the email addresses of third parties such as auditors. 
For users who export the statement in PDF format, our system will send the file to their registered email address by default. The PDF statement will contain the user's UID, name, registration date, and the Binance logo.
Password protection
Our users' privacy and security are Binance's top priorities. Users will be prompted to set a one-time password before exporting any PDF files to add an extra layer of security over sensitive information. 
Conclusion
We're constantly looking for ways to improve our platform and services to meet the needs of institutional clients. These updates underscore Binance's ongoing commitment towards upholding regulatory compliance and protecting our users. With the new account statement features, managing your funds as a Binance VIP and institutional client while fulfilling tax and audit requirements will be a much more seamless experience. 
For more information on our account statement function, please refer to our guide How to Use Binance Account Statements. 
Binance reserves the right in its sole discretion to amend or remove this blog without prior notice at any time and for any reason.
Risk disclaimer: Cryptocurrency prices are subject to high market risk and price volatility. You should only invest in products that you are familiar with and where you understand the associated risks. You should carefully consider your investment experience, financial situation, investment objectives and risk tolerance, and consult an independent financial adviser prior to making any investment. This material should not be construed as financial advice. Past performance is not a reliable indicator of future performance. The value of your investment can go down as well as up, and you may not get back the amount you invested. You are solely responsible for your investment decisions. Binance is not responsible for any losses you may incur. For more information, please refer to our terms of use and risk warning.