How to Use Binance Pay as a Payment Method on Binance P2P
2022-09-09
Main Takeaways
Featuring over 700+ payment methods and 100+ fiat currencies, Binance P2P offers users the flexibility and freedom to trade crypto the way they want. 

Binance P2P allows users to seamlessly purchase crypto using Binance Pay as a payment method. 

Buying bitcoin or other cryptocurrencies on our P2P exchange with Binance Pay looks just like doing it with other payment methods you might already be familiar with. The process only takes a few simple steps. 
On the hunt for a fuss-free way to buy cryptocurrency? Try using Binance Pay as a payment method on Binance P2P. 


Binance P2P offers users a flexible way to trade bitcoin and other digital assets with one another. With over 700+ payment methods and 100+ fiat currencies to choose from, our P2P platform is one of the most accessible gateways for users to access crypto. Moreover, those who want to fully immerse themselves in the crypto lifestyle can take advantage of the convenience of Binance Pay to purchase crypto in just a few simple steps. 
What is Binance Pay
Binance Pay is a contactless, borderless, secure cryptocurrency payment system designed by Binance. The platform lets users send, spend, and pay with crypto anywhere in the world – all with zero fees. 
How to Use Binance Pay as a Payment Method on Binance P2P
Similar to other payment methods on the platform, buying bitcoin, BNB or other cryptocurrencies with Binance Pay only takes a few simple steps. 
Step 1: Log in to the Binance app and tap [P2P Trading] on the homepage.  
Step 2: Under the [Buy] tab, select your desired cryptocurrency in the top menu bar. Choose your preferred fiat currency.  Next, select Binance Pay as your payment method in the drop-down. Once you see a seller whose ad works best for you, tap [Buy]. Please note that Binance Pay as a payment method on our P2P platform currently only supports UAH and RUB fiat currencies.
Step 3: Specify the amount of crypto you want to purchase, then confirm the payment method. If everything looks good to go, tap [Buy with 0 fees]. 
Step 4: You will then be directed to the pending payment page. Double-check the details on the page, and make sure that the seller specified their email address. If not, you can message them via chat to ask for their email address.
Step 5: Go to your Binance app homepage and tap on the top right icon to go to the Binance Pay page. Then select the [Send] Button. Enter the seller's email, add currency, and amount. You can also choose to add the order number in the 'Note' field as a reference.
Tap [Continue] and confirm the transfer after making sure details are correct.
Step 6: Then, return to the order page and  tap [Transferred, notify seller]. Once the seller has released the crypto, the transaction is complete!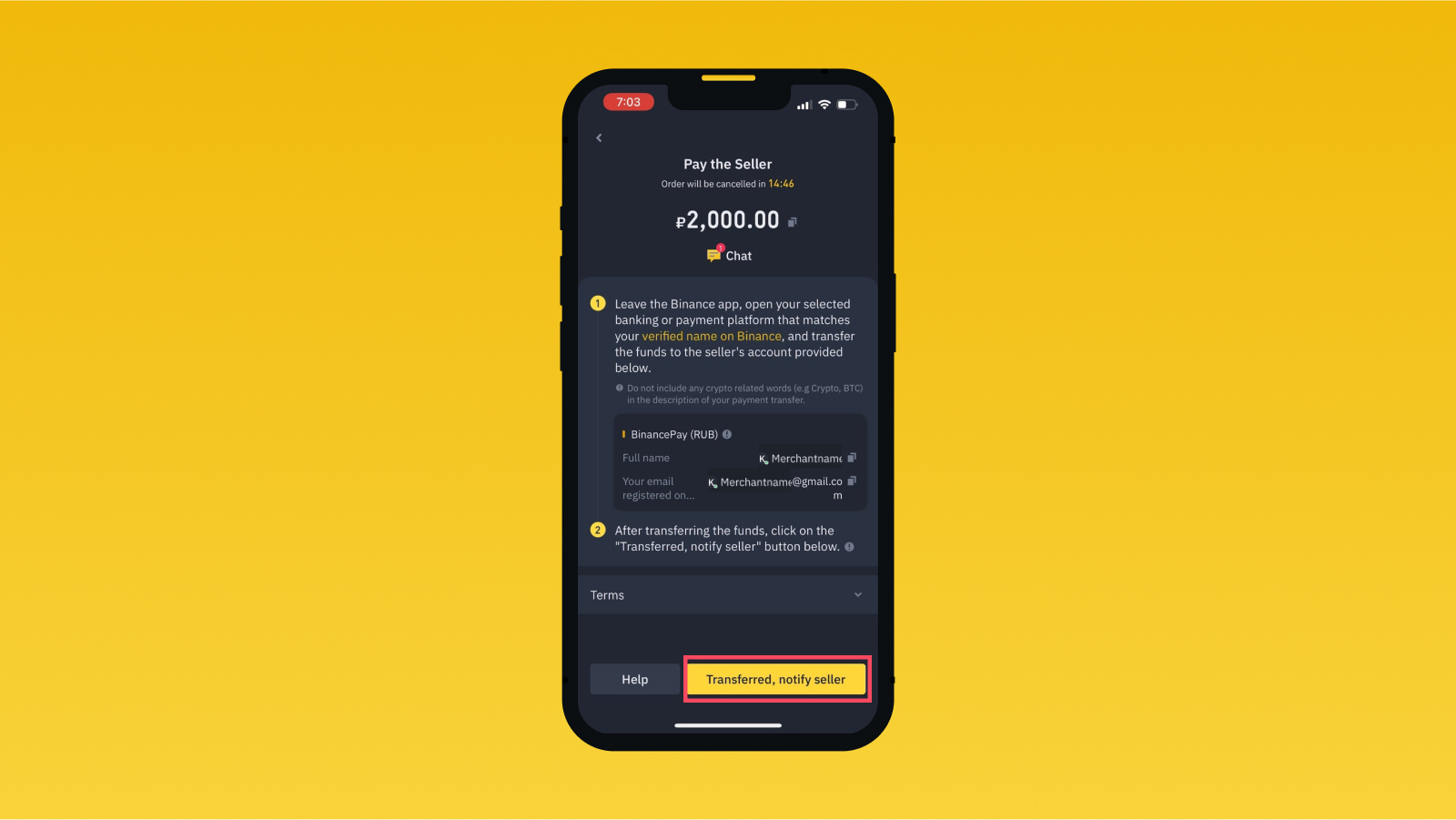 For more detailed information on how to buy crypto on Binance P2P, refer to our step-by-step guide How to Buy Cryptocurrency on Binance P2P (App)?
Get Started With Binance P2P
Ready to start buying bitcoin or other cryptocurrencies on our P2P platform? Open a Binance account and download the Binance app. Once you successfully complete your identity verification process, you can start buying crypto with zero fees on the Binance P2P marketplace.
For more information on how Binance P2P works, you can visit these links:
Disclaimer: Your use of Binance P2P services and all information and other content (including that of third parties) included in or accessible from Binance P2P services is at your sole risk. Our only responsibility is to handle crypto transactions. All payments are final upon completion unless otherwise required by law. The Binance P2P platform has neither the right nor obligation to resolve any disputes arising from a completed payment. Neither the Binance P2P platform nor merchants shall be responsible for your loss in a completed payment.