Fund Password: A New Security Feature For Faster and Safer Transactions on Binance P2P
2022-11-21
Main Takeaways
User safety and protection are Binance's top priority. With our new Fund Password feature, users can release orders with a preset password instead of SMS or Google authentication. 

The new security feature facilitates faster release of orders and reduces the likelihood of users falling prey to phishing attacks disguised as authentication messages sent by Binance.  
Our new Fund Password feature, available on the Binance app, is a security tool that helps make transactions on Binance P2P even faster and safer!
Peer-to-peer (P2P) trading involves users directly buying and selling crypto to one another without the need for an intermediary. This method offers sellers the freedom to choose their preferred payment method, while buyers have the flexibility to purchase crypto from whomever they wish at their preferred prices. 
Launched in 2019, Binance P2P offers users unmatched liquidity and robust security. What's more, the platform is also one of the easiest gateways for users to access crypto, with over 700 payment methods and 100 local currencies supported. 
Since the launch, we're committed to constantly improving users' trading experience and safety. This is why we've launched the new Fund Password feature, a security mechanism that makes transactions on our P2P exchange platform faster and safer than ever. 
What is Fund Password and When Can You Use It? 
Currently available on the Binance app only, Fund Password allows users to release orders with a preset password instead of SMS or Google-powered two-factor authentication. It can be used for orders worth 500 USD or less. 
Please note that Fund Password is only available on Binance app version v2.55.0 or above. 
Benefits of Enabling Your Fund Password 
By enabling your Fund Password, you can potentially avoid the problem of delayed authentication text messages caused by subpar connectivity or issues with local mobile carriers. The Fund Password can also facilitate faster release of orders and, most importantly, minimize the chances of users falling prey to phishing SMS messages. 
Trusted by millions of users worldwide, Binance P2P offers low transaction fees and flexible payment methods. Start trading today.
How to Enable Fund Password 
1. Log into your Binance app and go to P2P Trading.
2. Select your preferred fiat currency and tap [...]. Then, in the dropdown menu, select [Advertisement Mode]. Then go to [Profile].
3. Next, select [Fund Password].
4. Once you've confirmed having read the Fund Password Risk warning, tick the checkbox and tap [Enable]. 
5. Follow the instructions on the screen to set your Fund Password. To ensure that your password is secure, we recommend that it contain at least eight characters with a minimum of one capital letter and one number.
6. Make sure that the toggle button next to [Fund Password] is switched on.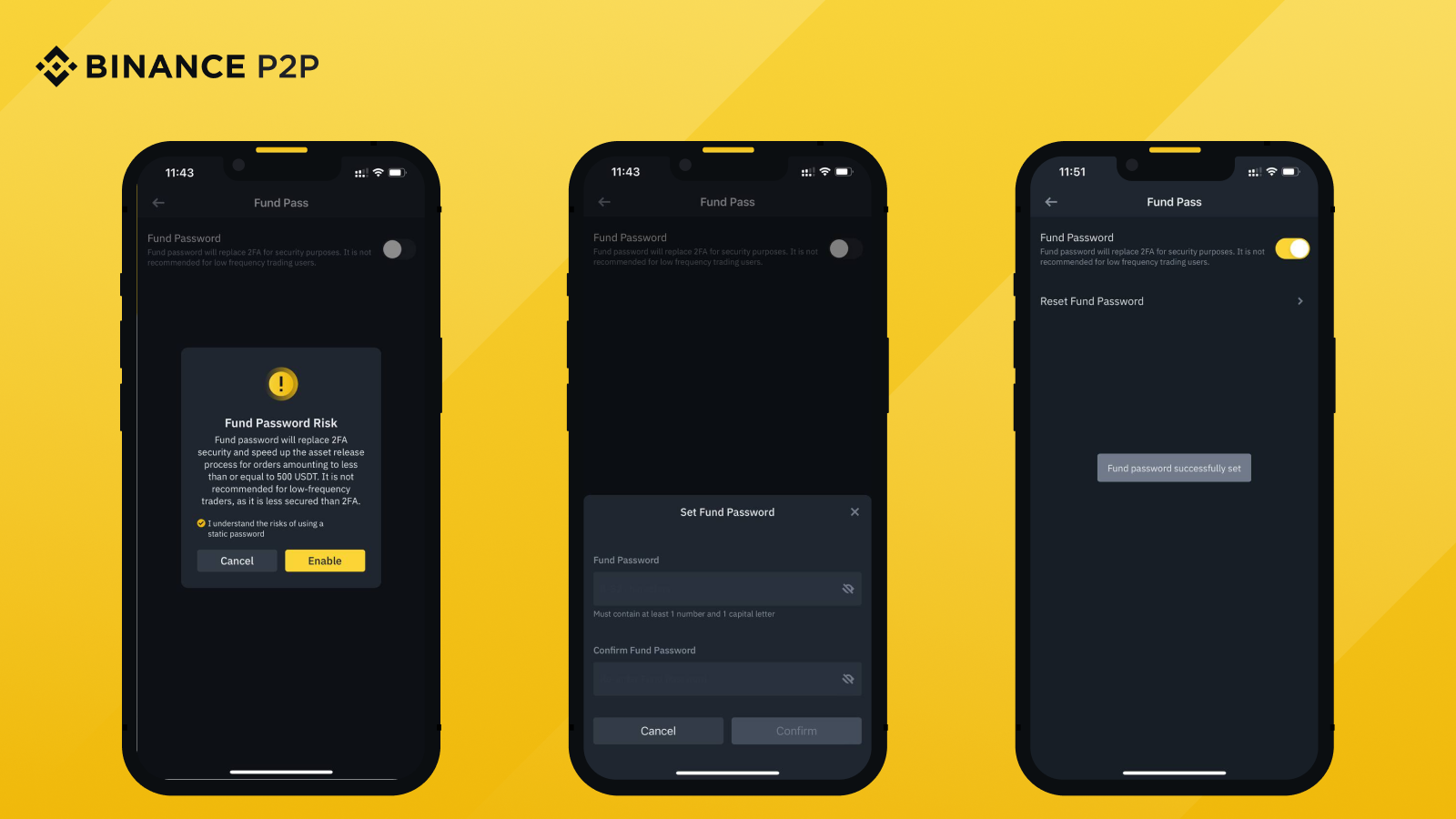 7. You can now confirm transactions by entering your Fund Password instead of completing two-step authentication (2FA).
Get Started with Binance P2P
Now that you've learned how to set up your Fund Password for faster and more secure transactions, are you ready to start trading on Binance P2P? To begin, simply register for a Binance account or download the Binance app. Once you've completed the identity verification process, you can start buying or selling crypto on the Binance P2P exchange.
To learn more about Binance P2P, visit these links:
Disclaimer: Your use of Binance P2P services and all information and other content (including that of third parties) included in or accessible from Binance P2P services is at your sole risk. Our only responsibility is to handle crypto transactions. All payments are final upon completion unless otherwise required by law. The Binance P2P platform has neither the right nor obligation to resolve any disputes arising from a completed payment. Neither the Binance P2P platform nor its merchants shall be responsible for any loss after a completed payment.