Binance NFT: Exclusive Orlinski x Binance Halloween Auction
2021-10-26
Celebrate Halloween with Richard Orlinski's spooky Binance NFT collection. Find out how you can participate in the Halloween Orlinski X Binance Auction Drop.
After he wowed us with his Binance 4th Anniversary Collection, Richard Orlinski joins us once again on Binance NFT Marketplace to celebrate a very special  occasion—Halloween!
Each NFT available in this auction was exclusively created by Richard Orlinski. There are a total of nine NFTs for auction, with the most common pieces starting at 70 BUSD. 
About the Collection
Here are the five most common NFTs in the Halloween drop. A terrifying surprise awaits collectors who own all five NFTs... 
Richard Orlinski's iconic Kong is illustrated in different landscapes and Halloween costumes with elements specific to cryptocurrency and Binance.
Meet the super rare and scary Kongs: "Kong Wizard" and "Terrifying Kongs". Each of the two NFTs will have a maximum of 20 pieces available.
"Kong Nightmare": Nine copies available
The curves and numbers are shaking, the animals are out: the dogs are released, the bats are flying. That's it. The NFT Halloween is out.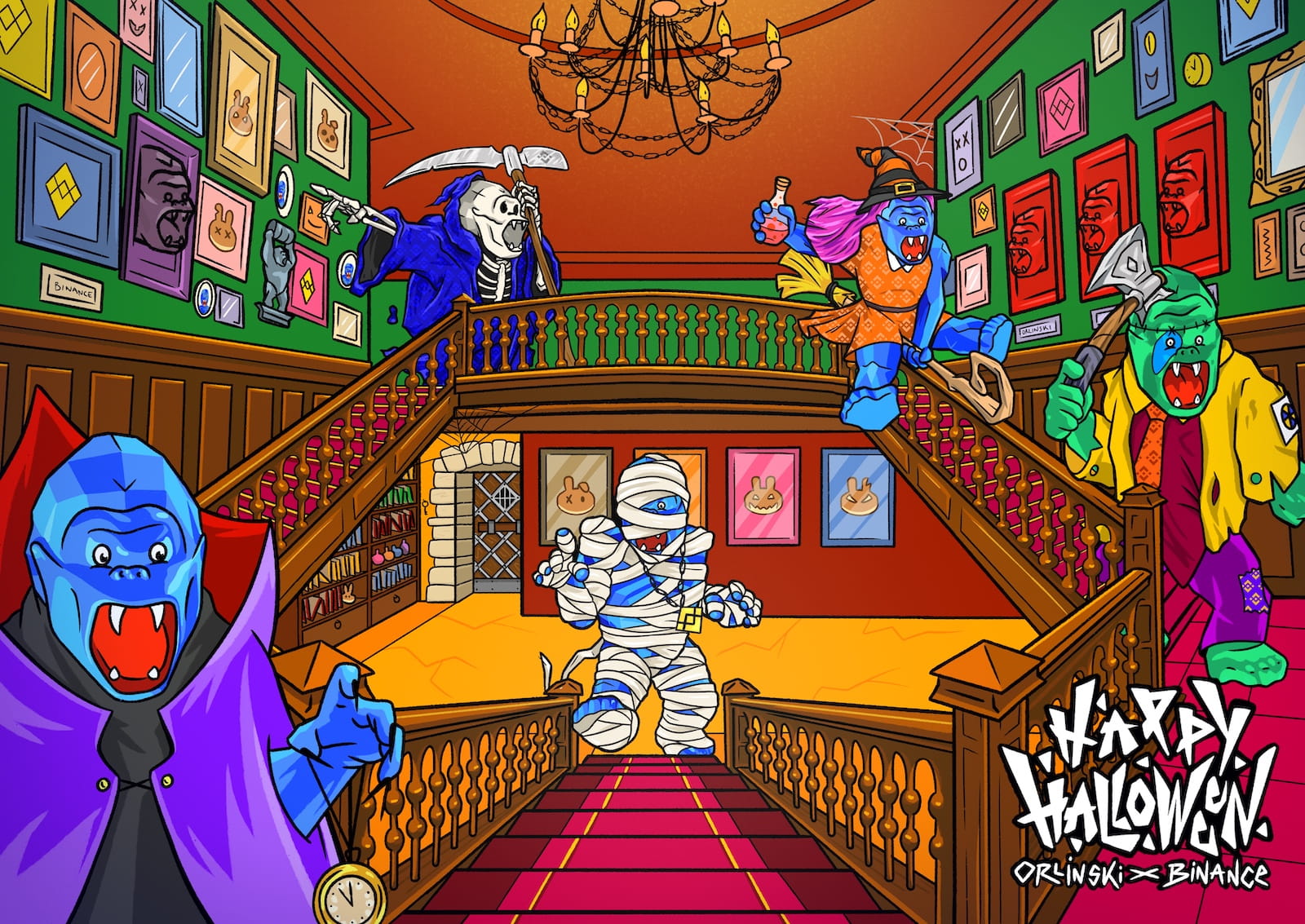 "Kong's Manor": One copy available
Occupied by the spirits of the KONG, this manor is inhabited by supernatural forces. Supernatural or paranormal phenomena occur here. The KONG have taken possession of the place for a long time and take advantage of this special day to show themselves in broad daylight.
How Do I Participate?
Auction period: 2021-10-31 14:00:00 (UTC) to 2021-11-07 23:59:59 (UTC)
To get started, visit the Orlinski Creator Profile Page and search for the NFTs you want to bid on.. You can sort the NFTs by:
Recently listed

Ending soon

Price (Low or High first)

Most favorited
If you want to find a specific NFT from the collection, you can type the NFT's name in the search bar: Kong Frankenstein, Kong Vampire, Kong Warlock, Kong Spectrum, Kong Mummy, Terrifying Kong, Kong Wizard Kong Nightmare and Kong's Manor.
If you're the highest bidder once the auction is over, you'll find your NFT in the User Center. You can then resell your NFT by listing it on Binance NFT's secondary market.
If you would like more information, you can visit our guides below
About the artist
Richard Orlinski is the best-selling contemporary French artist in the world since 2015. In 2021, he was appointed Officer of the Order of Arts and Letters by the French Minister of Culture, Roselyne Bachelot-Narquin. Whether it's sculpture, design, music, or fashion, Orlinski is intrigued by all means of creative expression and his artistic expression knows no boundaries. Known for his animal sculptures, his work has reached and amazed a wide audience, from art critics to children, to celebrities such as Harrison Ford and Rihanna.
Richard Orlinski was also the official artist of the first Binance Anniversary Collection, making his artistic NFTs some of the best selling on Binance NFT.
Terms and conditions
This activity is applicable to all Binance NFT users.

Binance reserves the right to disqualify trades that are deemed to be wash trades or illegally bulk registered accounts, as well as trades that display attributes of self-dealing or market manipulation.

Binance reserves the right to cancel or amend any Activity or Activity Rules at our sole discretion.
Join our Binance NFT Community on Telegram or follow Binance NFT on Twitter and Instagram for the latest news and updates.