7 Reasons To Sell Your NFTs On Binance NFT Marketplace
2021-12-10
Key Takeaways
Enjoy the lowest fees on Binance NFT, at only a flat 1% trading fee for all NFT sellers and creators.

Deposit your favorite BSC and ETH network NFTs and unlock access to a worldwide crypto community and the highest-liquidity market. 

Buy and sell NFTs with low fees on Binance NFT, and enjoy easy cash out through our fiat gateways.

Trade NFTs and access the Binance NFT Marketplace with the Binance mobile app anytime, anywhere.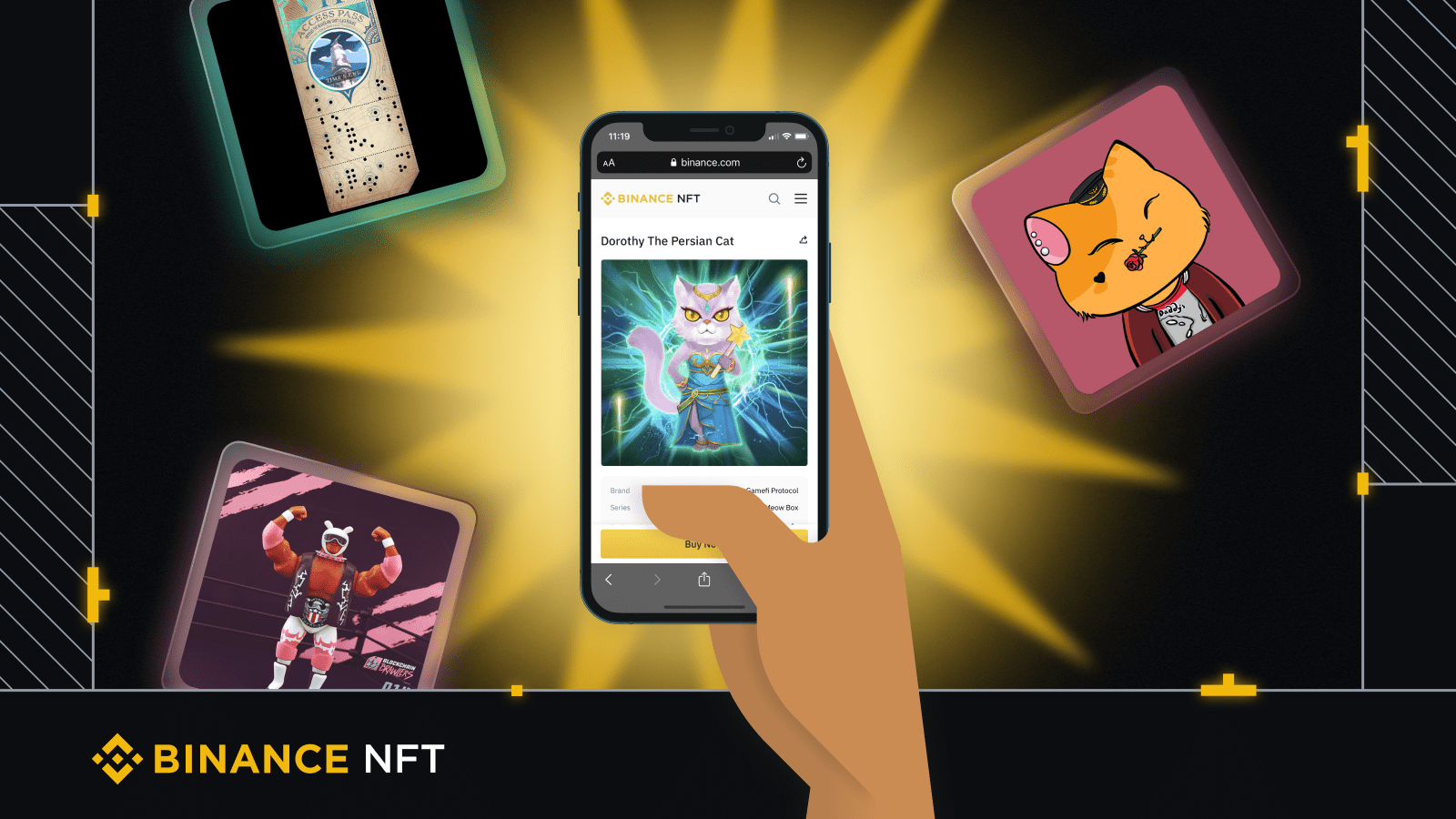 Like sneaker, art or streetwear resellers, a large population of NFT users buys collections or assets for the sole purpose of reselling. On the other hand, sometimes the NFT is no longer appealing, and the holder wants to sell and move on to something more exciting. At Binance NFT, we provide an easy-to-use platform for anyone looking to sell their NFTs. 
Here are seven reasons why NFT collectors, traders, and more prefer Binance NFT – the official NFT Marketplace of Binance, as their go-to platform for NFT selling. Since its launch in June 2021, Binance NFT has become the world's largest and fastest-growing centralized NFT marketplace, selling more than 1 million NFTs and collaborating with over 800 creators worldwide.
1. Industry-leading Liquidity and Volume
The term "volume" refers to the total quantity of NFTs traded during a given time, while "liquidity" refers to the speed with which an NFT asset can be bought or sold for its market price. 
With high volume and liquidity, Binance NFT sellers or creators can make fast and easy transactions, sell and trade on a grander scale and gain exposure to the largest crypto community in the world.
2. Lowest Fees
Binance NFT charges a flat 1% trading fee for all NFT sellers and creators. Compared to other marketplaces that collect up to 7.5% in fees, we provide the lowest fees in the market. In addition, sellers only need to pay a 1% royalty fee to the creator. Binance NFT's attractive low fees allow NFT sellers to enjoy more profits on their assets.  
3. Easy Deposits from ETH and BSC Networks
With our recent feature updates, NFT collectors can quickly deposit and sell NFTs from other networks on Binance NFT. However, there are some requirements to keep in mind. 
Binance only accepts NFT contract addresses fully integrated with the Binance NFT Marketplace. Users will not be able to deposit NFTs with non-approved smart contracts addresses. Binance will continue to update and expand the approved smart contract list. You can visit our listing page or follow @TheBinanceNFT on Twitter for the latest updates. 
Please read the complete list of Binance NFT supported contract addresses. For more information on finding an NFT contract address, you can refer to our FAQ guide. 
Here is a short tutorial on how to deposit NFTs on Binance NFT:
Step 1: First, follow the guide above to connect your wallet.

Step 2: Go to [User Centre] in the Binance NFT Marketplace and click [Deposit].

Step 3: Paste your asset's NFT contract address under [Contract Address] and click [Confirm]. Do not enter the address manually.

Step 4: After verifying the contract address, you'll see your collection of NFTs. Choose the one you want to deposit and click [Confirm Deposit].

Step 5: Set the deposit gas fee and click [Confirm].
Once the deposit is confirmed, users can find and list their deposited NFTs for sale in the User Centre via NFT Asset. For more information, please refer to the How to Deposit NFT FAQ.
4. Quick Fiat Cash Out
We provide a quick, easy and secure way to cash out to Binance from the NFT Marketplace. All Binance users can use their existing accounts and Binance wallets to trade on Binance NFT Marketplace—with no extra steps required.  
How to trade BNB and BUSD profits to fiat currencies on Spot
After a successful NFT sale, users can exchange their profits (BUSD, BNB or ETH) into available fiat pairs to cash out. To trade BNB and BUSD profits for fiat currencies on Spot, you can follow our step-by-step guide. 
How to Withdraw Fiat via Card Withdrawal
Users can also withdraw via card withdrawal and get fiat for applicable countries – GBP, EUR, RUB & UAH.
How to Withdraw via Bank Transfer
To withdraw via Bank transfer, please find a detailed guide here – How to Withdraw USD via SWIFT. 
For BRL or local BRL bank transfer, please refer to our guides – How to Withdraw BRL via CapAccount, Zero Withdrawal Fees for BRL Via CapAccount and How to Withdraw BRL to my bank account. 
Cash Out via Third Party Payments
Third-party payments are available for Advcash, SettlePay, GeoPay. Please refer to relevant guides for the corresponding market here.
5. Access NFTs on the go with Binance Mobile App
The Binance NFT Marketplace is automatically linked to your user account and wallet on the Binance mobile app. When using the Binance mobile app, click [More] on the homepage. Under Trade, click [Binance NFT] and follow the same procedure as before to list your NFT for sale.
6. Ranking feature
Binance NFT spotlights the top-performing NFT collections, NFTs and artists on the homepage's ranking boards. Artists and their collections get more exposure, while collectors can easily find new and trending pieces to grow their collections. The new ranking boards also enable collectors to assess better and price their asset value more accurately, increasing the chances of a more profitable sale.
7. Simple Token Conversions              
Holders on Binance NFT can easily convert NFT crypto profits to their preferred token or product on the Binance ecosystem. The Binance ecosystem provides various features that meet different crypto goals. Cash out your profits, send them anywhere globally, or subscribe to an Earn product and generate crypto rewards and much more. 
Ending Thoughts
The NFT space is all about community. Once your NFT is listed on a marketplace, promotion and community engagement is a vital step. For more tips on connecting and engaging with your community, read our guide to NFT advertising. As a marketplace, we regularly launch monthly features upgrades that improve users' buying and selling experience on Binance NFT. You can learn more about each feature we've launched in the following announcement posts: 1st update and 2nd update. 
Join our Binance NFT Community on Telegram or follow Binance NFT on Twitter and Instagram for the latest news and updates. For artists and creators looking to collaborate, contact nft@binance.com. 
Read the following helpful articles for more information: