5 Cool Features On Binance Futures That You Should Try Out
2020-11-25
Key Takeaways:
Binance Futures introduced five new features to enhance users' trading experience. 

These features blend elements of gaming, social networking, and cryptocurrency trading.

The new and improved Binance Futures homepage features all derivatives products and resources under one roof.
Do you want to test your trading skills against other crypto traders worldwide? Imagine competing against other traders on a daily basis, gamifying your trading experience, and at the same time, winning prizes. Wouldn't that be great? Or perhaps, do you want to follow and interact with the best traders on Binance Futures?
Imagine being able to track positions of the most profitable crypto traders in the world and watching the enormous amounts of profits they raked in every day. Binance Futures allows you to do that with its exciting new features that will take your trading experience to a whole new level. 
We've introduced five cool features that will enhance your trading experience with us. Before we explore these cool features, check out the new and improved Binance Futures homepage featuring all derivatives products and resources under one roof.
Bookmark our new homepage now!
Without further ado, here's a rundown of the features that were recently launched.
1. Binance Futures Battle 
Binance Futures Battle function was recently launched and has attracted great interest from retail traders worldwide. Battle is our latest feature that allows traders to compete with each other to earn points. It blends elements of gaming and cryptocurrency trading by placing traders head to head in a battle to see who is the most profitable trader over a certain period.
The rules are simple. Users only need to predict Bitcoin's direction in the next 5 minutes, and go long or short. Players who predict the opposite direction will be matched against you automatically.
In each battle, users can collect points regardless of the outcome.
Battle Interface
How to Get Started with Battle?
Click the "Battle" tab located on the Derivatives dropdown menu of Binance Futures' trading interface.

If you are a new futures user, you need to open a futures account and transfer assets to your coin-margined futures wallet.

Battle currently supports BTCUSD perpetual coin-margined contracts, which means your collateral is BTC.

To begin a battle, choose your desired contract size and direction. 

Select 'Long' if you expect prices to rise within the next 5 minutes, conversely, select 'Short' if you expect them to fall. 

When an opponent is matched, the battle will start with a 5-minute countdown. You may choose to end the battle early when the "End Battle" button appears after the first 30 seconds, or wait for the position to be automatically closed when the countdown expires. 

As long as you predict the right direction, you will win and earn points. 
Battle Leaderboard (Win Steak and Points)
The battle leaderboard displays the top traders who have accumulated the most points over time. The leaderboard will rank traders based on the total points earned and win streak. 
Join our Bitcoin trading battle and earn points regardless of whether you win or lose. It is a great way to test how good you are against some of the best traders in the game.
Get started with Binance Futures Battle now!
2. Binance Futures Leaderboard 
Binance Futures' Leaderboard is a fusion of social network and cryptocurrency trading that allows you to view and follow the positions of the best traders on the platform. Top-performing traders may share their positions, and any Binance Futures user can follow and keep track of those positions. Without surprise, it has quickly gained traction with novice traders, enabling them to ride the coattails of the best traders in the crypto world.
The leaderboard ranks the top 100 traders on Binance Futures by ROI and P&L. The best part is that you can view the traders' P&L or ROI performance at different time frames such as Daily, Weekly, Monthly, or All-time. This means that you can track how much these top traders make every month or week.
Here is an example of how a dashboard looks like. For traders who have opted to share their positions publicly, you could view their individual positions as well as the entry price of each position. This is especially useful for novice traders who want to replicate these trades in their portfolio. 
Such tactics can help traders who don't have the time to follow the markets themselves. Instead, they try to mirror trades of successful traders.
The leaderboard also allows you to build your own social trading profile including all functions listed below:
Customize your display name

Choose an avatar

View your rank (ROI / PNL) - Yesterday / Weekly / Monthly / All-time

View ROI/PNL needed to reach the next badge

Badges earned (ROI / PNL)

Search users by display name

View top 100 traders by ROI and PNL

View your positions

View following/followers list
Traders can earn badges based on their ROI or PNL rankings, the various badges available are as follows: 
Gold - Rank 1 to 5

Silver - Rank 6 to 10

Bronze - Rank 11 to 20

Blue - Rank 21 to 100

Green - Rank 100+
All earned badges and achievements can be shared publicly via the social sharing functions. By sharing your achievements, you could potentially gain more followers and like-minded crypto traders. 
Click here to create and share your leaderboard today! 
To rank on the Binance Futures leaderboard, you will first need to have opened a Binance Futures account. If you don't have one yet, you can click here to register.
3. Asset Conversion 
Binance's Asset conversion function allows you to convert assets directly in your coin-margined wallet without the need to transfer them from the spot market. Assets can be converted to other supported assets, as listed below. 
Supported assets for conversion:
Bitcoin (BTC) 

Ethereum (ETH) 

BNB (BNB)

Chainlink (LINK)

Cardano (ADA) 

Polkadot (DOT)

Tron (TRX)

EOS (EOS)

Litecoin (LTC)

Bitcoin Cash (BHC)

Ripple (XRP)

Ethereum Classic (ETC)

Filecoin (FIL)
This function is now available on the Binance Futures web trading interface and the latest iOS and Android Binance Apps.
With the asset conversion function, users can now save more time and trade faster without missing trading opportunities.
4. Cross Collateral 
Cross Collateral is an innovative feature that allows users to collateralize their crypto assets to borrow against another crypto asset. 
On Binance Futures, this feature provides users the flexibility to utilize their crypto assets to borrow Tether (USDT) at a daily interest rate between 0.004% to 0.04%. Subsequently, the borrowed funds can be used to trade futures contracts on the Binance Futures platform. 
Binance Futures' Cross Collateral now supports the following assets as collateral:
Users trading USDT-margined contracts may find this feature particularly useful. When trading with USDT-margined contracts, you must allocate a significant portion of your portfolio in USDT. This ensures that you hold enough collateral to fund positions in the futures market. 
However, this is unfavorable for most cryptocurrency investors. Stablecoins, such as USDT and BUSD, are designed to be resistant to value appreciation and are not investment assets, unlike conventional cryptocurrencies. A $100 USDT today is likely to be worth $100 in two years. As such, investors prefer not to sell and convert their cryptocurrencies to Stablecoins as the opportunity cost may be high.
With this feature, users who do not want to hold Stablecoins can collateralize their crypto-assets to participate in the futures market. Thus, users can trade futures contracts without the need to convert their crypto assets into USDT.
5. Price Protection 
Price protection is a relatively new feature that helps protect users in extreme market conditions. Price Protection is a feature that protects your Stop Loss and Take Profit orders from extreme price swings. In the event the Last price and Mark price deviates significantly above a predetermined threshold, triggering both Stop Loss and Take Profit orders simultaneously, both orders will not be triggered.
This protective tool ensures that users enjoy a fair and orderly trading experience and prevent bad actors from exploiting market inefficiencies.
Check the various price protection thresholds for each individual contract here.
Where Can You Find Our New Features?
Introducing… The new and improved Binance Futures homepage! Our newest homepage is a one-stop portal where you can find all Binance Futures related services and resources on one page. The new homepage provides easy navigation to our latest products, campaigns, leaderboard, battle, and blog posts. 
Visit our new homepage now!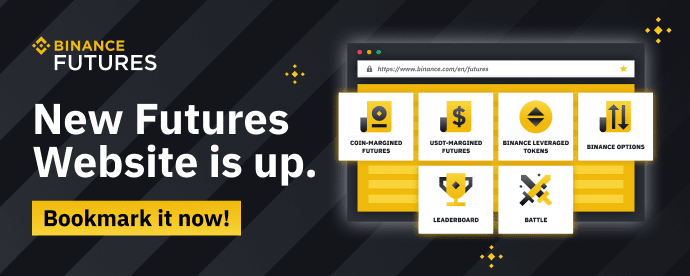 Read the following helpful articles for more information about Binance Futures:
Disclaimer: Crypto assets are volatile products with a high risk of losing money quickly. Prices can fluctuate significantly on any given day. Due to these price fluctuations, your holdings may significantly increase or decrease in value at any given moment, which can result in a loss of all the capital you have invested in a transaction.
Therefore, you should not trade or invest money you cannot afford to lose. It is crucial that you fully understand the risks involved before deciding to trade with us in light of your financial resources, level of experience, and risk appetite. If required, you should seek advice from an independent financial advisor. The actual returns and losses experienced by you will vary depending on many factors, including, but not limited to, market behavior, market movement, and your trade size. Past performance is not a guide to future performance. The value of your investments may go up or down. Learn more here.