4 Can't-Miss Highlights From CZ's Fireside Chat with Michael Saylor
2020-12-11
Binance CEO CZ sits with MicroStrategy CEO Michael Saylor in a captivating fireside chat about Bitcoin's historic rise, cryptocurrency's increasing relevance amidst recent economic headwinds, and predictions about DeFi and decentralization. 
Earlier this year, Michael Saylor, CEO of MicroStrategy, announced his firm would buy hundreds of millions of dollars worth of Bitcoin. That proved to be a wise decision as Bitcoin's price has climbed over these past few months, culminating in a new all-time high in late November. 
Over a fireside chat with CZ moderated by Binance Regional Director Josh Goodbody, Michael Saylor expanded on his reason for deciding to buy Bitcoin and why he feels so bullish about its future. Read on for some top highlights from their chat, or watch the full hour-long conversation on our Youtube channel, and subscribe for future segments with leaders in the blockchain and financial services space. 
1. Inflation is coming. Bitcoin is the "ultimate safe haven and store of value."
Saylor admits he, "didn't pay much attention to the crypto industry until March of this year. In March, we had a K-shaped recovery," he says, referring to the uneven recovery in the months since the global economic recession. 
Why did this prompt him to buy Bitcoin? He explains, "The major money event is the expansion of the M2 money supply. We had it expand by 5.5% a year for a decade, but this year it leaped forward by about 24%, and looking forward it's going to expand by 15% every year for the next 5 years."
He concludes, "The cost to capital has tripled. If you're not beating the expansion of the money supply with your returns and investments, you can't preserve wealth. You can't store value… A bond that's not yielding 15% is losing its value."  
As the money supply expands at an unprecedented rate, fiat investments may stand to lose value via inflation. "...there's 300 trillion in fiat investments. They're all going to be cut in half over the next 3-5 years. In essence, everyone is going to lose half their wealth if they're not going to find a solution to the problem." 
2. Say goodbye to gold and hello to Bitcoin, which is "superior to gold in all respects."
Because inflation is all but inevitable, as governments around the world race to print money in order to prop up local economies, "There's a mad scramble to find a store of value," says Saylor. "We know that cash won't work and we know that bonds, real estate, and stock or fiat instruments are all going to be debased by the rate of expansion of the money supply. You search through gold. You consider silver, you consider commodities, you consider buying a portfolio of rare art, and eventually you settle upon the idea of perfectly engineered digital gold, something that is superior to gold in all respects, none of the liabilities of gold, all of the good attributes of gold, and that's 21 million gold coins called Bitcoin sitting in cyberspace. Once you find that, you think: [Bitcoin] is the ultimate safe haven asset and store of value for every investor on earth." 
As for gold, Michael Saylor dismisses it as an antiquated store of value, claiming "Nobody is going to engineer another feature into gold." Those are some strong words, but you want to decide for yourself, and compare traits between gold and its digital counterpart, check out our comparison between Bitcoin and gold.
3. Institutional investors are starting to buy Bitcoin
This year, major companies are buying into Bitcoin for the first time. While MicroStrategy was an early pioneer, Saylor notes that progress on this front has rapidly increased. 
"We did it, you saw Square do it… [beyond private companies] I also hear institutions, like pension funds and unions, endowments, and [public companies]" are becoming more interested in buying Bitcoin. Shortly after the fireside chat, MassMutual, a publicly traded life insurance company, announced that it had purchased $100 million in Bitcoin.
While the increased institutional appetite for Bitcoin is rather new, cryptocurrencies have been on CZ's radar for a long time. "I first heard about it in July 2013, by December I was all in, selling my house, quitting my job." These days, CZ is all in on crypto. "I don't have any fiat so I can't buy Bitcoin, couldn't buy more cryptocurrency. So my assets are already all crypto. It's an asset I hold, and when I want to spend it, I swipe my Binance Card."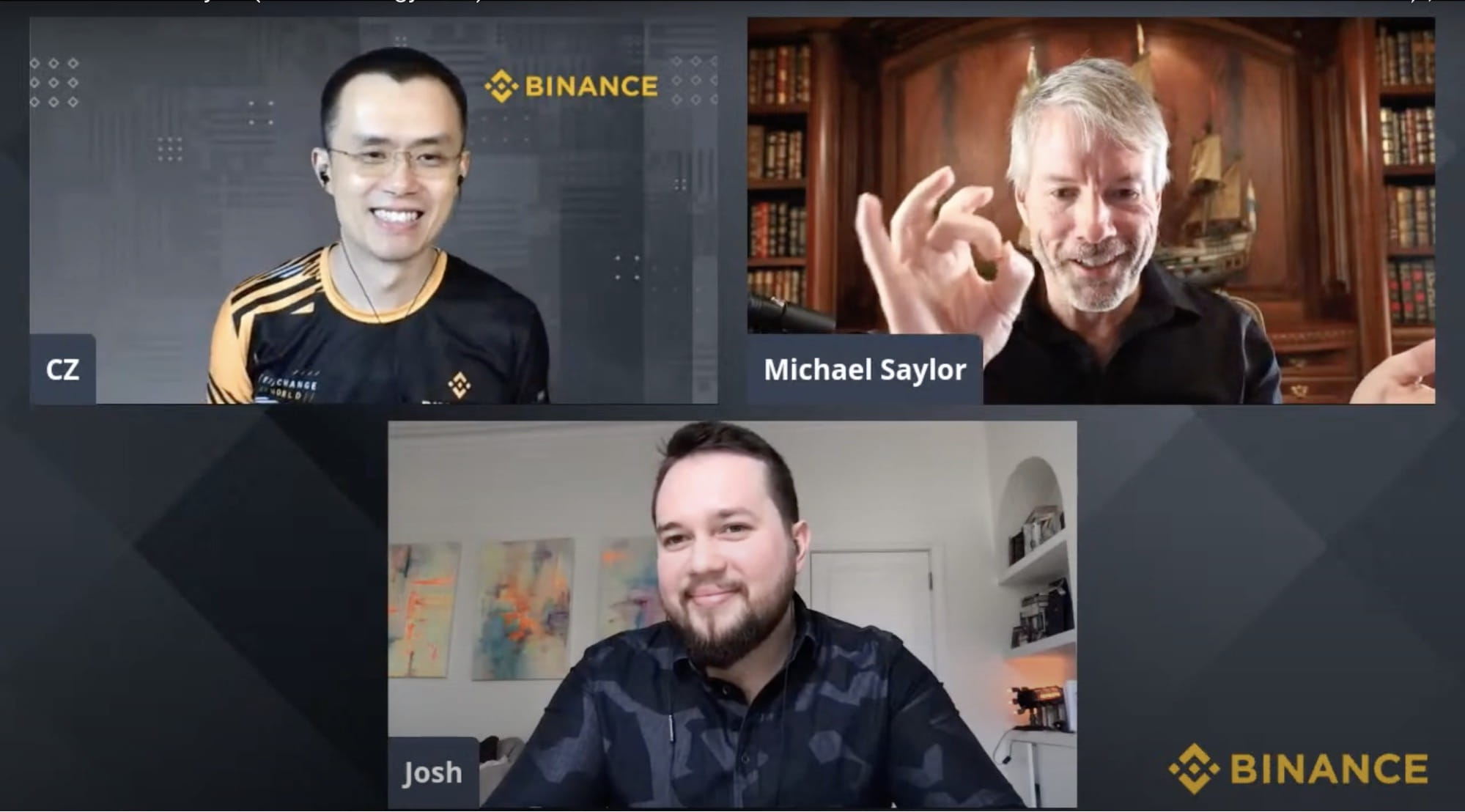 4. Can the Bitcoin market expand by 10x? How about 100x?
Michael Saylor believes that prior to March, Bitcoin was predominately perceived as a speculative asset. "March was a wake up call. April was a quest for the truth, to rethink everything that I believed about macro investments. By May it was clear to me that [Bitcoin] was the future." 
While speculative assets are not going to "appeal to 99% of investors," what investors do want is "a long duration safe haven asset" and reliable store of value. Ultimately, that's how Saylor believes Bitcoin will win over three main types of investors: people who put their money in gold (~10 trillion dollars, by Saylor's estimate), those who have bonds (~17 trillion dollars), and those who invest in big tech like Apple, Google, and Amazon because, "they've lost faith in the currency, they know they can't invest in negative yields in bonds, they're not quite sure about gold, which is an antiquated store of value." 
"All three [types of people] are looking for a store of value. Out of those three, it's 150 trillion dollars." Today, Bitcoin's total market capitalization hovers over $350 billion, leaving ample room for possible growth. In fact, we compared Bitcoin's market capitalization to big tech stocks, and the results may surprise you. 
If you're interested in Bitcoin and want to get started, join Binance today for live price charts, free learning resources on all things crypto, and the ability to buy, sell, and trade crypto when the right moment strikes. 
For Michael Saylor, Bitcoin is a bullish bet:  "I think Bitcoin is a solution to 7.8 billion people's problems, and they just don't know it yet". Watch the full recorded fireside chat between CZ and Michael Saylor on YouTube. 
Follow us on Twitter, Instagram, Facebook, and YouTube, and join our official Binance Telegram group to talk more with our community.