How to Buy Bitcoin with Credit or Debit Card on Binance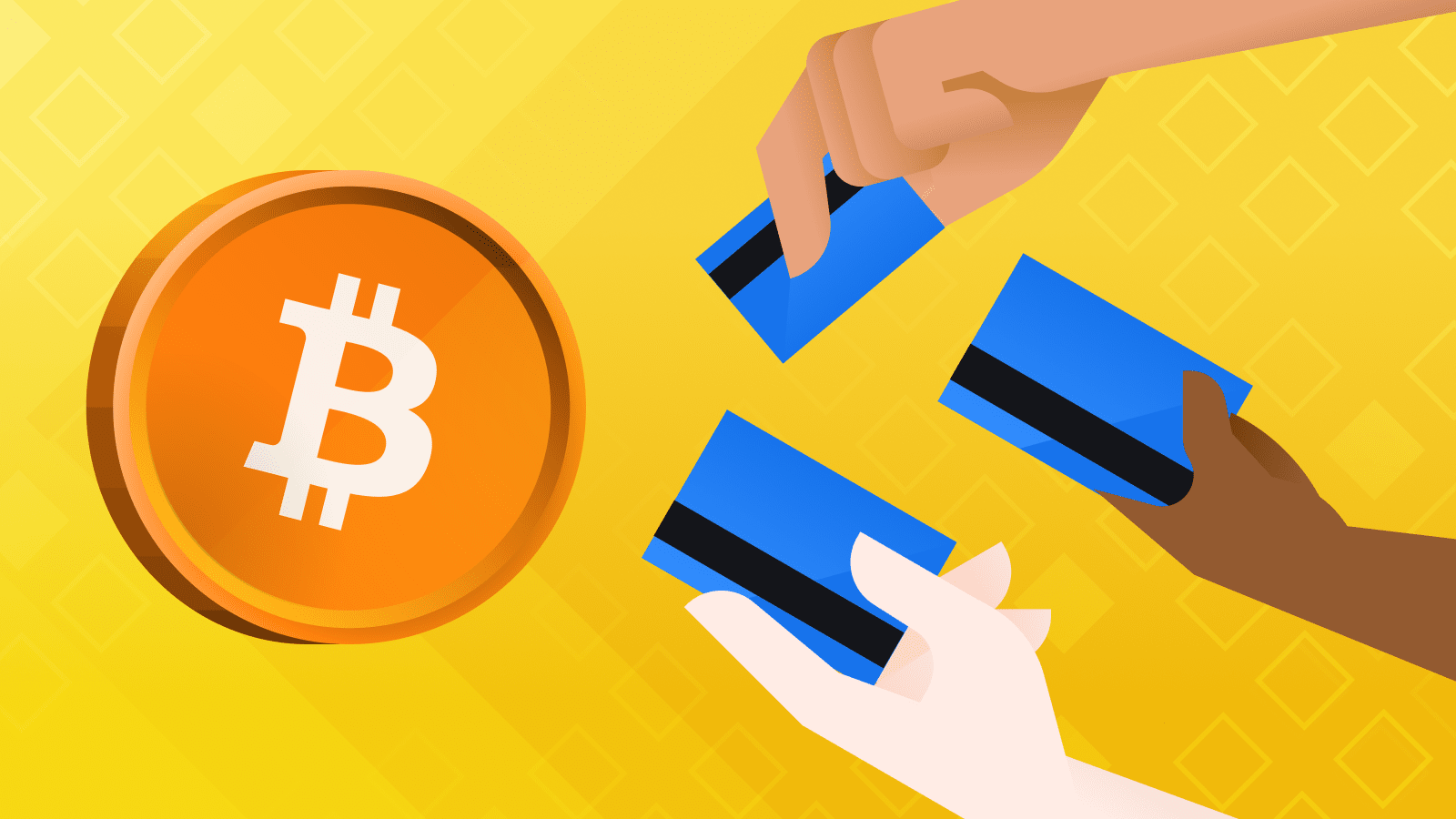 Bitcoin is fast becoming a more prominent asset around the world. The price of the original cryptocurrency has been reaching new heights, with more people getting in on the action. Elon Musk's Tesla acquired $1.5 billion worth of bitcoin, and at least two banks in the U.S. have revealed plans to offer bitcoin custody services to their customers. In the span of fewer than six months, the price of bitcoin rose from $10,000 to almost $50,000. Many predictions point to the possibility of bitcoin reaching $100,000 or more in the near future.
With the market momentum and adoption that digital assets are facing, more services have emerged as avenues to buy your first bitcoin, or at least a tiny fraction of it. At Binance, one of the leading venues where you can get exposed to cryptocurrencies, we provide you with several entry points where you can start your crypto journey. 
Among these options, the Binance Buy & Sell platform is one of the easiest, cheapest, and fastest ways to buy bBitcoin and other supported assets using your debit or credit card on the entire Internet. With Binance Buy & Sell, you benefit from fast transactions, low fees, and superior security.
On Binance Buy & Sell, you can choose whether to buy bitcoin with credit or debit card. And the good news is that we support just about every major local currency there is. 
You can access Binance Buy & Sell from these three platforms, each with the same low fees and advantages, but on different devices: 
- Binance.com lets you access our crypto services platform from your web browser, whether it be on a desktop computer or through a mobile phone.
- Binance Desktop is a standalone software available for desktop and laptop computers running n Linux, macOS, or Windows. Download Binance Desktop here.  
- Binance App is a mobile app that you can use on phones and tablets running on iOS or Android. Download the Binance App here. Once you're done, you can switch between Pro and Lite modes, depending on your crypto experience and needs.
Now, we will explain how to use your credit or debit card to buy bitcoin and other cryptocurrencies on Binance.
How to Buy Bitcoin with your Credit or Debit Card on Binance.com and Binance Desktop
The Binance.com website has a dedicated section where you can choose which cryptocurrency to buy (bitcoin in this case) and what bank card you want to use (Visa or MasterCard).
A similar interface for purchasing crypto is visible on Binance Desktop, which largely mirrors the website while offering faster loading speeds, as components that would have taken a second to load via the Web are already loaded in your desktop app for added convenience. 
The following step-by-step instructions for buying bitcoin are exactly the same for both platforms:
1. On your Web browser, go to Binance.com and log in to your Binance account. If you don't have one, click here to create a Binance account. 
2. On the menu bar at the top left side of the website or desktop app, go to [Buy Crypto] and select Credit/Debit Card.
3. You are now on a new page where you can proceed with your bitcoin purchase. Select your preferred local currency and enter the amount you want to spend. (Please note that there are minimum and maximum amounts you can enter for each corresponding local currency). Then, under [Coin], select BTC (or any other cryptocurrency of your preference). Then, click [Buy BTC].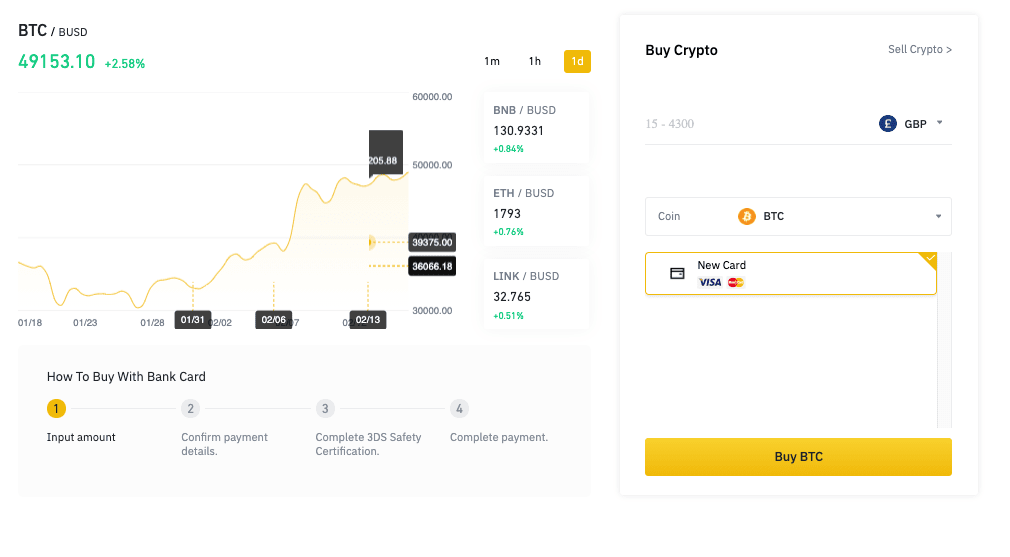 4. A pop-up window will open where you can enter the details like your card number, expiry date, and CVV code. Enter these details, then click Next. You'll be prompted to enter your country, city, residential address, and postal code. Once you're done, click [Pay Now].
5. You will now see a [Confirm Order] screen, where you can check if your order is correct. To confirm your order, click the checkbox beside the [I have read and agree to…] section and then the [Confirm] button. Please note that you have 60 seconds to confirm your order.
6. Once the transaction is successful, you will receive your bitcoin in your Binance wallet. 
How to Buy Bitcoin on Binance App Lite
We recommend using Binance App Lite Mode for a simple and straightforward experience, but you can buy bitcoin with both Lite and Pro modes. 
1. Download the Binance app on your mobile device and log in to your Binance account. If you don't have a Binance account, click here to open one. 
2. In the top left corner of the screen, tap the profile icon and switch to [Lite].
3. Tap the yellow trade icon in the middle of the screen and choose [Buy].
4. Search for bitcoin, then enter the amount of local currency you want to use for the transaction. You also have the option to enter how much bitcoin you want to buy or to change the local currency you want to use.
5. You will be led to a page where you can choose whether you want to use cash deposit or credit/debit card as a payment method. If using a new card for the transaction, select [Change Card] and select [Pay with new card]. You can then proceed to enter the details of the card that you want to use for this transaction.
6. Once you've confirmed the card that you will use, you can proceed to confirm your transaction. Click [Confirm] to go ahead with your purchase. (Please note that you have 60 seconds to confirm the transaction at the rate displayed on the screen). You will then see a summary of the transaction's details. Once you're happy with the details, click [Confirm] again and wait a few seconds until the [Purchase Successful] screen appears.
Now you know how to buy crypto using your credit or debit card. In all of the described scenarios, the transaction took less than 30 seconds to finish. It takes less than a minute to enter the world of crypto and do what you want with your newly-bought bitcoin.
Want to explore other options for buying and other cryptocurrencies on Binance?  Check out these related materials:
- How to Buy Bitcoin: A Quick Guide from Binance
- How to Buy Bitcoin with Cash on Binance P2P
- How To Switch to "Lite" Mode via Binance APP and Buy Crypto FAQ