Binance widens access to its regulated, licensed, and fiat-backed BUSD stablecoin
Main takeaway
Keeping your stablecoins safe, secure, and pegged is a priority for any crypto investor. With its fully regulated and licensed status, BUSD is a great option to consider. And best of all, there are zero transaction fees when trading four BUSD stablecoin pairs on Binance. Unlock the full Binance ecosystem and secure some peace of mind with one of the market's most secure stablecoins.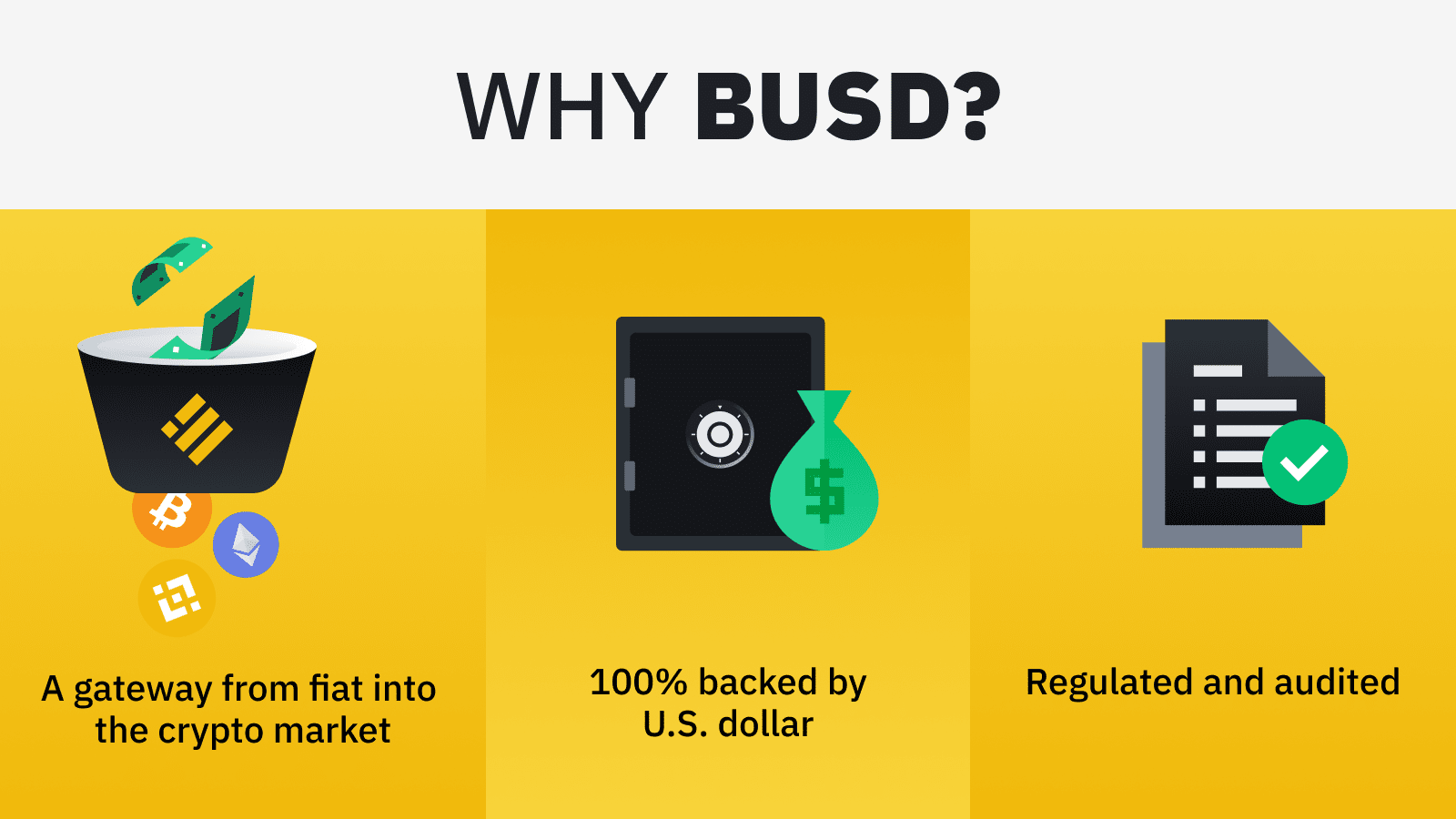 What is BUSD?
BUSD is a 1:1 USD-backed stablecoin issued by Paxos on the Ethereum blockchain and approved by the New York State Department of Financial Services (NYDFS). In addition, Binance offers a wrapped BUSD token (Binance-Peg) on BNB.
(Binance-Peg is a Binance product; it is not issued by Paxos nor regulated by the New York State Department of Financial Services.) 
BUSD is designed to maintain a stable market value and provides holders with a low-volatility, on-chain asset. This aspect saves time and effort needed to exit the crypto space when closing positions. That's not the only reason why more users are choosing to use BUSD.
What are the benefits of trading BUSD?
Zero Maker fees for all BUSD trading pairs.
Over 300 BUSD spot and margin trading pairs now have zero maker fees for users who place orders on the order book (maker order). 
Zero transaction fees on four BUSD stablecoin pairs
If you're already holding stablecoins but want to switch to BUSD, the process is totally free with Binance. You'll pay zero transaction fees when swapping BUSD/USDT, USDC/BUSD, TUSD/BUSD, and USDP/BUSD  on the Binance spot and margin markets.
You can find more information on the promotion through our BUSD Zero Maker Fee & Zero Trading Fee page.
Deep liquidity for BUSD trading pairs with newly-listed tokens
BUSD acts as a gateway for liquidity across the Binance ecosystem. This is especially useful for newly-listed tokens. By holding BUSD, you can easily trade and invest in new opportunities as soon as they're available on Binance's exchange.
What are the benefits of holding BUSD?
The beauty of BUSD is the access it provides to a huge number of DApps, services, and ecosystems. Its many use cases include:
Earn 10% APY with unique offerings on
It's one thing HODLing stablecoins. But why not put them to work and earn enhanced APY through Binance? By staking your BUSD, you can access a range of APYs depending on your risk level. Flexible Savings is one simple option for anyone holding BUSD to earn 10% APY. The products are easy to enter through Binance Earn and let you earn more stablecoins while you sleep.
Farm new tokens via Binance Launchpad using BUSD
Binance Launchpad regularly offers the latest, most innovative projects to the market through its stake and earn mechanisms. By holding BUSD, you can take part with the click of a button and get your hands on the market's newest tokens.
Purchase NFTs on Binance NFT Marketplace
BUSD is one of the most practical ways to enter the world of NFTs. With BUSD in your wallet or Binance account, you already have access to thousands of NFTs available to purchase. Through Binance NFT, you can pay for digital collectibles with your BUSD holdings. 
Access Margin Trading and Binance Futures
For more advanced traders, BUSD offers a way to access the whole spectrum of Margin Trading and Binance Futures available. The stablecoin is the most versatile way to open new positions and get started with leverage. 
Take part in Binance Liquidity Farming
As a stablecoin with vast liquidity, it makes sense that BUSD can also be used in liquidity provision. BUSD is one of the most commonly used tokens in liquidity pairs throughout the BNB Chain ecosystem. Whether you decide to offer liquidity through Binance or on a DEX, you can't go far wrong with BUSD.
Leading the way in CeFi and DeFi
Trading, deposit to earn, and payments are core use cases for many stablecoins. BUSD is not only leading the market in trading and payments but also gradually taking the lead in decentralized finance. Here's a quick rundown of the different use-cases we offer our 1.5M BUSD holders:
How can I purchase and withdraw BUSD?
There's a wide variety of ways to get started with BUSD on Binance. No matter your situation, there will be something that suits your needs.
BUSD is 1:1 fully redeemable with the US dollar. Users can always redeem BUSD at $1. One of the easiest ways to get crypto is with a credit or debit card. After registering with Binance, navigate to the Buy Crypto with Debit/Credit Card page, and follow the simple instructions. You can also make remittance transfers from your local bank accounts via the SWIFT network. For each transaction, the deposit and withdrawal transaction fees are $0 USD (waived) and $15, respectively. 
What about the withdrawal limit? 
Current daily withdrawal limits are $50,000 to $200,000 for different KYC levels. Every qualified user can increase their daily withdrawal limit by increasing their KYC level or sending a reasonable request. 
For more details, check our FAQ on Depositing and Withdrawing USD via SWIFT guide. Users can also deposit and withdraw BUSD with their Paxos account. Please check the Paxos deposit and withdrawal FAQ for more details.
To learn more about BUSD's unique position in the crypto ecosystem, read the following articles and announcements:
Interested in collaborating with us on BUSD or want to learn more? Contact us through this Request Form, and our team will get back to you within three working days. 
Buy BUSD | GitHub | What is BUSD | Twitter | Binance Smart Chain (BEP20) | Ethereum (ERC20)| Contact  Email| Request Form