How To Earn Higher Interest With Binance Earn: Introducing Savings Tier APYs
2021-11-02

Main Takeaways: 
Rewards on your Flexible Savings products will be distributed in tiers depending on the amount invested.

Binance Savings users will see up to 500% (6x) more rewards on their BTC, USDT, BUSD, USDC deposits
If you've been earning passive income with Flexible Savings, then you're in for a real treat. Binance has decided to change how Flexible Savings' rewards are shared, meaning most users will take home even more gains. Let's take a look at how you'll be earning more with our new Tier APYs.
Savings Tier APYs: Earn Up To 6X More APY on Bitcoin, BUSD, USDT and USDC
Previously, Flexible Savings offered a flat rewards rate on any deposits. Now, for BTC, USDT, BUSD and USDC vaults, the rewards you earn will depend on the amount you deposit. Each coin is broken up into two or three tiers, meaning you'll earn varying rates of rewards as you deposit more into Flexible Savings. BTC currently offers 0.5% in rewards to all savers, but let's take a look at how the new tiers work:
Whether you're looking to grow your BTC, USDT, BUSD or USDC, we've increased the rewards on your Savings returns. Make sure to check in the future for more Tier APYs across different coins.
You can refer to the table below for a list of all changes and APY rates:

How exactly do Savings Tier APYs work?
Any crypto you put into a Flexible Savings product will earn rewards according to the tier it's in. For example, imagine you have  BTC you'd like to invest in Flexible Savings. Your first 0.05 BTC will earn 3% rewards. You'll then earn 1% rewards on your bitcoin above 0.05 BTC up to and including 0.5 BTC. Anything you invested above that would earn rewards at 0.1%.
How do Tier APYs make Flexible Savings one of the best products on the market?
There's more to it than just higher APYs for improvements to Flexible Savings. In fact, there are four key reasons why our Tier APY system makes Binance Earn one of the best passive income strategies on the market: 
1. Improved gains for users
Everyone loves extra gains. With users seeing up to 6X more on their Tier 1 deposits, Binance is helping people earn even more passive income on their crypto.
2. Market-leading APYs
There's no need to go looking anywhere else. Flexible Savings now offers market-leading APYs in relation to other comparable products. You won't just be earning more rewards; you'll be earning the most rewards.
3. Minimal-risk rewards
To top it all off, Flexible Savings is still a low-risk way to earn with your crypto. No matter if it's sitting in your Binance Spot wallet, you can still put it to work earning. You can also withdraw your funds instantly whenever you need them.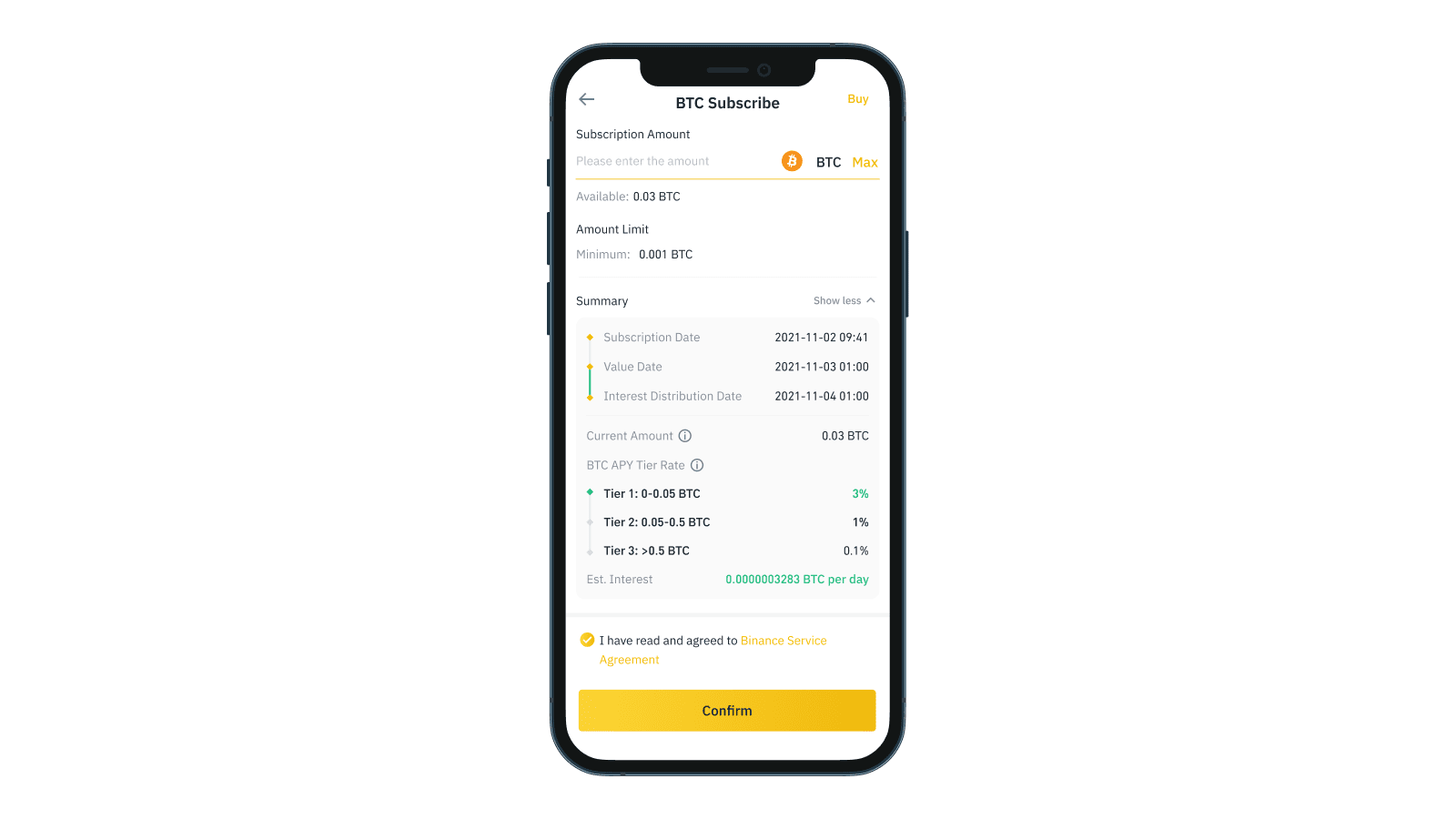 Start Earning More with Flexible Savings New Tier APYs
If you're already saving with Flexible Savings, then all you need to do is sit back and relax. The Tier APY changes will happen automatically, and you'll receive your rewards as per usual. 
For more information on how to use Flexible Savings and Binance Earn, along with its terms, conditions, and risks, refer to the following FAQs and guides:
The Binance Earn APR calculator helps you estimate your rewards using Flexible Savings or DeFi Staking on Binance Earn. All you have to do is type in the cryptocurrency, type of investment, and subscription time. The calculator will then compare the potential rewards you can earn in cryptocurrency over a select period. Helping you make an informed decision. APR does not display the actual or predicted returns/yield in any fiat currency.