How to Diversify Your Portfolio Through Binance Earn
2021-07-08
Key Takeaways: 

Binance Earn is a one-stop platform for high-quality crypto products that offer varying levels of earnings, from safer and more consistent profits to higher-than-average potential gains that you can choose depending on your risk profile

In the Binance app or on the homepage of Binance Earn, you can choose the most suitable earning option for you

You'll learn how to optimize your earnings by taking advantage of automated solutions and checking the limited-edition products

Binance Earn products always display APY rates, which help you assess how much you can earn from a particular product
With Binance Earn, you can see all the earning potential open for you, depending on the crypto funds you hold. In this article, we'll explore how you can optimize your crypto holdings further.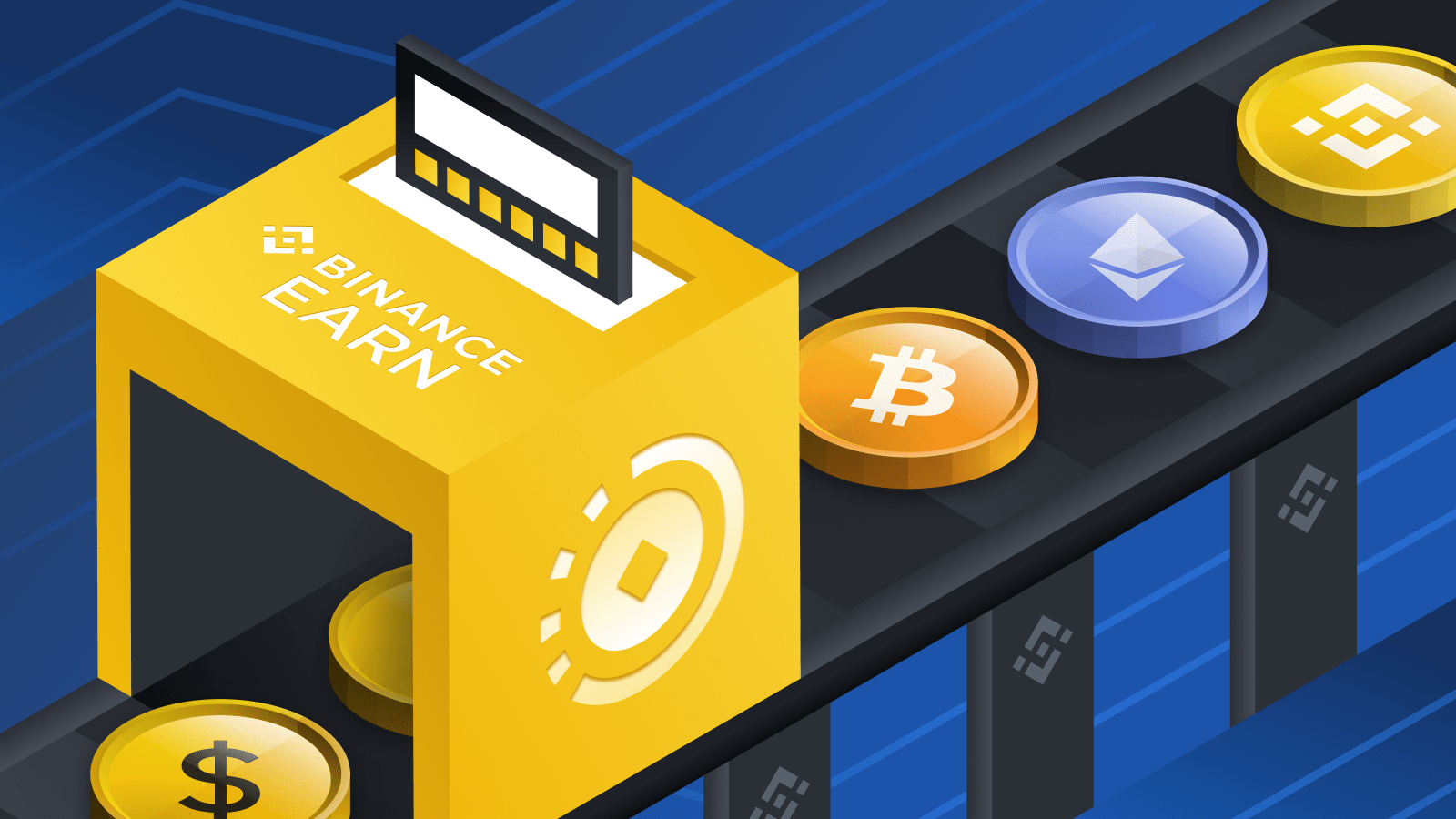 Why Should Every Binance User Try Binance Earn?

Binance Earn makes it possible for you to grow your crypto holdings easily, even if you don't trade at the moment. This platform is a one-stop hub for high-quality crypto-financial products that offer varying levels of earnings, from safer and more consistent profits to higher-than-average gains that play well for those with higher risk tolerance. With Binance Earn, you have access to numerous earning opportunities for the crypto you already hold, within a safe and convenient environment protected by Binance's top-notch security solutions.
As of June 2021, there are $20 billion worth of crypto assets on Binance Earn from 2 million active users. Binance Earn is also supporting more than 130 tokens across products.
What Options Do I Have with Binance Earn?
With Binance Earn, you can choose from dozens of available crypto financial products displayed on the platform for your portfolio management. Once you transfer your crypto into your chosen product, you can watch your funds grow depending on how long you keep them there. If you ever need your crypto funds for other purposes, you can withdraw your funds to your crypto wallet just about as easily as depositing your tokens. At times, your funds and profits can even be automatically transferred back to you.
In the Binance app or on the homepage of Binance Earn, you can choose the most suitable earning option for you. These products can be considered under two categories:
Guaranteed
In this category, we feature Earn products that offer profits with little chance of risking your capital. This category includes products using stablecoins, which offer predictable returns for crypto temporarily locked up, as well as products that use top cryptocurrencies such as Bitcoin, Ethereum, and BNB. This is perfect for people who are relatively new to crypto and are still exploring their options regarding their funds. 
1. Savings. By simply parking your crypto assets on Binance Earn, you stand to benefit from stable yields every day. Deposit and withdraw anytime when you use flexible savings.
2. BNB Vault. Unsure about how to use and grow your BNB? This is a one-stop vault where you gain access to multiple BNB benefits, like Launchpool staking, savings opportunities, and more.
3. Locked Staking. You can deposit your assets into savings products for a defined period, from as little as seven days to as much as 90. In exchange for a bit of commitment, you gain higher yields.
4. Launchpool. Simply stake any eligible crypto into any of the liquidity pools in new token offerings. This way, you earn new crypto tokens while keeping your holdings intact.
5. ETH 2.0 Staking. Want to join ETH 2.0's ongoing staking process without the hassle of stashing your ETH for a long time or setting up your own wallet? Simply deposit here, and let Binance take care of the hard work while you just reap the benefits.
High Yield
For crypto HODLers who have higher profit and risk appetites, we also offer crypto-financial products where staking coins can provide higher than average gains, but also have corresponding risks to invested principal funds. Only invest what you can afford to risk, regardless of how high the potential rates of return are.
1. Liquid Swap. Become a liquidity provider and join in high-earning liquidity pools within the comfort of your Binance account. Just deposit to take a share of the pool's earnings, and benefit from trading fees gained from swap users and earn BNB rewards on your assets. With Liquid Swap and you can also withdraw anytime. 
Please note that when using Liquid Swap, you need to be aware of impermanent loss, especially when participating in high-earning innovative liquidity pools. Read more about impermanent loss here. 
For our more cautious users, Liquid Swap provides also stablecoin pools that allow a risk-averse approach to generate earnings with limited impact from impermanent loss
2. DeFi Staking. You can now access the world of DeFi easily on Binance, without having the need to manage private keys or do other complicated tasks. 
3. Dual Investment. Deposit a single cryptocurrency and earn yields based on two assets. Get your earnings regardless of how the market goes.
How Does Binance Earn Generate Earnings For You?
Binance Earn covers a wide array of crypto financial products, so your earnings come in through multiple avenues, depending on how each product works. 
1. Gain a share of profits from crypto borrowing products like Margin, Loans, etc.
In conjunction with depositary products on Binance Earn, such as Savings, Locked Staking, BNB Vault, and more, we also offer services that allow other users to borrow crypto for their trading or other needs. These crypto borrowing products come with fees when they pay back their obligations. You earn a slice of these compiled fees in the process, in exchange for providing liquidity to others within the Binance ecosystem.
2. Get rewards for supporting liquidity on Launchpool, DeFi, and more.
Beyond loans, Binance incentivizes users who keep funds within the platform through activities such as Launchpool, ETH 2.0 Staking, and more. It's a quid-for-quo arrangement where your support through deposited funds gives us significant liquidity to gain more earnings on crypto activities beyond what is possible if we do it alone. In exchange for higher yields via economies of scale, you get a significant portion of the profit this way.
3. Earn from fees in DeFi-like activities such as liquidity pools.
Some Earn products, like Liquid Swap, feature their own earning mechanisms that grant a share of the profits from fees generated by liquidity pools and other avenues. Please take note that DeFi-like activities on Binance Earn are usually counted under high-yield products and may entail risks to your initial investment, so stake wisely.
How Can I Optimize My Earnings?
With multiple options available at your fingertips, Binance Earn offers a myriad of opportunities for you to use and allocate your non-trading funds for passive income. In general, Earn products with high APY (annual percentage yield) will give you more profits, but it's important to take into account your individual risk profile, or your tolerance for potential short-term losses to your crypto holdings. 
Especially with high-yield products, where there is an element of volatility based on market activity, your risk profile will determine which products you will be comfortable investing in. If you have zero tolerance for loss, stablecoin-based savings and staking products or liquid swap pools that offer consistent yields would be better options for you. If you can take some risk on your way to earning higher yields, you can venture into products like Liquid Swap with innovative pools, Dual Investment, and more. 
Here are other tips that we can provide to optimize your earnings:
1. Take advantage of automated solutions for your funds. For instance, there's an option within BNB Vault where your BNB funds automatically get enrolled into the vault, and as a bonus, you won't miss out on any Launchpool token offerings. Flexible Savings also supports auto-subscriptions.
2. Always check Binance Earn for limited-edition products that we launch regularly. There will always be new products that suit your needs, but usually, these products end up being high-demand and you may lose your potential spot if you don't check regularly.
3. When you are able to lock in your funds for the foreseeable future, opt for Locked Staking whenever available to take advantage of higher yields.
How Can I Calculate My Compound APY?
Binance Earn products always display APY rates, which help you assess how much you can earn from a particular product. It's easy to say that an Earn product can grow your funds by 5%, but take note that it's the yearly rate; i.e., you have to keep it in there for a year. Understandably, you may plan to keep your funds in an Earn product for less than a year. 
In this case, you can estimate your earnings using this formula: 
E = I (1 + APY/365)n – I
In this formula, "E" is your earnings, "APY" is the yield indicated in your Earn product, and "n" is the number of days you intend to keep your earnings in a certain product. Let's say you have 100 BNB and you want to keep them in a Locked Staking product with 10% APY for 90 days. Here's the calculation:
E = 100 (1 + .1/365)90 – 1001
E = 100 (1.0002739726)90 – 100
E = 100 (1.0249605839) – 100
E = 102.49605839 - 100 = 2.49605839 BNB
Using this sample, in just 90 days, you can earn about 2.5 BNB in yield from your 100 BNB in funds, without needing to spend your existing funds.
Please note that the APY rate in each Earn product can change regularly depending on market conditions. Nevertheless, we encourage you to try out Binance Earn as soon as you can to increase your earning opportunities even for the funds you don't trade.
Read the following FAQ items for more information:
The Binance Earn APR calculator helps you estimate your rewards using Flexible Savings or DeFi Staking on Binance Earn. All you have to do is type in the cryptocurrency, type of investment, and subscription time. The calculator will then compare the potential rewards you can earn in cryptocurrency over a select period. Helping you make an informed decision. APR does not display the actual or predicted returns/yield in any fiat currency.