Binance Earn Auto-Invest 2.0: Here's What You Can Expect With Our New Look
2022-07-26
Main Takeaways
The minimum subscription amount has been lowered from 10 to 1 BUSD/USDT. 

We've implemented an education section where users can learn all there is to know about Auto-Invest in the Binance app.

Users can now view their Portfolio Value and Profit & Loss overview across Auto-Invest plans from the Auto-Invest homepage.

We've created Pre-set Selection, a feature that makes purchasing multiple cryptocurrencies at once a more seamless experience. 

 To make accessing the Auto-Invest feature more convenient, users can now access it via the Trade tab.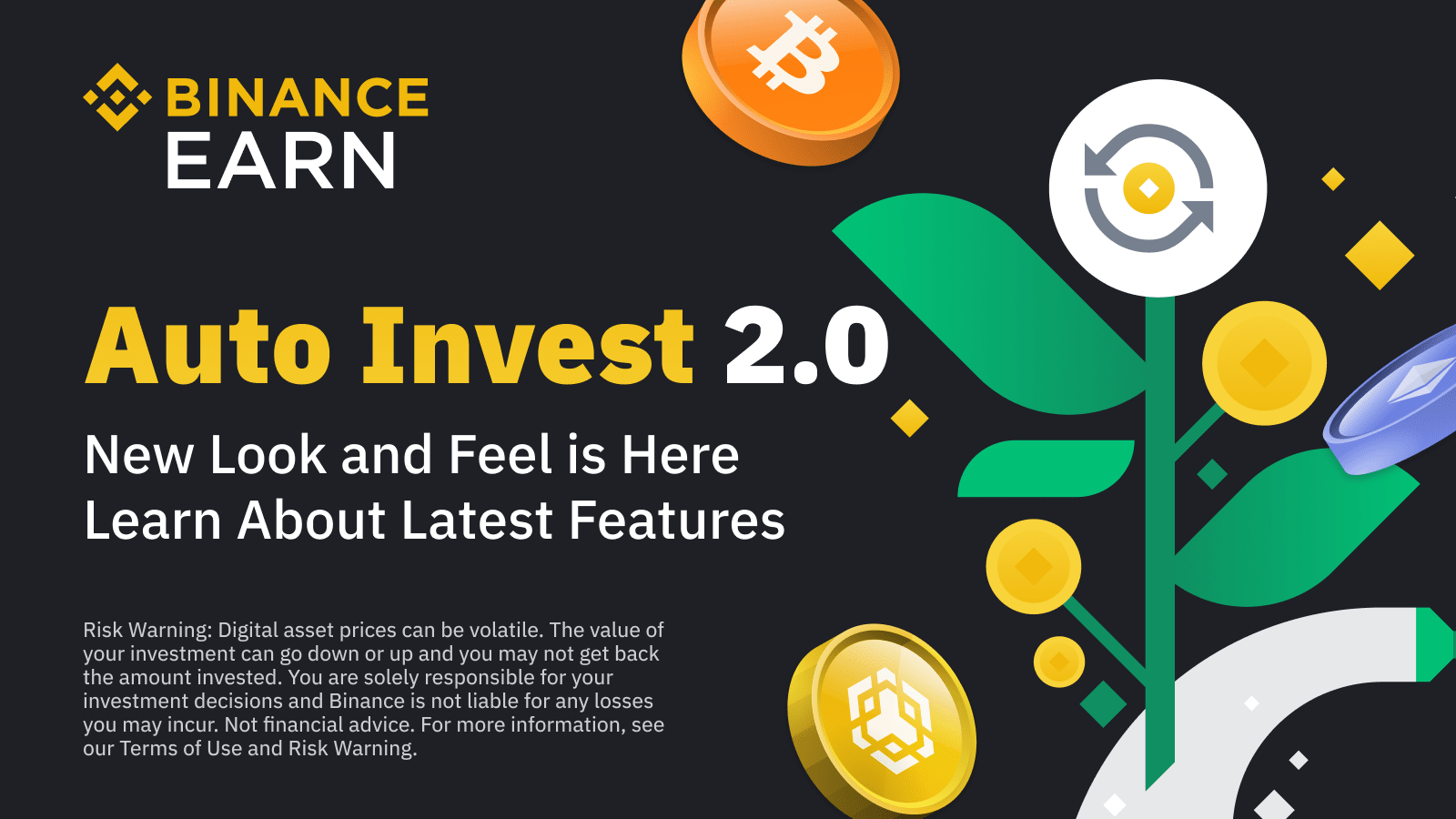 At Binance, we're continuously looking for ways to improve and upgrade our selection of products to best accommodate our users' needs.  Binance Earn has updated the Auto-Invest feature for a smoother user experience. What's more, users can easily access the newly upgraded Auto-Invest feature on the Binance app. Keep on reading to learn more about the latest upgrades to our Auto-Invest feature. 
Note: Certain features might be accessible only after two weeks once the latest app version is available in all regions; look out for the newest app version in the App Store.
1. A New Minimum Amount 
We've lowered the minimum amount. Users can now create an Auto-Invest plan starting from as low as 1 BUSD or USDT on a daily, weekly, bi-weekly or monthly cycle.
2. Everything About Auto-Invest in One Place 
You can now create new plans, review existing plans and view your plan history all in one single location. Start by simply clicking the Auto-Invest icon and use the new navigation bar to easily switch between the desired sections.  
3. Learn About Dollar-cost Averaging (DCA) 
With a built-in education section, you can now learn all there is to know about the Auto-Invest feature within the Binance app. Simply click "Learn More" to review the Tutorial and FAQ sections, or study the introduction cards.
4. Portfolio Value and Profit & Loss Overview
To make things easier to keep track of, we've updated the Auto-Invest homepage, and users can see their Portfolio Value and Profit & Loss overview across all their Auto-Invest plans in one place.
5. Purchase Multiple Cryptocurrencies at Once with Our Pre-set Selection
Want to buy several cryptocurrencies at once? Get started quickly with Pre-set Selection, a feature that gives you complete flexibility to adjust your favorite cryptocurrencies and their allocation within your portfolio plan.  
6. Convenient Access via the Trade Tab 
Users can now easily access Auto-Invest by clicking the Trade icon on the Binance app in Pro Mode. Select the Trade icon from the top navigation menu, and tap Auto-Invest on the top panel.
About Auto-Invest
Auto-Invest is a dollar-cost averaging (DCA) investment strategy that allows you to automate crypto purchases and potentially make viable passive income at the same time.
How to Get Started with Auto-Invest
1. Log in to the Binance App and tap [More].
2. Under the Recommended section, tap [Auto-Invest].
2. You will then see a list of cryptocurrencies available for Auto-Invest subscription. Choose the cryptocurrency you want to buy.
3. Enter the subscription amount and pick your preferred stablecoin. 
4. Select the recurring cycle for your Auto-Invest Plan. You can choose from daily, weekly, bi-weekly or monthly cycles.
5. To redeem your purchased crypto, go to your Earn Wallet. You can find your BNB in the BNB Vault, and the other cryptocurrencies in Simple Earn Flexible Product. Select the asset you want to take out and tap [Redeem].
To learn more about how Auto-Invest works, check out our guide, What Is Auto-Invest and How to Use It, for more information.
Tip: Please make sure you have sufficient stablecoin balance in your Spot Wallet or Simple Earn Flexible Product to guarantee successful recurring purchases.
For more information on how to use Binance Earn, you can also refer to the following FAQs and guides below:
Binance reserves the right in its sole discretion to amend, change or cancel this announcement at any time and for any reason without prior notice.
Risk disclaimer: Cryptocurrency prices are subject to high market risk and price volatility. You should only invest in products that you are familiar with and where you understand the associated risks. You should carefully consider your investment experience, financial situation, investment objectives and risk tolerance, and consult an independent financial adviser prior to making any investment. This material should not be construed as financial advice. Past performance is not a reliable indicator of future performance. The value of your investment can go down as well as up, and you may not get back the amount you invested. You are solely responsible for your investment decisions. Binance is not responsible for any losses you may incur. For more information, please refer to our terms of use and risk warning.