Spot the Binance Food Truck in Lisbon for Web Summit 2022
2022-10-26
Main Takeaways
A Binance-branded food truck will be traveling through the streets of Lisbon from Tuesday, November 1, to Friday, November 4.

Follow Binance on Twitter or Instagram and show it to the Binance team for a free coffee and pastel de nata.

Win a Binance skateboard and show your creativity in our social media photo competition.
Catch our Binance food truck making the rounds in Lisbon for a quick coffee and pastel de nata! With a range of prizes to win, you won't want to miss this chance for a Binance coffee break while at Web Summit 2022.
In Lisbon for Web Summit 2022 this year? If you get a bit peckish or need a pick-me-up, pay a visit to the Binance food truck traveling around the city. You'll find the food truck at various locations in Lisbon, so make sure to tune into our socials to find out where it is. Offering free coffee and pasteis de nata (egg custard tarts), the food truck is your chance to recharge yourself on the house and earn some Binance goodies along the way.
How to Hop Onto the Binance Food Truck
To get your free refreshments and participate in the competitions, follow the detailed instructions below:
Follow and redeem for tarts and coffee 
Follow @binance on Twitter or Instagram and show proof to a Binance team member at the food truck.

Enjoy your free tart (while stocks last) and coffee!
Show off your creativity for a Binance skateboard
The top 10 most creative posts from our Instagram community will win a Binance skateboard!
Follow @binance on Instagram using the links above.

Take a creative photo with or of the food truck.

Post on Instagram with #BinanceWebSummit. 

Tag Binance in your post.
What's Binance Doing at Web Summit 2022?
Aside from the Binance food truck, there's a wealth of opportunities to engage with us throughout  the four days at Web Summit 2022.
Visit the Binance booth
The Binance booth is your portal to the world of Web3 at this year's event. From participating in DeFi discussions to blockchain workshops and giveaways, the Binance booth (E122 in Pavilion 1) should be on your to-do list.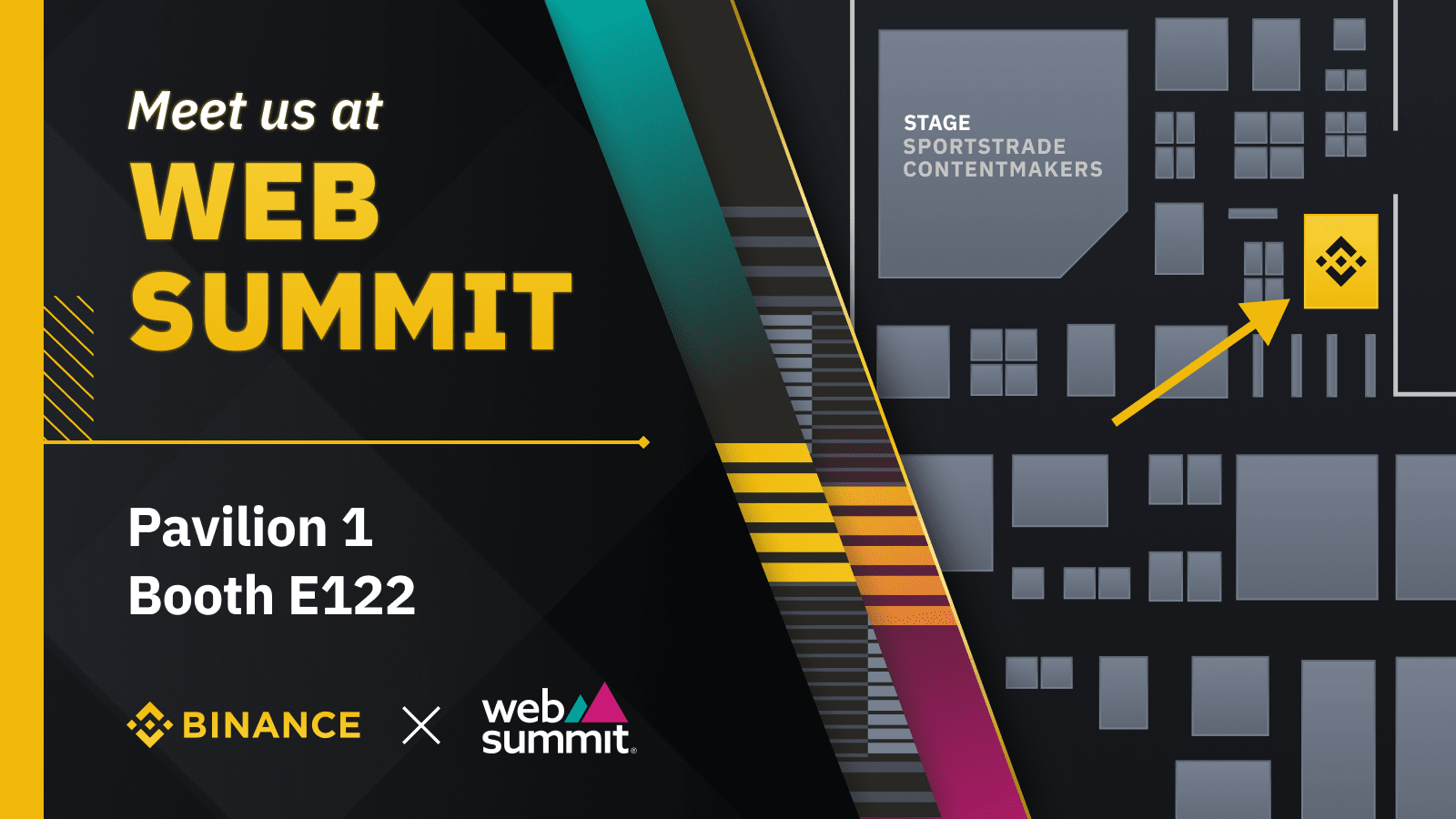 Claim a Web Summit 2022 NFT
Binance NFT Marketplace is launching Web Summit's first NFT, available to all attendees while stocks last. To claim a limited NFT, visit the Binance booth from Wednesday, November 2, to Friday, November 4, and ask one of our team for more information.
Explore the Promise of Crypto with CZ
For all CZ fans, Web Summit 2022 is your opportunity to dive deeper into Binance CEO's ideas and personal reflections on crypto and its promise. On Tuesday, November 1, at 19:10 (UTC), at the 15,000-seat Altese arena, CZ will guide you through his vision for the future of crypto and share his unique knowledge, insights, and experience. 
If you have questions to ask, you can also attend the CZ Q&A session at 11:00 AM (UTC) on the Q&A stage. You can also watch both talks on Binance Live using the QR code below.
Enjoy Some Refreshments on Us, Lisbon Style
No matter what you're up to in Lisbon, the Binance food truck is here to put some pep in your step. If you fancy a quick coffee or want to flex your creative side, our secret locations (for now!) across Lisbon are the perfect place to do it. To keep up to date with the truck and its whereabouts, make sure to follow our socials:
For more information on our presence at Web Summit 2022, please refer to the following links: