​This Week at Binance: Nov 5—12, 2021
2021-11-12
In today's edition of This Week at Binance (Nov 5—12, 2021): We launched the FC Porto Fan Token, Binance NFT announced an exclusive collection with Hollywood star, Djimon Hounsou, and famous Nigerian painter, LÁOLÚ, and our Binance Affiliate Content Program returns for the month of November.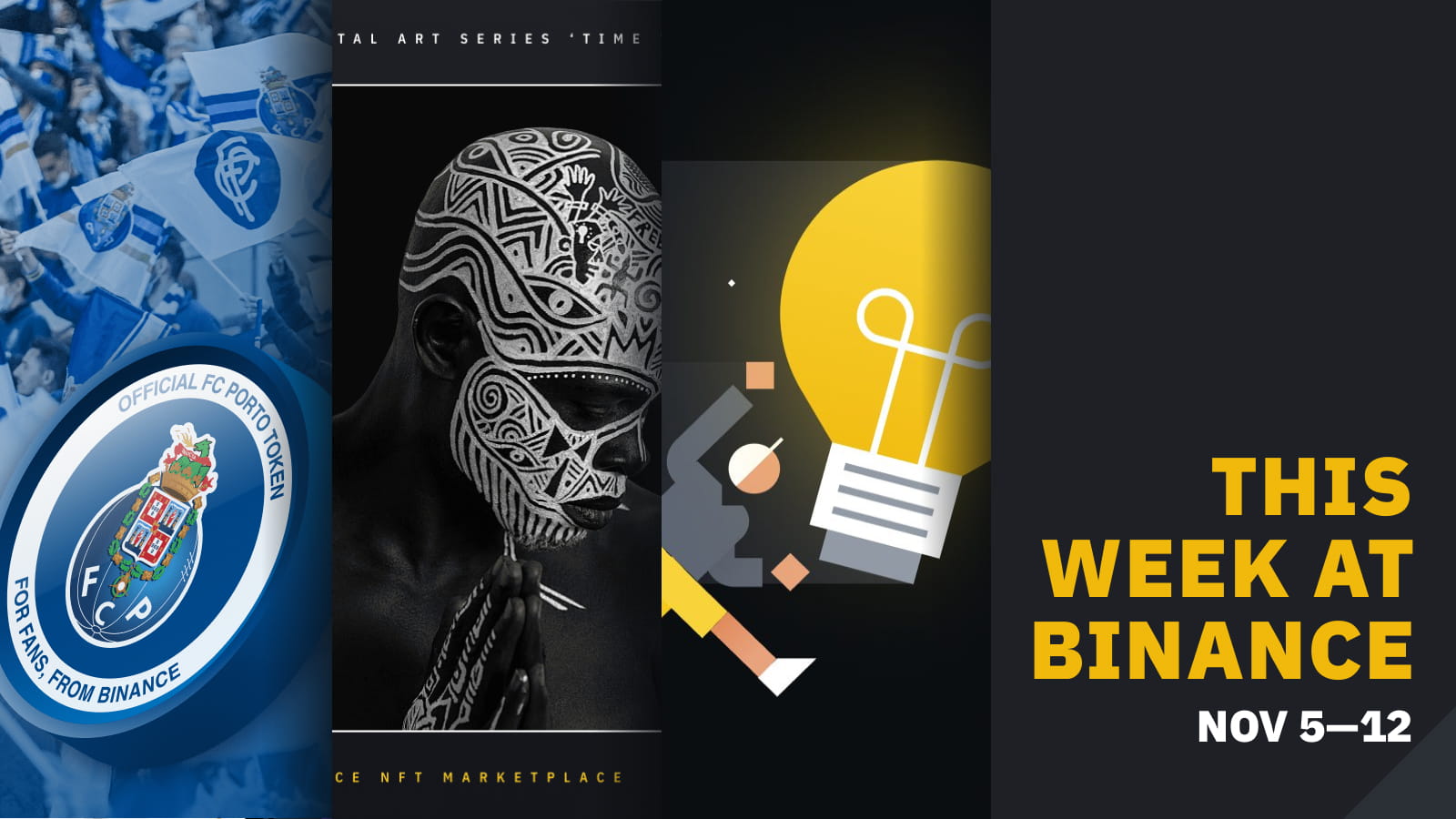 Fellow Binancians, 
Winter has arrived! We hope you're all bundled up and ready to brave the cold weather. It's time to crank up the heater, sip some hot chocolate and get cozy with the charts.
Weekly Market Recap: New ATH
This week we saw the total crypto market cap increase 5.6%, from $2.68T on Nov 5 to $2.83T at the time of writing. 
Bitcoin (BTC) rose to a new all-time high, bouncing off $69,000 on Nov 10. BTC currently trades at ~$64,463 as of writing.
During the same period, Ethereum (ETH) also set a new all-time high at ~$4,868 on Nov 10. ETH currently trades at ~$4,712 as of writing
1. FC Porto Now Available on Fan Token
Calling all Football, FC Porto and Fan Token fanatics! The FC Porto fan token is now live on the Binance Fan Token platform. Don't miss out on exclusive FC Porto mystery boxes, voting rights and once-in-a-lifetime experiences. 
Read More: Introducing PORTO Fan Tokens on the Binance Fan Token Platform
2. 'Time to Heal' NFT Collection feat. Djimon Hounsou And LÁOLÚ
In collaboration with Binance NFT and Binance Charity, Hollywood superstar, Djimon Hounsou, and Nigerian bodypainter, LÁOLÚ, have launched an exclusive digital art series on the Binance NFT Marketplace. As part of the NFT for Good campaign—which enables creators to leverage art for charitable causes—a percentage of proceeds will be given to the Djimon Hounsou Foundation, a nonprofit organization fighting modern-day slavery and human trafficking.
3. Calling All Crypto Content Creators!
The Binance Afifliiate Content Program is back for the month of November. If you're a talented content creator, your submissions could earn you up to $3,000 BUSD per month.
Explore November's content topics
What's Ticking on The Exchange?
New listings this week:
Binance Launchpool:
New Trading Pairs: 
This Week's Activities:
Global Binance activities
Other Bits to Consider
Educational Bits From the Academy
Follow Binance on Twitter or Facebook for the latest news and updates