Earthquake Appeal Donations Are Easier Than Ever With Binance Pay
2023-03-09
Main Takeaways
Using Binance Pay, you can now donate to Turkey and Syria's earthquake relief efforts directly from the Binance app.

This new integration allows for transparent, on-chain donations in just a few simple steps.
Making charitable donations should be as transparent and easy as possible. Learn more about how we've managed to achieve that for Turkey and Syria's earthquake relief.
With Binance Charity, crypto donations are already making a difference in Turkey and Syria. We've made donating to our Earthquake Appeal: Rebuilding and Recovery project even easier — you can do so with just a few taps in the Binance app. This way, we can make sure all donated crypto funds get to their intended recipients as quickly as possible.
What Is the Emergency Earthquake Appeal?
Binance has recently launched its Emergency Earthquake Appeal: Rebuilding & Recovery initiative to raise essential humanitarian funds for Turkey and Syria. Raised funds will be donated to government-approved non-profit Kizilay (the Turkish Red Crescent) in Turkey and the major humanitarian NGO Mercy Corps in Syria. So far, the fundraising appeal — which accepts BTC, ETH, BNB, BUSD, and XRP — has raised more than $200,000 in crypto donations. 
How Has Binance Pay Improved the Donation Process?
Crypto donations are transparent as they are recorded on a public, blockchain-powered ledger. This feature is essential in philanthropy as it allows us to ensure all funds reach the right people or organizations. It also helps build trust and accountability across the board. 
Previously, making a crypto donation through Binance required users to send their funds directly to a Binance Charity cold wallet — hardly the quickest or most convenient method. 
To simplify the process, Binance Pay allows you to make direct crypto donations without manual transactions. The system is still transparent, and all donations are recorded on-chain for maximum accountability.
How to Donate to the Earthquake Appeal via Binance Pay
When using the Binance app, look out for Earthquake Appeal banners. You'll find these on the Discover feed and the Binance Pay mini app.
Log into your Binance App and go to [Pay], then tap the Binance Charity banner, select a project you wish to donate to, and tap [Donate Now].
Select a supported coin and enter the amount you want to donate to the project. Tap [Continue].
Enter your details and message. Tap [Continue] to proceed with the payment.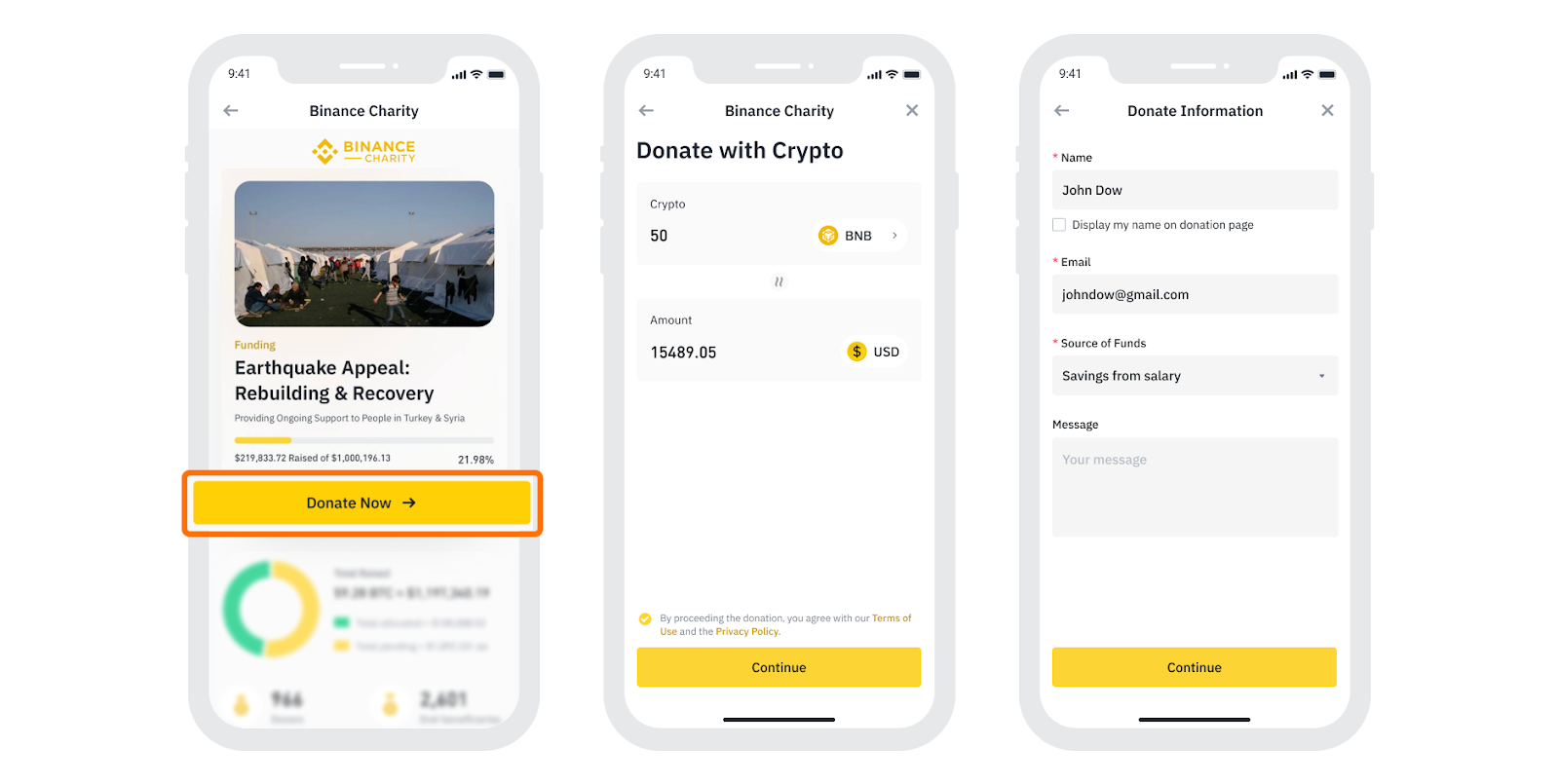 Confirm the network fee and payment amount; you can use the funds in your Spot or Funding Wallet. Tap [Continue] to review the details, then tap [Confirm] and verify your payment.
Your payment will be processed on the blockchain. You can tap [Done] to go back to the project page. You will see your donation on the donor list if payment is successful. Tap [...] to view the payment details.
If you can't see your donation after 24 hours, please get in touch with bcf@binance.charity. If your payment fails, please try again later.
Make Your Crypto Count
Crypto payments facilitate effective cross-border transactions that make a real difference. Blockchain technology underpins fast, low-cost, and transparent transactions and is accepted by a growing number of major international and local NGOs, including Kizilay.
Also, by enabling quicker donations, we hope to provide relief to those in need even more efficiently. If you'd like to donate today, head to the Emergency Earthquake Appeal site for more information and use Binance Pay in the Binance app.
Further Reading