#UseBNB June 2019: We Keep It (More Than) 100
2019-06-30
Just as Binance approaches its second anniversary, we have grown the use cases for BNB to more than 100. To be exact, it's now 120. Find out more in this blog.
BNB (BNB) has officially surpassed 100 use cases. As of June 30, we are counting at least 120 use cases. This translates to a 45% growth in use cases in just a month, up from 83 in May, as well as a 118% growth during the second quarter of this year, up from 55 in March.
Much of the growth has been driven by the continued momentum of BNB Chain, as it continues to attract more blockchain projects. We'll also point out notable examples of new use cases for BNB.
But first, you can see the list of all projects using BNB in the image below.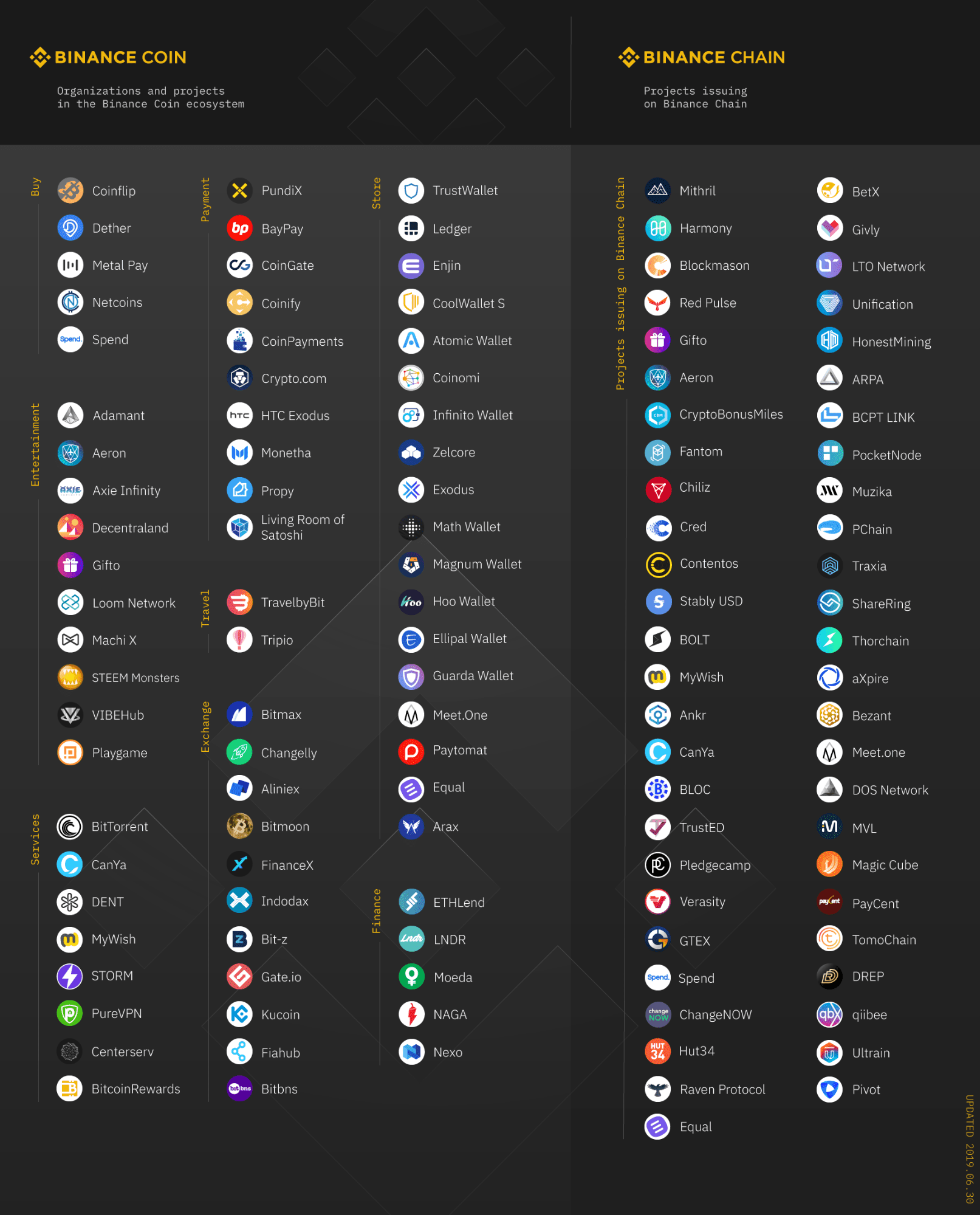 (By the way, if you think we missed a particular use case on this image above, feel free to @ us on Binance's Twitter account.)
The number of projects that declared their use of the community-driven BNB Chain has increased from 24 in May (just one month ago) to 51 this month.
The increase in projects using BNB Chain will drive further utility for BNB. These projects use BNB, the native token of BNB Chain, for fees payment on the network and will leverage the modern, fast and secure BNB Chain blockchain boasting near-instant transaction finality.
Here are the blockchain projects that are using BNB Chain to issue their tokens. Find out what BNB Chain can do for your blockchain project here at https://community.binance.org/.
We also note that this month, Binance created Bitcoin BEP2 (BTCB), a Bitcoin-pegged token on the BNB Chain. BTCB is backed by a reserve of 9001 BTC, publicly verifiable and maintained by Binance. This move allows Binance DEX users to trade cryptocurrencies that have native tokens and don't use BNB Chain yet, particularly the major ones. Of course, this also increases the utility of BNB. Here is CZ's write-up about this.
New BNB Use Cases
Here are some projects and solutions that have started using BNB this month:
Exchange: Kucoin, Bit-z, Gate.io, Fiahub, Bitbns
Payment: Living Room of Satoshi
Services: BitcoinRewards
Wallet: Paytomat, Equal, Arax
We like to point out a couple of interesting developments here:
* BitcoinRewards launch of BNB rewards is particularly notable, as it ties up BNB to purchases made by BitcoinRewards' users on more than 1,200 online stores worldwide, including some globally recognizable brands. Read more about it here.
* More exchanges are listing BNB, even some of the major ones. We appreciate the listings, and we are even more thankful for their support of BNB Chain on their platforms. 
If you think we missed a particular BNB use case, or if you're interested in adding one, let us know at our Twitter account, using the #UseBNB hashtag.
For more information, check out all the ways you can use, buy, and store BNB here.