Satoshi is Female: Dispelling 5 Common Myths in Crypto
2019-03-07
While blockchain technology can be a great tool for gender equality, some of the obstacles to reaching 50:50 are more cultural and psychological by nature. Here are five myths about women in crypto that have been disproved multiple times in our experience here at Binance.
Satoshi Nakamoto, the pseudonym of the creator of Bitcoin, is considered a masculine name in Japan. Many of the popular figures in crypto (and tech in general) are also men. There's no surprise that there is a male-centric perception of the the blockchain revolution. Very few seem to entertain the possibility that, to paraphrase Ariana Grande, the crypto god is a woman.
New technologies open up possibilities for a more equal economic system across genders. But unlike the previous waves of progress, the blockchain revolution offers a unique opportunity to achieve greater equality once and for all. By its nature, blockchain technology eliminates the need for trust in transactions, therefore opening a more even playing field where no biases against gender, race, or other classifications are welcome. In other words, blockchain has the potential to bring forth gender equality in a greater scale than what was thought possible.
But while the technology for greater equality is there, some of the obstacles are cultural and mental by nature. We have mindsets and stereotypes to overcome, and we listed some that should be left in the past. These myths about women in crypto have been disproved multiple times in our experience here at Binance and across the entire blockchain industry as well.
Myth #1: Women are not interested in blockchain and cryptocurrency
This myth is relatively easy to disprove, if we consider employment numbers at Binance. We previously shared that about half our employee base is female, including adequate representation in leadership. While the ratio may vary widely across other blockchain companies, there are several female leaders and team members across different parts of the blockchain ecosystem.
Besides, there are some common misconceptions in terms of how we define women's interest in blockchain. A well-circulated statistic about crypto is that only 4% to 6% of cryptocurrency users are women. Some of that may be accounted for by risk aversion, which is stereotypically attached more to women than to men, and cryptocurrencies carry higher risks. However, this thinking risks confusing cryptocurrency with the broader blockchain technology, an area where women are increasingly having a say.
Many women in the blockchain space already understand that blockchain is beyond cryptocurrency, and it shows with the numerous female thought leaders we encounter in the industry.
Myth #2: Women are not skilled in investing in crypto
More men participate in investment-related activities, which cultivates certain biases. However, studies by a US financial services giant have shown that women perform better in savings and investments, by as much as 0.4% annually, a significant figure if stretched throughout a lifetime. This distinction is important, because unlike other financial instruments, where inequality is entrenched, crypto is a relatively new field on which a more equal distribution may emerge. Blockchain offers a new opportunity to tip the scales when it comes to perceptions in investments.
One more statistic to refute the biases: A survey in the UK found that twice as many women are interested in investing in crypto in mid-2018 compared to figures in 2017. This signifies women's increasing confidence in dealing with crypto, now that they are learning more about digital assets and have become more aware about their skills.
Myth #3: Blockchain companies are not women-friendly
Binance Co-Founder and Chief Marketing Officer He Yi
Portrayals of tech companies in the media sometimes contain anecdotes of sexism. Blockchain companies are no exception, particularly with the spread of stories in 2018 on networking events being held at strip clubs and objectifying digital assets being created. But these stories tend to be overexposed, while the outlook on female employment conditions in the blockchain industry are less emphasized. Crypto companies like Binance have set a culture of inclusion and diversity, which looks past gender and focuses on performance.
In an interview last October, Binance Co-Founder and Chief Marketing Officer He Yi shared, "Today, we see more and more women joining the industry. Many outstanding women have emerged in the space. I think this is the best proof, as Binance does not consider gender or marital status during the recruitment process. We recruit a lot of excellent women."
Myth #4: Women don't occupy top positions in blockchain
He Yi then continued her statement on women in crypto, saying, "We also have many female leaders, such as Ella Zhang of Binance Labs, Helen Hai of Binance Charity Foundation, and so many more. We speak through our strength at Binance." The Binance CMO would know; she co-founded a few other tech companies before forming Binance with CEO Changpeng Zhao, fondly known to the industry as CZ.
Women in leadership roles go beyond Binance. Across the blockchain landscape, there are female leaders in startups, exchanges, and even in multinational companies that created their own blockchain divisions. We just don't hear of them enough, beyond special articles that focus on this topic of equality. As an industry, we need to feature more of these voices in more general topics.
Myth #5: Women cannot contribute to blockchain development
As with the wider tech world, there's an ongoing misconception that tech development is more of a man's world. Performance-wise, it's actually the inverse. In 2016, researchers found that women outperform men in terms of how much code gets approved on software repository Github. However, this trend gets flipped when the genders of the coders are revealed. In part, this tells us that the myths about women and coding have less to do with evidence and more to do with bias.
Blockchain offers a fresh start for women looking to scale new mountains. Considering this, He Yi said, "Many people are still uncertain about the industry. You have to jump in early enough, then try your best and use your experience to beat your opponent - whoever that may be. In the face of competition, never expect others to give priority to women."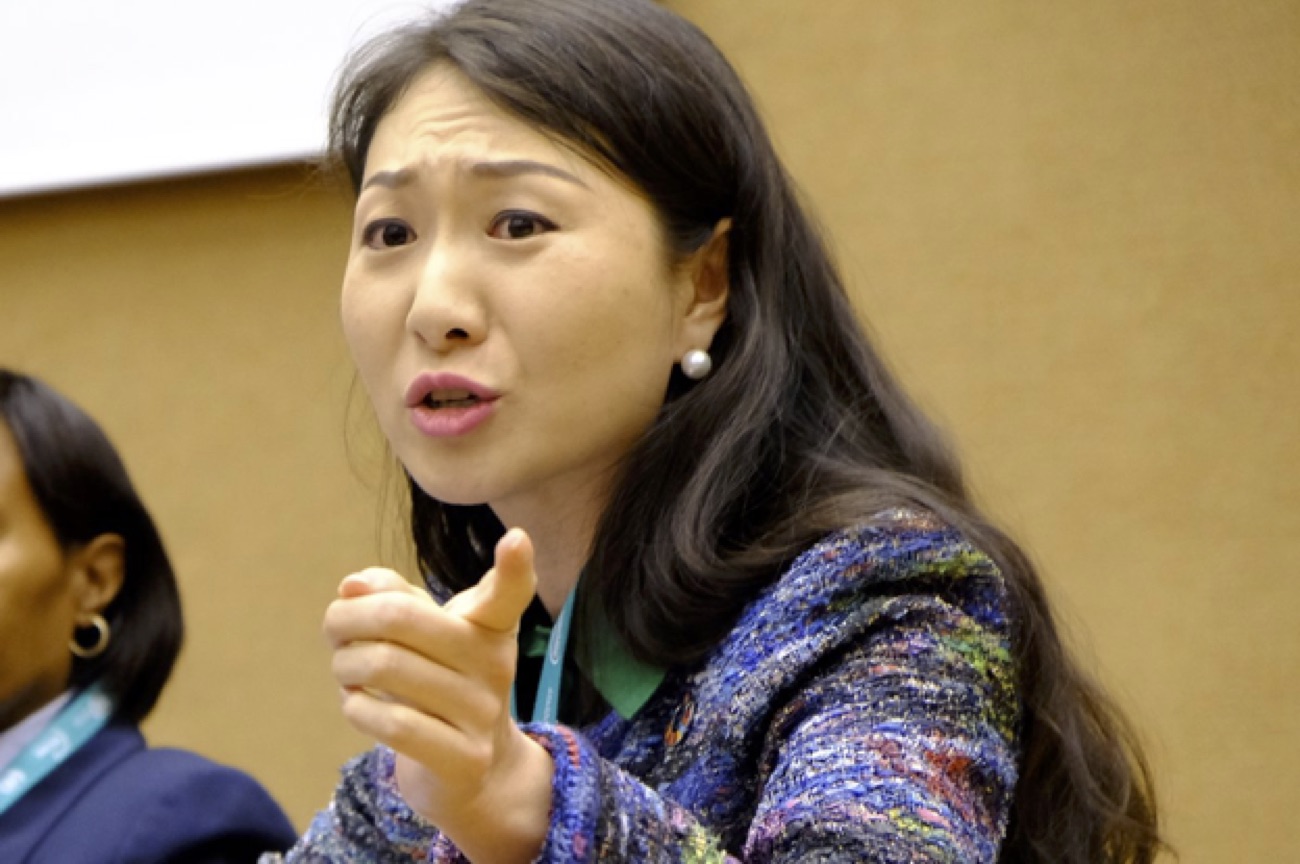 Helen Hai, Head of Binance Charity Foundation
This approach doesn't have to be limited to blockchain and tech. In fact, women empowerment efforts can spur broader equality-related changes around the world. For instance, Helen Hai, Head of Binance Charity Foundation. said that one of her organization's main mandates is workplace empowerment for women. "We truly believe that by helping women, we help the next generation, consequently creating a better world," Helen added.
When we talk about this better world, how much change does this mean? How about $12 trillion? That is the amount of wealth added to global production by 2025 if we start progressing for a more gender-balanced world. And at Binance, we believe that blockchain and crypto can spark that change. Happy International Women's Day! #BalanceForBetter #SatoshiIsFemale